Maharashtra: BJP, Shiv Sena forge alliance to fight elections together
Maharashtra: BJP, Shiv Sena forge alliance to fight elections together
Written by
Ramya Patelkhana
Feb 18, 2019, 11:01 pm
3 min read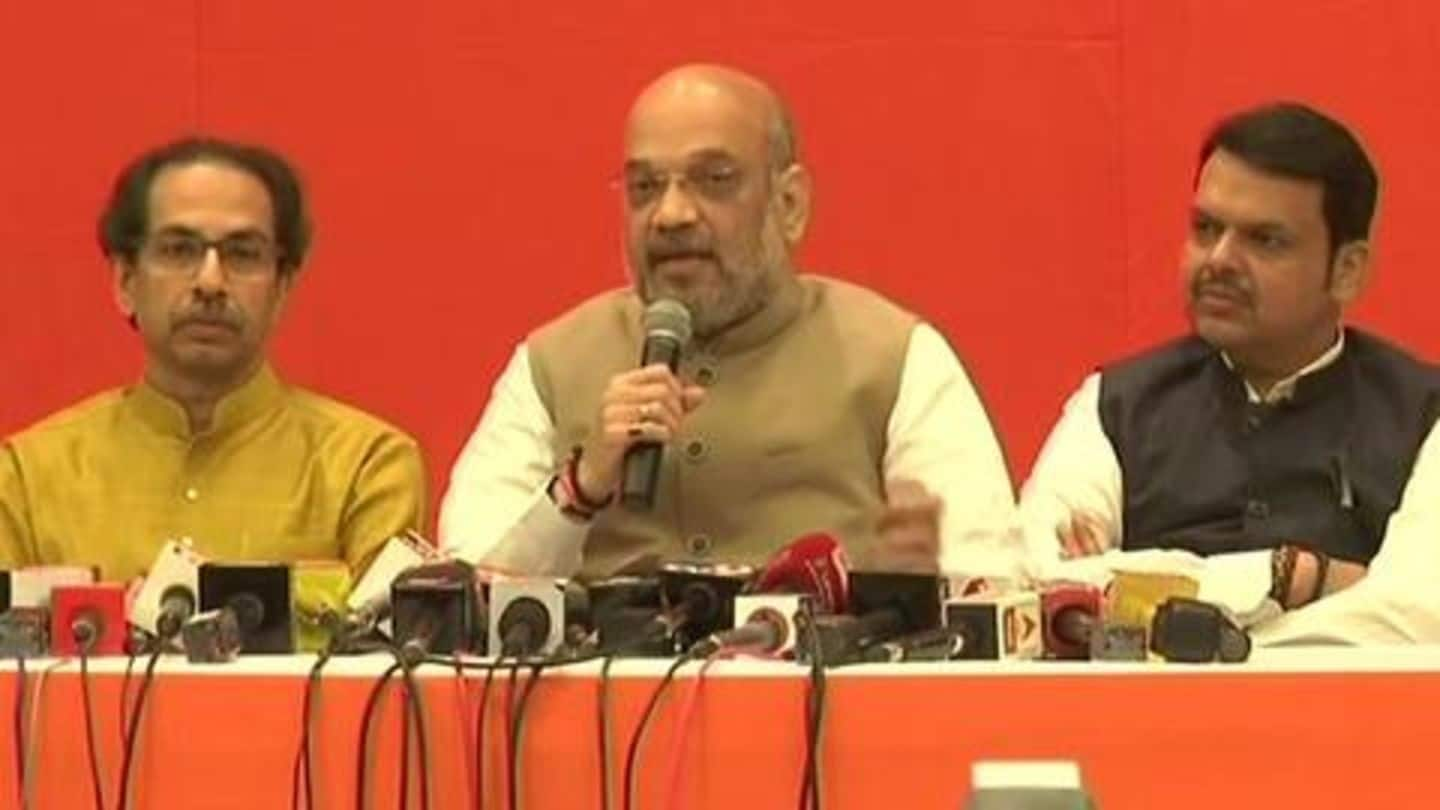 The Bharatiya Janata Party and the Shiv Sena on Monday announced that they have sealed an alliance to contest the upcoming 2019 Lok Sabha elections and subsequent Maharashtra Assembly polls together. The announcement was made by Maharashtra CM Devendra Fadnavis at a press conference. BJP National President Amit Shah and Shiv Sena chief Uddhav Thackeray were also present at the press conference. Here's more.
BJP-Shiv Sena will win 45 of 48 LS seats: Shah
"The Shiv Sena will fight on 23 seats and the BJP will contest on 25 seats in the upcoming Lok Sabha elections," said CM Fadnavis, underlining that both the parties share the "same ideology". He said the decision on the alliance was taken "in the interest of the nation", predicting the BJP will be voted to power at the Center in the LS polls.
Deal finalized after Shah, Thackeray's meeting
The alliance between BJP and Shiv Sena was reportedly finalized after Amit Shah met Uddhav Thackeray at the latter's residence in Mumbai. "I am confident that in the Lok Sabha elections, the BJP and the Shiv Sena will together win 45 out of total 48 seats in Maharashtra," said Amit Shah at the press conference.
There was confusion: Thackeray on differences between Sena and BJP
Uddhav Thackeray also talked about the differences between Sena and BJP over the last five years. He said, "People are seeing the Shiv Sena and the BJP for past 30 years. For 25 years, we stood united, and for (the last) 5 years, there was confusion." "But like CM (Fadnavis) said, I still provided guidance to the government from time to time," he added.
Maharashtra Assembly seats divided equally between BJP, Sena: Thackeray
On the Maharashtra Assembly polls to be held in four months, Thackeray said the seats and the responsibilities have been divided equally between BJP and Shiv Sena. "For Maharashtra Assembly elections, we will hold discussions with our other allies. Leaving the numbers of seats taken by our allies, the BJP and the Shiv Sena will fight on equal number of seats," said CM Fadnavis.
Our association with Shiv Sena goes beyond politics: PM Modi
Following the announcement of the BJP-Shiv Sena alliance, Prime Minister Narendra Modi tweeted, "Our association with the @ShivSena goes beyond politics. We are bound by a desire to see a strong and developed India." "The decision to contest together strengthens the NDA significantly. I am sure our alliance is going to be Maharashtra's first and only choice!" he wrote on the microblogging website.
Here's what PM Modi tweeted about the alliance with Sena
Our association with the @ShivSena goes beyond politics. We are bound by a desire to see a strong and developed India.

The decision to contest together strengthens the NDA significantly. I am sure our alliance is going to be Maharashtra's first and only choice!

— Narendra Modi (@narendramodi) February 18, 2019