Chandrababu Naidu meets Deve Gowda to unite Opposition against BJP
Chandrababu Naidu meets Deve Gowda to unite Opposition against BJP
Written by
Shiladitya Ray
Nov 08, 2018, 07:49 pm
2 min read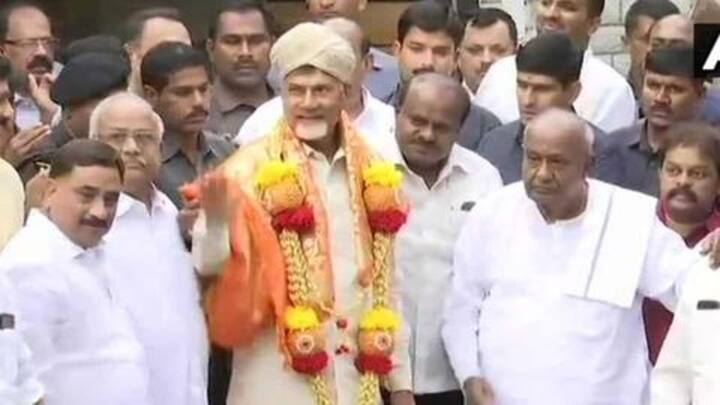 In a bid to unite Opposition parties against the BJP ahead of the 2019 elections, Telugu Desam Party (TDP) chief Chandrababu Naidu met JD(S) chief H D Deve Gowda in Bengaluru on Wednesday. A week earlier, Chandrababu Naidu had met Congress chief Rahul Gandhi in New Delhi with the same purpose of unifying the Opposition. Here are the details.
Chandrababu Naidu says that the Opposition have to save India
At the meeting, the TDP supremo said that the Opposition had to unite to "save" India from the clutches of the Modi government. He said that India's autonomous institutions like the Central Bureau of Investigation (CBI) and the Reserve Bank of India (RBI) had been destroyed by the NDA government, and that policies like the demonetization had led India to a crisis.
What the JD(S) had to say about the meeting
Commenting on the meeting, Deve Gowda said that the JD(S) and the TDP had discussed "the future course of action for forging an alliance" ahead of next year's general elections. Meanwhile, Deve Gowda's son and Karnataka Chief Minister H D Kumaraswamy said the meeting was held to discuss a plan to help unite the "secular forces" in India.
Kumaraswamy: We have 'good political arithmetic' with Naidu
"Chandrababu Naidu is working hard, as a co-ordinator, to unite the secular parties ahead of the upcoming general elections. We (Naidu and JD-S leadership) share good political arithmetics and have been friends," said Kumaraswamy.