Watch: Congressman throws water on BJP's spokesperson during live debate
Watch: Congressman throws water on BJP's spokesperson during live debate
Apr 07, 2019, 11:48 am
2 min read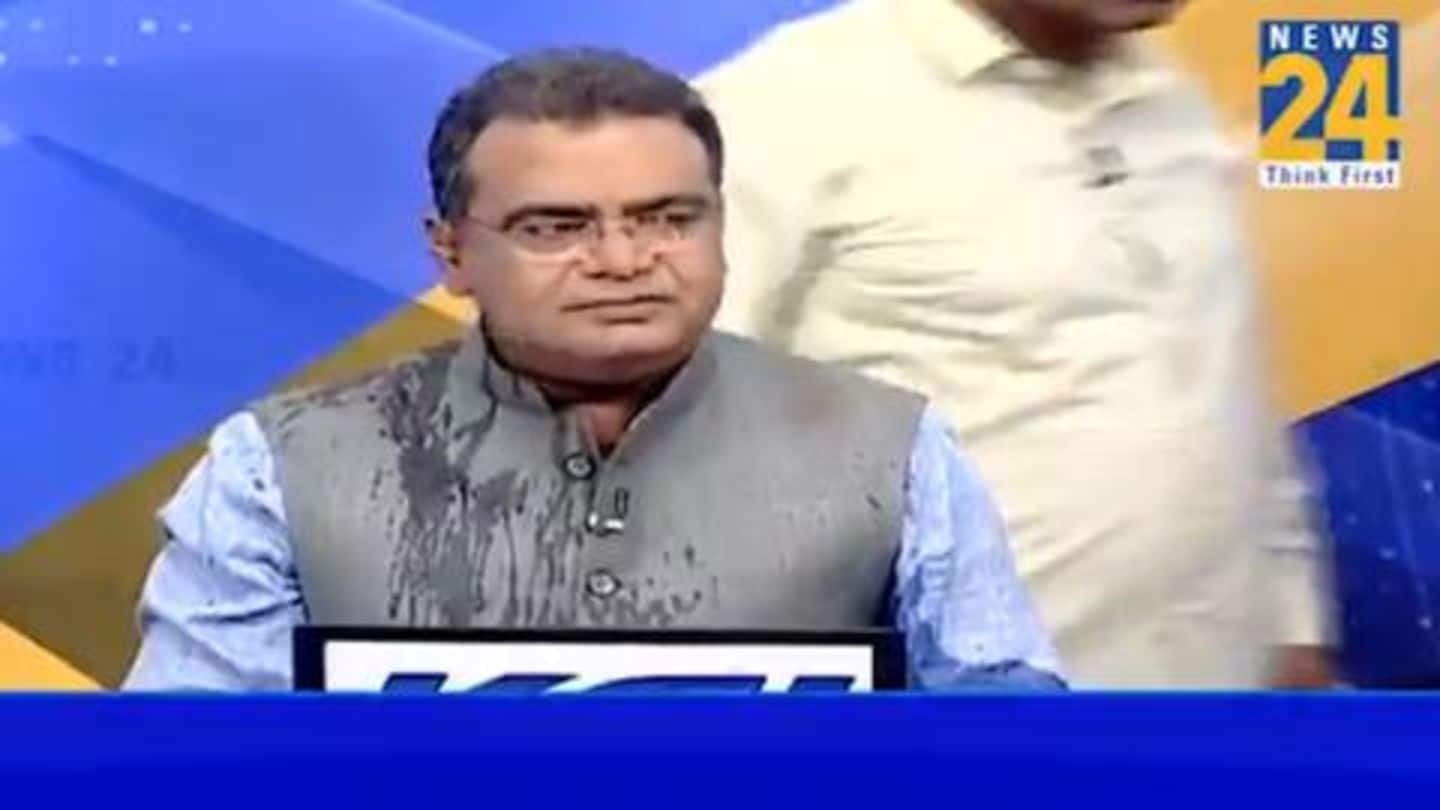 In what marks a new low in political discourse, a Congress spokesperson threw a glass of water on his BJP counterpart on Saturday during a live debate on a news channel. The clip of the indecent behavior has gone viral. As the debate raged on and party loyalists continued talking, the anchor asked both the spokespersons to leave the studio. Here's what went down.
Being called a "traitor", Congress' spokesperson splashed water
The incident happened on News24 channel on anchor Sandeep Chaudhary's show. During the debate, Congress' spokesperson Alok Sharma lost his cool when BJP's representative KK Sharma constantly labeled him a "traitor". Miffed with the choice of words, Alok threw a glass of water. The water spilled on Sandeep and glass broke into pieces. Sandeep asked Alok to apologize for his behavior.
What have you done, asked Sandeep
Sandeep criticized both BJP and Congress spokespersons
Sandeep reprimanded Alok and told him his behavior was deplorable. When asked to apologize Alok did, but Sharma remained defiant. Alok held his ground and said no one can judge patriotism of another citizen. Sandeep agreed and told Sharma he couldn't hand over certificates for the same and that he should apologize too. But the BJP spokesperson maintained he didn't do anything wrong.
Drenched in water, Sandeep slammed Sharma
As the spokespersons kept talking over one another, Sandeep asked them to leave the show. Soon, BJP's Twitter handle shared the clip and berated Alok. The saffron party claimed while Congress President Rahul Gandhi indulged in "hooliganism of words", spokespersons of the grand old party took to violence on TV debates. BJP claimed this behavior showed Congress was frustrated.
BJP needs to stop questioning patriotism of people
In this election season when tensions are rising up, there can be no justification for Alok's behavior. Similarly, Sharma's conduct also needs to be condemned. BJP leaders and spokespersons constantly ruffle the "patriotism" debate to shut down opponents. They might be in power, but no one, not even their staunch opponents, needs to prove their love for India to them.