Dadri lynching accused get front row seats at Adityanath's rally
Dadri lynching accused get front row seats at Adityanath's rally
Apr 01, 2019, 01:29 pm
3 min read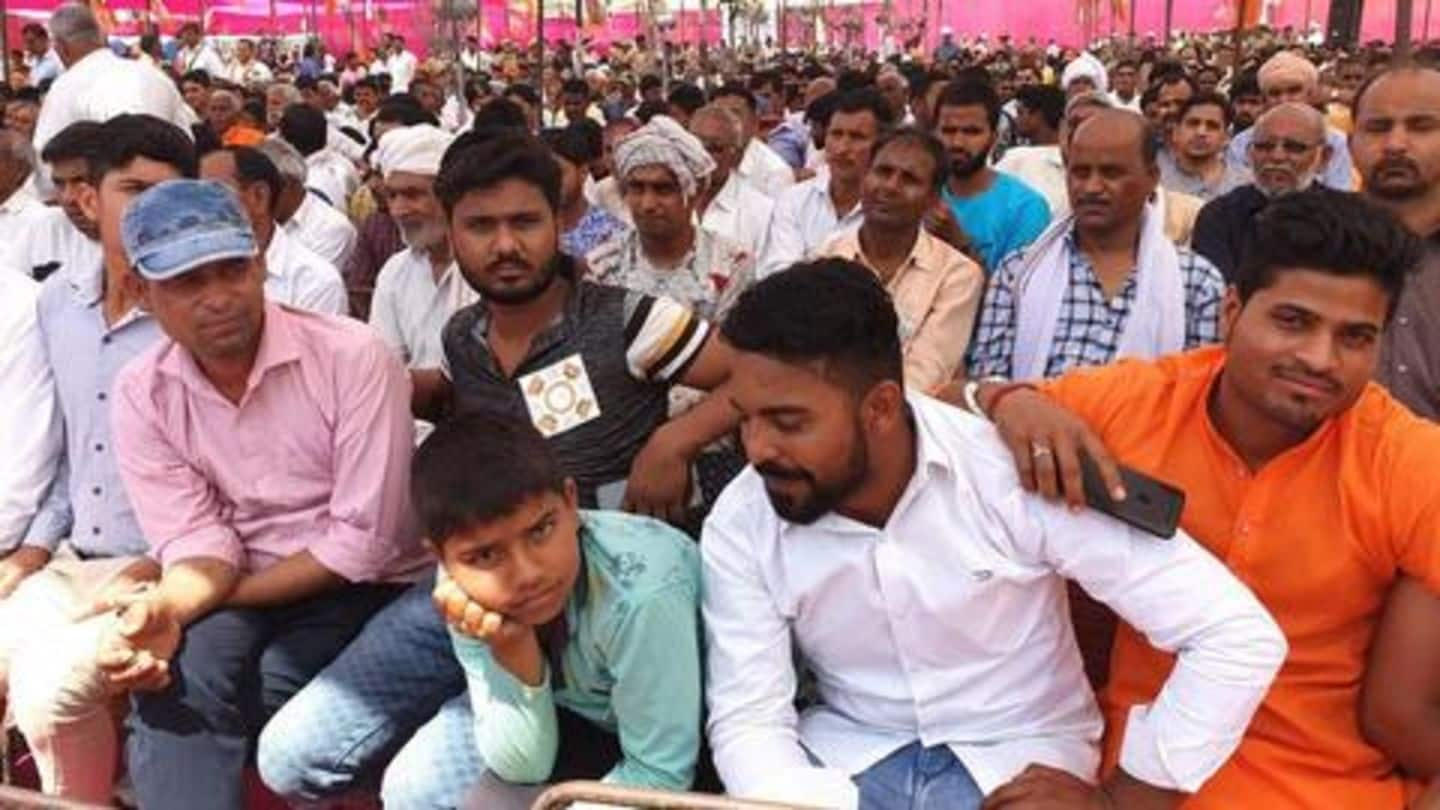 As Uttar Pradesh Chief Minister Yogi Adityanath delivered his speech in Bisada on Sunday, he received loud cheers from those sitting in the front row. The men who hailed Adityanath are the ones who were accused of killing a Muslim man to death in the same village (Bisada) near Dadri in 2015. Mohammad Akhlaq was dragged out of his home and lynched by a bunch of "cow-protectors".
Backstory: Akhlaq's death brought shame to entire nation
55-year-old Akhlaq was brutally beaten on suspicion of keeping beef in his house in September 2015. The perpetrators entered his house, dragged him outside and landed blows and kicks on him. His son Danish was also thrashed but he survived. He had to undergo a couple of brain surgeries. Two months after the incident, the police filed a 250-page charge-sheet, naming 17 accused.
Vishal, son of local BJP leader, was prime accused
Vishal Rana, son of a local politician Sanjay, was named as prime accused in the charge-sheet. He allegedly made the announcement that Akhlaq consumed beef, leading to lynching. In August 2017, Vishal was granted bail. Along with his friends, Vishal attended Adityanath's rally, who came to the area to seek votes for Union Minister Mahesh Sharma, contesting on BJP ticket from Gautam Budh Nagar.
Adityanath accused SP of "suppressing sentiments"
Adityanath mentioned the horrendous incident in his speech. He said, "Who doesn't remember what happened in Bisada? Everybody knows it." He claimed it was "shameful" that Samajwadi Party (which was in power at the time) tried to "suppress the sentiments". "I can say as soon as our government was formed we got all illegal slaughterhouses stopped in one go," he added.
Adityanath said BJP brought peace in Western UP
Adityanath also said SP and BSP indulged in "politics of appeasement" and BJP put an end to it. "Our government had said that it would not work for individuals, families, caste, or religion, but work for villages, the poor, youth, women, farmers and for every section of the society," he added. He claimed people were living peacefully in Western UP under BJP rule.
"Have you seen Bisada-like incident in last two years?"
"In my two years, has there has been any Bisada-like incident in the state? Has there been safety concern to sisters and mothers? No. This cannot happen because we have said that we will guarantee safety and development to 23 crore citizens of the state," he said.
Mahesh Sharma worked towards establishing Hindu culture, said Adityanath
Adityanath said Congress governed India for most years after independence, but they "divided majority". He said SP and BSP also followed Congress' footsteps and focused on the "development" of their family members. The CM asked people to vote for Sharma as he helped "establishing Hindu culture" by developing temples all over the country. Uttar Pradesh will vote in all seven phases.