Love will win, says Rahul Gandhi after casting his vote
Love will win, says Rahul Gandhi after casting his vote
May 12, 2019, 01:07 pm
2 min read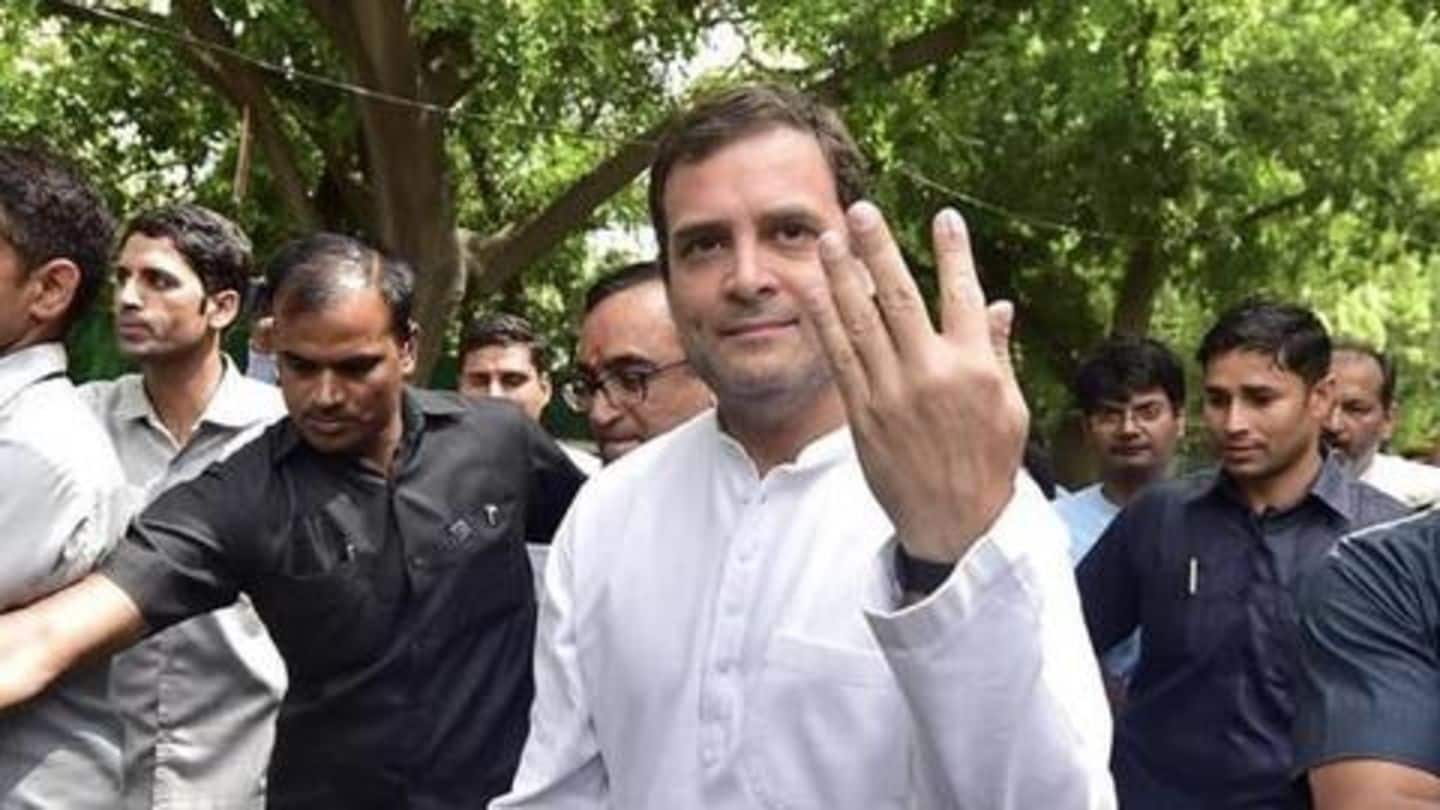 The Gandhis- Rahul, Priyanka, and Sonia, came out to cast their votes in the ongoing sixth phase of elections. After casting his vote, Congress President Rahul Gandhi said love would win this time. Launching fresh salvo at Prime Minister Narendra Modi, Rahul said he fought polls based on hatred but Congress chose love. Rahul was accompanied by senior Congress leader Ajay Maken.
Rahul said he will accept people's mandate
Rahul is registered as a voter at the high profile New Delhi Lok Sabha constituency. Ditching his vehicle, Rahul walked towards the polling booth in Aurangzeb Lane, which isn't far from his Tughlak Lane home. After getting inked, Rahul said, "I think love will triumph. The people are our maalik (boss). We will accept the people's mandate." Results will be declared on May 23.
Rahul also spoke about key issues of elections
"There are four (?) issues in this election, these are not our issues but people's issues. And the most important among these is of unemployment. Then, condition of farmers, demonetization, Gabbar Singh Tax (mocking GST), corruption and the Rafale issue," he told NDTV.
AAP, BJP, and Congress are locked in three-cornered battle
For the prestigious New Delhi seat, Congress has placed bets on its old warhorse Maken. Meanwhile, BJP has given a ticket to Meenakshi Lekhi and AAP fielded Brijesh Goyal. In Delhi, BJP built its campaign around nationalism and Centre's schemes. On the other hand, Congress promoted its flagship NYAY scheme. Separately, AAP told Delhiites to remember full statehood while voting.
Sonia and Priyanka also cast their votes
Rahul's sister Priyanka Gandhi, who is the in-charge of Congress for UP East, cast her vote along with her husband Robert Vadra. After getting inked, Priyanka said PM Modi doesn't answer real questions. Their mother Sonia also voted from another polling booth in Delhi. The UPA chairperson, who is seeking re-election from Raebareli, was accompanied by former Delhi CM Sheila Dikshit.
We are fighting to save democracy, claimed Priyanka