According to BJP leader, 'gaumutra' and 'gobar' can cure coronavirus
According to BJP leader, 'gaumutra' and 'gobar' can cure coronavirus
Mar 03, 2020, 12:24 pm
3 min read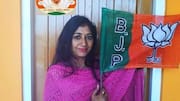 While the world is yet to figure out how to curtail the menace of coronavirus, a BJP leader seems to have cracked it. According to Suman Haripriya, a legislator in Assam, gaumutra (cow's urine) and gobar (cow dung) can fight it. She made the comments in the state assembly on Monday during the budget session when a discussion was underway on cattle smuggling from Bangladesh.
Cow dung is very helpful: Haripriya
Haripriya claimed cow urine can cure chronic diseases like cancer. "We all know that cow dung is very helpful. Likewise, when cow urine is sprayed, it purifies an area... I believe something similar could be done with gaumutra and gobar to cure coronavirus (disease)," she said. This isn't the first time a BJP leader has made atrocious remarks about the "miraculous" powers of cows.
BJP leaders have a special kind of love for cows
In 2019, Uttarakhand Chief Minister Trivendra Singh Rawat stoked a major controversy by saying that cow is the only animal that "exhales" oxygen, and went on to add that massaging them can treat "breathing problems". And once, Union Minister Ashwini Choubey said AYUSH Ministry wants to use cow urine to develop medicines. "It is used even for the treatment of incurable diseases like cancer," he said.
Nearly 3,000 have died due to coronavirus
Haripriya's statement shows she doesn't understand how serious the coronavirus problem is. So far, the virus, which broke out in China's Wuhan mid-December, has taken the lives of nearly 3,000 people in the country alone. It has spread to 50 countries and in India, at least five people were tested positive. The three initial patients, who belonged to Kerala, were discharged after recovery.
Techie, who went to Dubai, caught the virus
On Monday, two people tested positive for coronavirus, one in New Delhi and another in Telangana. The latter works as a techie in Bengaluru and was tested in Telangana. He had gone to Dubai for some official business, worked with people from Hong Kong, and supposedly caught the virus. The 24-year-old techie was diagnosed with the virus at a government-run hospital.
Health officials are tracking people whom techie contacted
Karnataka health officials didn't reveal details of the techie, saying they don't want to spread panic but are tracking people whom he contacted. "We are trying to get in touch with all those persons who have come in contact with the coronavirus-affected person as per protocol. We will keep them under observation and shift them to a quarantine facility if required," an official said.
Meanwhile, a school in Noida was closed
Separately, a school in Noida was closed after it was learned that the Delhi patient, who contracted the virus in Italy, attended a birthday party last week. The party was attended by his children and their schoolmates, reports said on Tuesday. The Ministry of Health Affairs has contacted everyone who attended the event and tests are also being conducted.