Government willing to discuss Delhi violence after Holi: Om Birla
Government willing to discuss Delhi violence after Holi: Om Birla
Mar 03, 2020, 05:51 pm
3 min read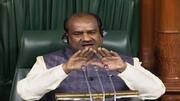 Though tensions are simmering in the National Capital after last week's violence, the Centre is not ready to have an open discussion about it in the Parliament. This was made amply clear on Tuesday when Speaker Om Birla said the government will address the issues after Holi, March 10. The Parliament was adjourned for a second straight day due to ruckus.
Northeast Delhi burnt after CAA protest turned violent
Last week, Northeast Delhi witnessed large-scale violence after a protest against the Citizenship Amendment Act (CAA) turned violent. Reportedly, 47 people died in the Hindu-Muslim riots and hundreds were injured. But, it took Prime Minister Narendra Modi several days to put out a tweet. His close aide, Home Minister Amit Shah, was also slammed for not doing enough to contain the violence.
Yesterday, Parliament was adjourned, things didn't improve today
When Lok Sabha resumed for the second half of the Budget session yesterday, opposition cornered BJP, demanded Shah's resignation, and said PM Modi must speak in the Parliament. Both Houses were adjourned for the day, but today things didn't improve. As soon as the session started in Lok Sabha today, leaders of parties like Congress, DMK, demanded a discussion, prompting Birla to adjourn the House till noon.
Birla warned to suspend MPs
Birla also announced that no MPs would bring placards inside the House and if they continue agitating, they would be suspended. This warning finds its roots in Monday's episode, where politicians from Congress and BJP were locked in a scuffle. They showed their unacceptable side after BJP leaders refused to discuss Delhi violence. Reportedly, Shah plans to speak only after the situation gets normal.
Pained at the developments in the House: Birla
"I am personally pained at the developments in the House. You are not pained. I do not want to run proceedings under such circumstances. Everybody should deliberate to ensure that the dignity of the House is maintained," the Speaker said.
Opposition can flag concerns during zero hour: Pralhad Joshi
Amid the din, Parliamentary Affairs Minister Pralhad Joshi said the government was ready to discuss the violence but the opposition should raise it during zero hour. "I will only say this that the restoration of peace and normalcy is the topmost priority. And if you want to raise the issue, then the government is ready to debate," Joshi said.
Owaisi reminded Parliament discussed 2002 riots
Thereafter, AIMIM chief Asaduddin Owaisi slammed the government for opposing the discussion. Taking to Twitter, he wrote, "Just participated in an all-party meeting called by Lok Sabha Speaker. Parliament had discussed Gujarat 2002 riots and a Parliamentary delegation was sent following riots. The government is now opposing a discussion in Lok Sabha about Delhi Carnage arguing that it'll disrupt peace (sic)"
MPs can't be prevented from speaking about the issue
"Let the debate happen in compliance with rules and procedure of the House and if someone violates them, it must be expunged from the record. But parliamentarians cannot be prevented from speaking at all. I volunteered to be part of any delegation that meets affected people," he added.