Himachal elections: Comparing Prem Dhumal and Virbhadra Singh
Himachal elections: Comparing Prem Dhumal and Virbhadra Singh
Nov 02, 2017, 11:03 am
3 min read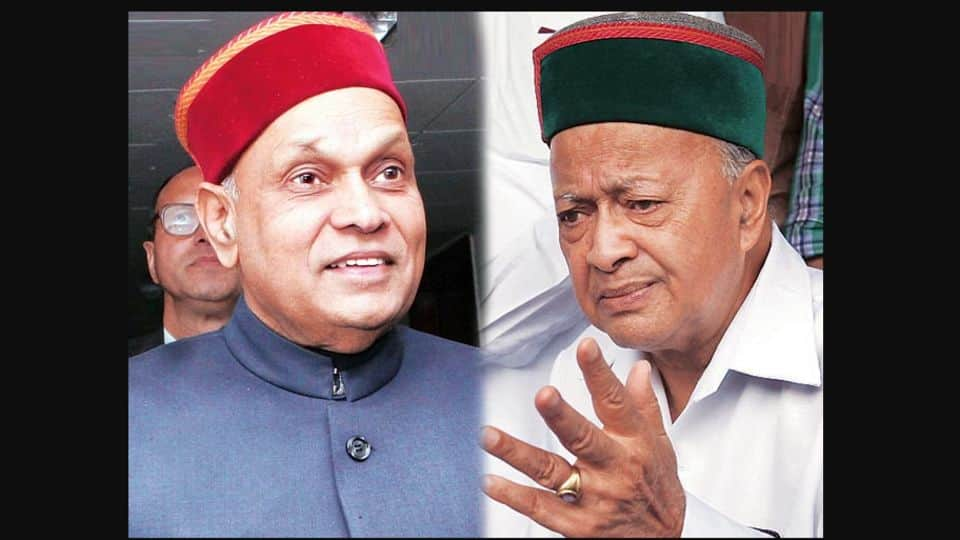 For Himachal elections, BJP had initially planned to contest polls without naming a CM candidate, somewhat similar to their strategy for Haryana and UP elections. However, after Congress gave Virbhadra Singh liberty to campaign and choose candidates, BJP reconsidered its strategy, announcing Prem Dhumal as its CM candidate. Since 1998, it's been Singh versus Dhumal in Himachal. But, are they any different? Let's compare!
Dhumal and Singh are mass leaders, enjoy popularity within party
Reports indicate that Dhumal is extremely popular among BJP's cadres and is "an acceptable face" in the state. Similarly, Singh, from Himachal's erstwhile royal family, enjoys mass support; he has such an influence that when Congress high command didn't name him CM candidate, he threatened to leave Congress with about 27 MLAs. This prompted Congress to accept all his demands.
Dhumal and Singh use corruption scandals to attack one another
A trend is observed in Himachal politics wherein Dhumal and Singh alternatively slap corruption cases against each other. During 2012 elections, Dhumal and son Anurag Thakur were allegedly embroiled in few disagreeable commercial deals of selling prime land to outsiders, reportedly affecting the election results. Presently, Singh and wife Pratibha are on bail from a CBI court in a disproportionate assets case.
Whether it's Dhumal or Singh, development remains the same!
Reports indicate that in terms of Himachal's growth rate, Dhumal and Singh have been successful in keeping it in line with the national average (7-8%). This holds true for development indicators, because irrespective of the party in power, Himachal outranks other states in education and healthcare sectors. Indicators like infant mortality rate and rural areas' learning levels are in sync with all-India figures.
Singh and Dhumal have sons waiting in the wings
Despite BJP following the "75 years" criterion for holding public office, Dhumal aged 73 was chosen as CM candidate against Congress's Singh (aged 83). With age playing spoilsport, both have succession plans in place. Anurag Thakur, Dhumal's son, is an LS MP and upcoming politician. Vikramaditya, Singh's son, is contesting elections for the first time from Shimla rural, Singh's constituency, to ensure a win.
Dhumal faces competition within BJP; Singh is Congress's sole hope
Though Singh didn't get along with Congress's state chief Sukhvinder Sukhu, the six-time CM's importance can be gauged from the fact that Congress gave him a free rein in choosing candidates. Meanwhile, Dhumal faced stiff competition from senior leader Shanta Kumar and Union health minister JP Nadda. Kumar was rejected for his age, and Nadda was rejected for not being a mass leader.
What does this mean for the state's politics?
By naming CM candidates, parties will perhaps contest elections on local issues. Both Dhumal and Singh are mass leaders. By choosing them, Congress and BJP have played safe as both belong to the dominant Thakur caste, constituting 28% of the state's population. With BJP's war cry being "Mission 50+" and Congress's "Repeat Mission 2012," this will be the final Dhumal versus Singh showdown.