Congress continues "soft Hindutva" charade: Rahul visits Somnath temple again
Congress continues "soft Hindutva" charade: Rahul visits Somnath temple again
Written by
NewsBytes Desk
Dec 23, 2017, 11:53 pm
3 min read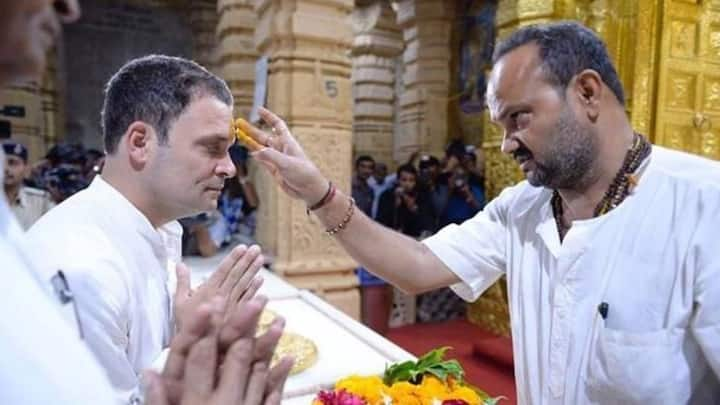 Congress president Rahul Gandhi's temple run ahead of the Gujarat polls might have worked. Congress swept 77 seats, its highest tally since the 1980s. Now, it seems Rahul will continue holding the "soft Hindutva" mantle. Today, he will offer prayers at the Somnath temple, before discussing the party's performance with the workers. What is the reason for a change in Congress's strategy?
What is the familiar perception?
Presently, aside from being a way of life, Hindutva has transformed into an aggressive cultural identity that can fuel political sentiments. The RSS-rooted BJP is perceived as a Hindu party. They mobilized this Hindutva sentiment to wrest power in the 2014 LS elections and subsequently in 11 state assemblies. Conversely, Congress's brand of vote-bank politics intends to please minorities; it brands itself as secular.
Why this shift towards soft Hindutva now?
The poor showing during the 2014 LS polls made Congress analyze its approach. Before the polls, Congress leaders had mounted a verbal offensive against Hindu terror, targeting RSS/BJP. But, Congress's four-member post-poll panel determined that its move of contesting elections on the "secularism versus communalism" plank was misinterpreted as a pro-minority stance. This alienated the Hindu electorate, giving Modi a popular mandate.
But, hasn't "soft Hindutva" been Congress's fallback since years?
Rahul's ancestors have used covert-overt Hindutva to reverse Congress fortunes. For the post-Emergency elections, Indira Gandhi visited temples, wore a tilak and rudraksh beads, ritualistically covered her head and bowed to godmen. This worked for her. Like his mother, PM Rajiv Gandhi also supported Hindus sporadically. He had unlocked the disputed Babri Masjid, allowing Ram temple's worship.
Meanwhile, despite being a majority, Hindus have suffered exclusion
Meanwhile, since independence, to give credence to India's secular stance, minority-favoring policies like quotas in educational institutes etc. were doled out. Modi appealed to this exclusion. He used social media platforms to further Hindu pride, reminding Indians of their core Hindutva base.
Now, with Modi magic at its peak, Congress rebrands itself!
With Modi's Hindutva brand leading to a BJP wave, Congress attempted to rebrand itself. Rahul visited Kedarnath and claimed to be studying Upanishads/Gita. During 2017 UP poll campaign, Rahul visited temples, his tilak-smeared forehead pictures going viral. But, the SP-Congress coalition took a beating as SP's pro-Muslim identity clashed with Congress's new-found Hindutva. Undeterred, during Gujarat's campaign trail, Rahul visited 27 temples.
What is Congress trying to do?
So, what is Congress planning? Congress's soft Hindutva aims to attract voters who are embarrassed by BJP's "gau-rakshak" image but are interested in an inclusive Hindutva version. They are trying to lure Hindu voters, without alienating their core Muslim voter-base. It seems they were successful in Gujarat. Congress won about 18 seats, 10 of which they snatched from BJP, where Rahul visited temples.
But, will this strategy work for elections in 2018?
In 2018, Congress' new strategy will be tested in bi-polar contests in the Hindu heartland of MP, Chattisgarh and Rajasthan. Here, an anti-incumbency factor against BJP is also at play. So, will mere symbolism work in convincing the majority Hindu population to vote for Congress? Will Congress couple this with failed economic policies and rising unemployment? We'll have to wait and watch.