Lingayats get special religious minority status, but are they non-Hindus?
Lingayats get special religious minority status, but are they non-Hindus?
Mar 20, 2018, 08:48 pm
3 min read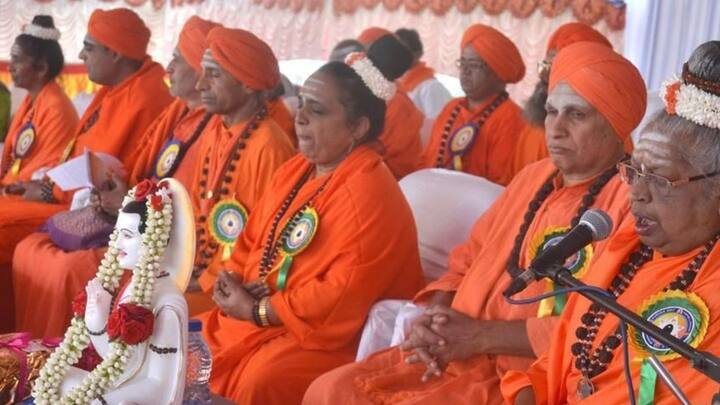 Yesterday, Karnataka's Congress-led Siddaramaiah government granted a special religious minority status to the Lingayats and Veerashaiva-Lingayats. This sparked the long-standing debate of whether Lingayats are Hindus. It seems redundant and quite absurd since for about two decades the 17% Lingayat population of Karnataka have politically supported Hindutva-torchbearer BJP. So, why are the Lingayats now asserting their difference from Hinduism? Let's analyze this contradiction.
Lingayats are followers of the 12th century poet-philosopher-social reformer Basavanna. He rebelled against the Hindu caste system and founded the Lingayat religion for a casteless society. Its emergence can be located as part of the Bhakti movement. He also launched a spiritual and social movement that rejected the Vedas, shastras, smritis and the Upanishads. He asked his followers to follow the "ishtalinga" (formless God).
So, aren't they then a part of the Hindu fold?
Lingayatism, like other Bhakti movements, took birth within Hinduism and tried to change the unjust practices within the religion like challenging the Brahminical system and vedas/agamas. Though it tries breaking away from the Hindu fold, its association with Veerashaivism strengthens its connection to Hinduism. Veerashaivas, a Shiva sub-sect within Lingayats, accepts Vedic texts and Hindu practices such as gender and caste discrimination.
Earlier, Jains had asked for a similar minority status
In 2014, UPA decided that India's 5mn Jains need to be granted minority status as they are "discriminated" by the "majority" Hindus. Interestingly, Jainism developed as an offshoot of Hinduism in 6th century BC, rejecting the Brahmanic Vedas as authoritative. It however intersected with Hinduism on karma and reincarnation theories. Since there is no exact definition of Hindu, Veda-believers/non-believers have been clubbed under Hinduism.
So, why do these communities seek minority status?
The demand of minority status is based on practical considerations. First, these religions obtain a separate census entry, which they contend would reveal their true numerical strength and their backwardness, thus securing reservation. Further, they will benefit from financial advantages like tax waivers and other preferential benefits for their educational institutions. It also protects them from state interference in religious, cultural and educational institutions.
Why is this particular demand also political?
As Lingayats are originally BJP supporters, Congress's move attempts to widen its stagnating AHINDA (Kannada acronym for minorities, backward classes and Dalits) voter-base. Why else would it now support a demand that it had reportedly rejected in 2013? Moreover, by placating Jain and Lingayat demand of minority status, Congress is chipping away RSS/BJP efforts of consolidating all sects under the Hindutva umbrella.