Karnataka: Congress MLA, accused of hitting colleague, says he 'slipped'
Karnataka: Congress MLA, accused of hitting colleague, says he 'slipped'
Jan 21, 2019, 07:15 pm
3 min read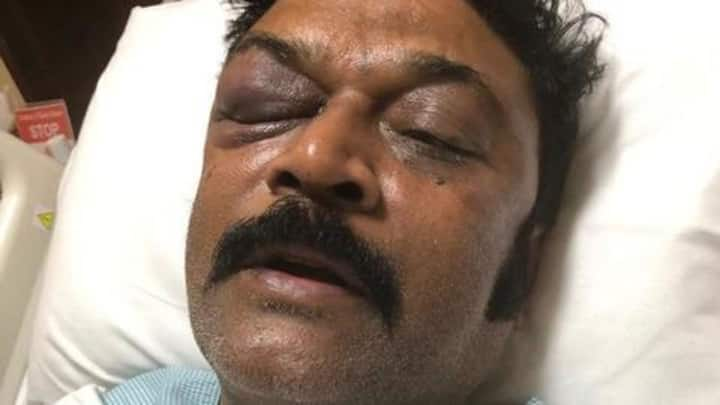 JN Ganesh, Congress MLA from Karnataka who was accused of hitting his colleague Anand Singh, was suspended from the party by Karnataka Pradesh Congress Committee's general secretary. Earlier in the day, Ganesh claimed innocence saying he didn't hit Singh and the latter got injured after 'slipping'. The incident allegedly happened at Eagleton resort, where Congress had herded its lawmakers to thwart BJP's poaching attempts.
Backstory: To 'save' MLAs from BJP, Congress moved lawmakers
On Friday, Congress sequestered its leaders in the resort to prevent BJP from 'toppling' the coalition government. After spending two days in the resort, the lawmakers are now returning back to their constituencies. KPCC president Dinesh Gundu Rao confirmed this development. He told ANI that MLAs were put up in the resort to fight BJP, but now they are sure the government is strong.
The fight hinted everything isn't well in Karnataka Congress
Just as the Congress and BJP traded barbs over horsetrading charges, reports of an alleged fight in the former's camp deepened the crisis. To put 'speculations' to rest, Ganesh decided to set the record straight. "I, Anand Singh and Bheema Naik had a confrontation. We did not beat each other up," he claimed. Ganesh revealed Singh slipped and suffered 'few injuries'.
Congress jumped to damage control but couldn't hide truth
Congress wanted to show everything was fine. Hence, troubleshooter DK Shivakumar called reports of the fight 'fake news'. But the reality was different. On Sunday, Singh was admitted to Apollo Hospital with a swollen black eye. Reports claimed he also suffered from slight trauma. While pictures from the hospital clearly showed Singh's condition, Congress MP DK Suresh said he was admitted due to 'chest pain'
Singh's wife said she will take legal action
Meanwhile, Singh's wife Laxmi was furious at the way her husband was treated. Laxmi, who was in Mumbai to attend a wedding, said, "If it is true that Ganesh beat up my husband, my children and I will not keep quiet and will take legal action against him." However, Laxmi revealed Singh and Ganesh never had any fight and were, in fact, friends.
After much brouhaha, 'Operation Lotus' might have been averted
With the lawmakers returning to their homes after 'short vacation', Karnataka crisis may have been averted, once again. In the last week, Congress had many times spoken about the resurgence of 'Operation Lotus' but BJP kept denying the claims. BS Yeddyurappa, the saffron party's tallest leader in the state, said the lawmakers and cadres were only concentrating on winning 20 Lok Sabha seats.