Maharashtra: No NCP MLA will support BJP, says Sharad Pawar
Maharashtra: No NCP MLA will support BJP, says Sharad Pawar
Written by
Siddhant Pandey
Nov 23, 2019, 02:04 pm
3 min read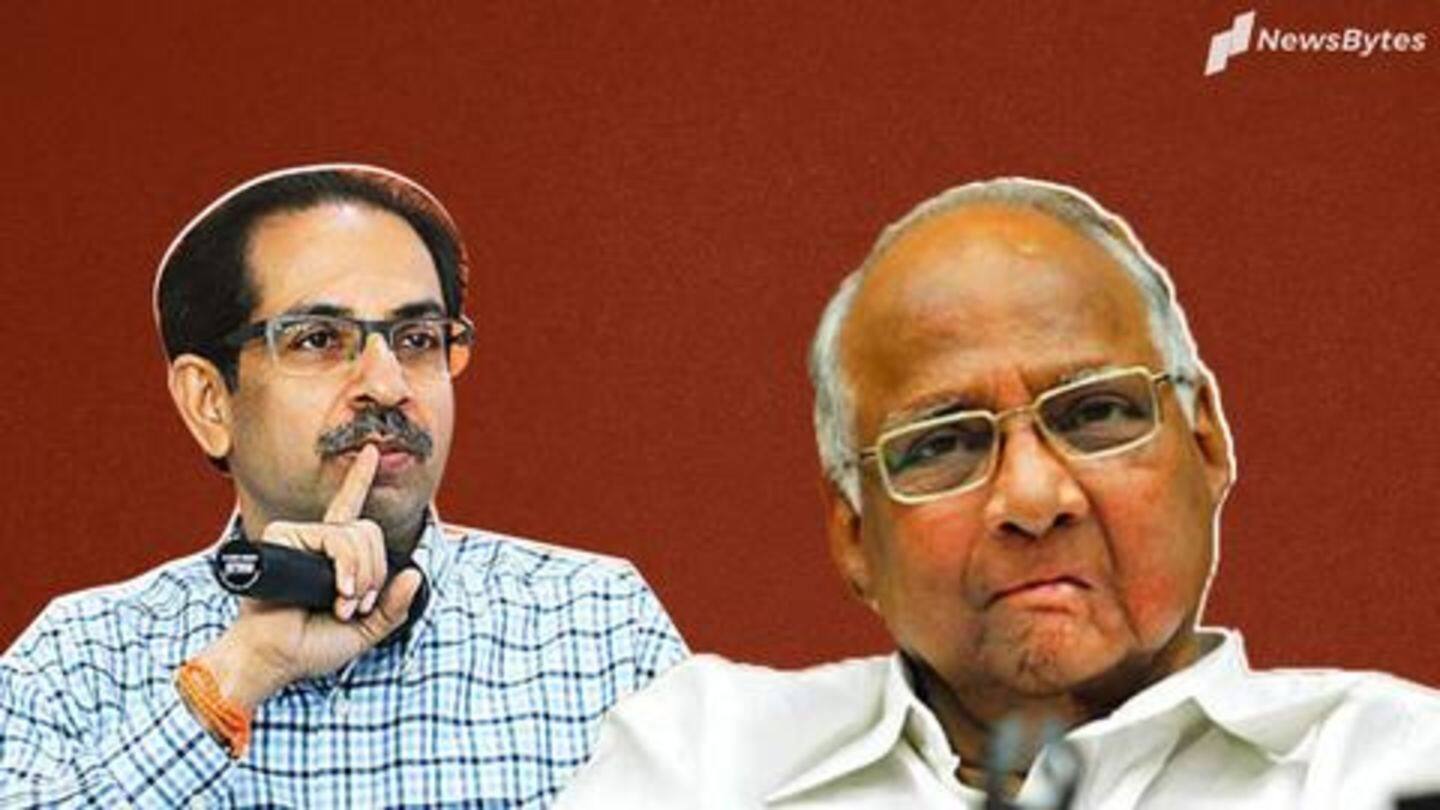 On Saturday, the Nationalist Congress Party and the Shiv Sena addressed a joint press conference at the YB Chavan Center in Mumbai. At the conference, NCP chief Sharad Pawar said that no MLA from his party will support the Bharatiya Janata Party. Earlier, BJP's Devendra Fadnavis and NCP's Ajit Pawar were sworn-in as the Chief Minister and Deputy CM of Maharashtra respectively. Here's more.
MLAs supporting BJP-NCP government can lose party membership: Pawar
Pawar said, "Ajit Pawar's decision is against the party line and is indiscipline. No NCP leader or worker is in favor of an NCP-BJP government." Pawar also warned the MLAs siding with the BJP-NCP alliance that they risk losing party membership, under the anti-defection law. Separately, the Congress party—earlier expected to address the press conference alongside NCP and Sena—was missing from the presser.
'Shiv Sena-NCP-Congress alliance had the numbers'
Speaking about the attempted Shiv Sena-NCP-Congress alliance, Pawar said, "We had the numbers. We had our official numbers- 44, 56 and 54 MLAs with us who had supported the government. Several independents were also with us and we had numbers around 170."
NCP MLA reveals what happened before swearing-in ceremony
Detailing the events ahead of Ajit Pawar's swearing-in, NCP MLA Rajendra Shingane said, "Ajit Pawar had called me to discuss something and from there I was taken with other MLAs to Raj Bhavan." Shingane added, "Before we could understand the oath ceremony was complete. I rushed to Pawar Sahab and told him I am with Sharad Pawar and NCP."
Other NCP MLAs claim they were unknowingly taken to swearing-in
NCP MLAs were lied to, kidnapped, claims Sena spokesperson
Sanjay Raut, Shiv Sena: Of the 8 MLAs who had gone with Ajit Pawar, 5 of them have come back. They were lied to, put in a car, and sort of kidnapped. Agar himmat hai to vidhaan sabha mein majority saabit kar ke dikhaye. pic.twitter.com/hDOKRad9kL

— ANI (@ANI) November 23, 2019
Sharad Pawar said, "Parties had their MLAs list signed by all MLAs, a similar list of NCP was with Ajit Pawar, as he is CLP of NCP." He said he suspects Ajit submitted the same list during his swearing-in ceremony to prove support. The NCP chief said he plans to raise this with the Governor, adding the BJP-NCP government wouldn't pass the floor test.
NCP MLAs signatures taken deceptively, alleges party leader
Notably, Sharad Pawar promised action against Ajit, falling short of sacking him. Party leader Nawak Malik had also leveled cheating allegations against Ajit, who has since been removed as NCP's CLP leader. A new NCP legislative party leader will be announced by 4pm. Incidentally, BJP's Girish Mahajan had claimed his party has support of all NCP MLAs with Ajit's support since he's CLP leader.
Everyone knows what Chhatrapati Shivaji did when betrayed: Uddhav Thackeray
Meanwhile, Shiv Sena chief Uddhav Thackeray said, "Earlier, there was the EVM khel and now there is a new one. From here on, I don't think elections are even needed. Everyone knows what Chhatrapati Shivaji Maharaj did when betrayed and attacked from the back."
You can watch the press conference here
Here's a brief summary of what's happened in Maharashtra
To recall, the BJP-Shiv Sena alliance won a majority in the Maharashtra elections last month, however, debates over power-sharing led to the alliance falling apart. As no party proved a majority in the assembly, President's rule was imposed in the state. Unsatisfied, the Shiv Sena, Congress and the NCP tried to strike a three-party alliance. However, in a last-minute turnaround, Fadnavis became Chief Minister.