Mamata Banerjee's photo with 'Famous Bengali Legends' sparks outrage
Mamata Banerjee's photo with 'Famous Bengali Legends' sparks outrage
Mar 08, 2019, 11:27 am
3 min read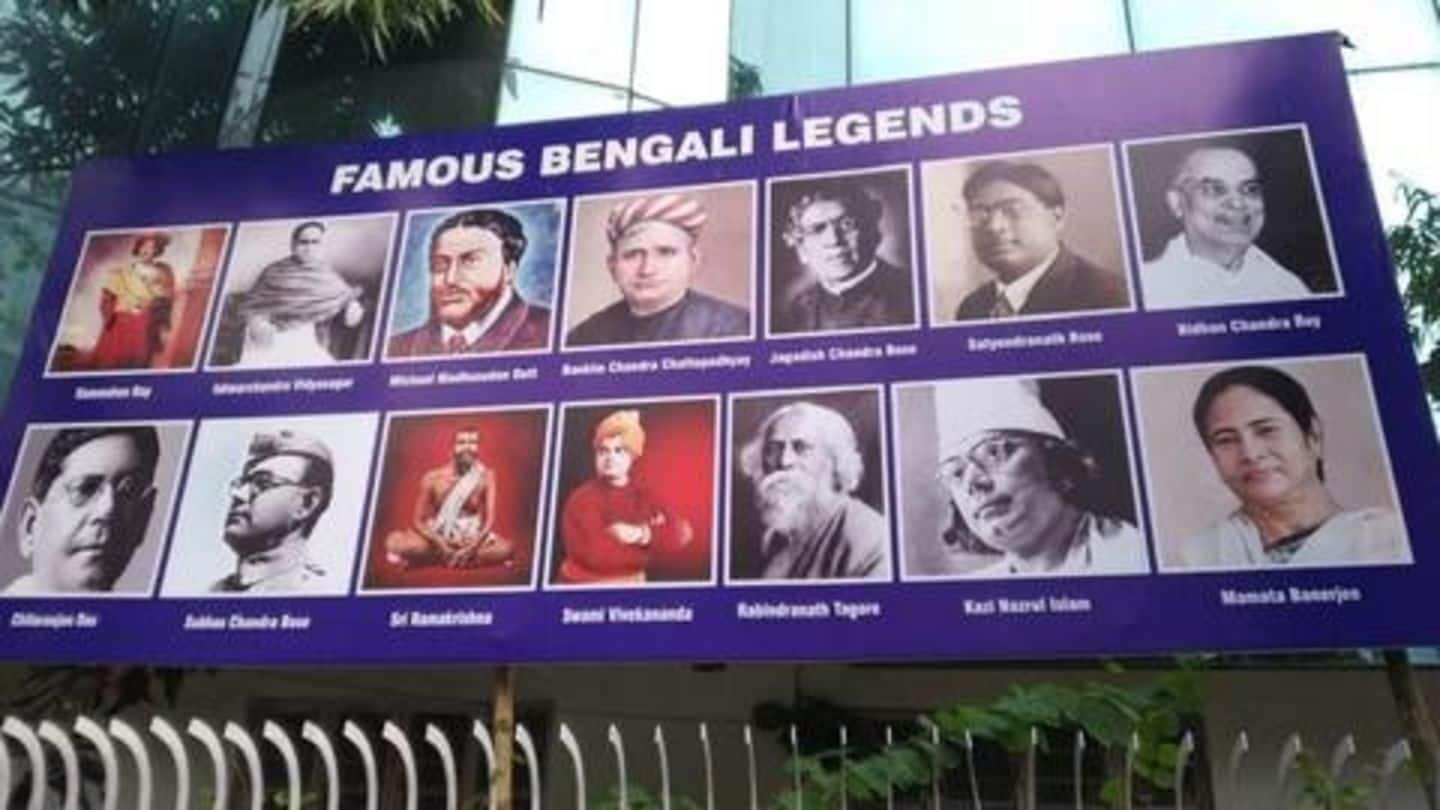 The presence of West Bengal Chief Minister Mamata Banerjee on a billboard titled 'Famous Bengali Legends' has sparked outrage. The giant flex put up in Kolkata's tech hub has images of stalwarts like Rabindranath Tagore, Netaji Subhash Chandra Bose, and Raja Ram Mohan Roy. And Banerjee, a politician, whose success is nowhere close to the aforementioned icons shared space with them too. Here's more.
Poster celebrated those who scripted history
The flex put up at Salt Lake had photos of 13 eminent personalities from the 19th and 20th centuries. Revolutionary Raja Ram Mohan Roy, who worked relentlessly to abolish Sati practice, Ishwar Chandra Vidyasagar, who advocated widow remarriage, and Bankim Chandra Chattopadhyay, the author of Vande Mataram, featured in the poster. Scientist Jagadish Chandra Bose and physicist Satyendra Nath Bose were also given spots.
How exactly is Banerjee a "legend"?
Freedom fighter Netaji Subhash Chandra Bose, literary giant Rabindranath Tagore, Ramachandra Paramhans and his disciple Swami Vivekananda, Michael Madhusudan Dutt, Kazi Najrul Islam, and former Chief Minister Bidhan Chandra Roy also featured in the flex. The 14th photo in the banner was that of Banerjee, and many called out the absurdity of it. We can't wrap our heads around it, either.
Twitter users slammed Banerjee
Twitter user @Vish_A tweeted: You can be self-centered, you can be self-obsessed, but you just can't beat Mamata Di on those accounts! And @SomuAcme wrote: This barely literate lady #MamataBanerjee crossed all limits of democratic means by demeaning the prides of #Bengal (sic). Meanwhile, college student Sudhirti Chowdhury said, Banerjee might be the most popular leader in Bengal but the poster was "too much".
Here's what officials said on the poster
As the poster snowballed into a controversy, Bidhannagar municipality chairperson Krishna Chakraborty said the area where it was put up didn't fall under civic body's purview. Meanwhile, State Fire Services Minister Sujit Bose said he didn't know such a poster existed. "I have no idea about its existence. How can I comment on something unless I can confirm that it exists," Bose asked.
As it turns out, this isn't the first time Banerjee has been put on the same pedestal as legends. During the 2019 Film Festival at Nandan Cultural Center, her photograph was put next to people like Satyajit Ray, Ritwik Ghatak, and Mrinal Sen.
Meanwhile, Banerjee will start elections campaign today
Banerjee chose International Women's Day to start her Lok Sabha polls campaign. The towering leader is scheduled to participate in a rally, which will start from Shraddhananda Park and end at Esplanade area. "She (Banerjee) will give her message for the Lok Sabha polls. And after the dates are announced, a full-fledged campaign will begin," a senior TMC leader said.