In IRCTC corruption case, Tejashwi Yadav, mother Rabri, granted bail
In IRCTC corruption case, Tejashwi Yadav, mother Rabri, granted bail
Aug 31, 2018, 12:27 pm
2 min read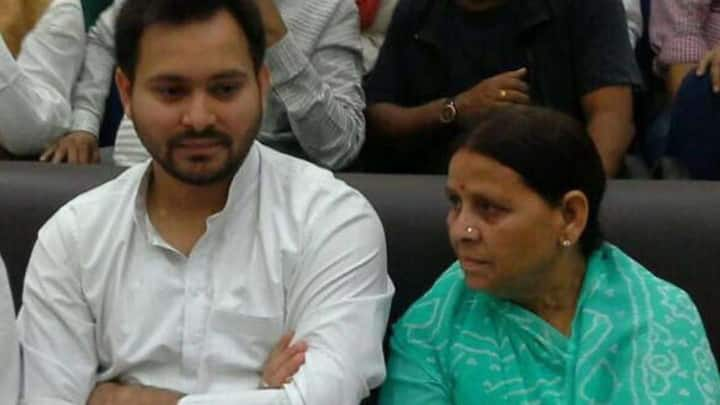 In a major relief to RJD, Lalu Prasad Yadav's wife Rabri Devi and son Tejashwi were granted bail by a Delhi court on Friday in the IRCTC hotels corruption case. Special Judge Arvind Kumar granted bail to the mother-son duo, minutes after the proceedings commenced. Notably, on Thursday, Yadav surrendered before CBI court in relation to the fodder scam, in which he was convicted.
Yadav, one of the accused, was exempt for the day
While granting bail, the court asked the accused to furnish a personal bond and surety of Rs. 1 lakh each. Yadav, who is one of the accused in the case, was exempted for the day as he is lodged in Birsa Munda Jail, Ranchi, in relation to the fodder scam. But a production warrant was issued for him for October 6.
Context: As Railway Minister, Yadav allegedly took land as bribe
The case relates to irregularities in granting maintenance contract of two IRCTC hotels, in Ranchi and Puri, to a private firm. As the Railway Minister, Yadav allegedly gave the contract to Sujata Hotels, owned by Vinay and Vijay Kochhar, in return of three acres of land in Patna. The premium plot, which was used as a bribe, was meant for a mall.
Land was transferred to Rabri and Tejashwi at cheap rates
The land was first transferred to an RJD lawmaker's wife, and later to Rabri and Tejashwi, at cheap rates. The CBI filed a charge sheet on April 16. Along with the members of Yadav's family, former union minister Prem Chand Gupta, his wife Sarla, IRCTC's former managing director B K Agarwal and director Rakesh Sharma were named. The Kochhars were also mentioned.
The scam which set stage for grand alliance's split
CBI named Tejashwi as one of the conspirators of the scam but he kept reiterating he was innocent. Tejashwi, who is seen as Yadav's political heir, said the deal was struck when he was a kid and he can't be blamed. Bihar CM Nitish Kumar had asked for a public explanation from Tejashwi, which he denied, leading to the grand alliance's split.