Row erupts after Rahul Gandhi equates RSS with Muslim Brotherhood
Row erupts after Rahul Gandhi equates RSS with Muslim Brotherhood
Aug 25, 2018, 11:49 am
3 min read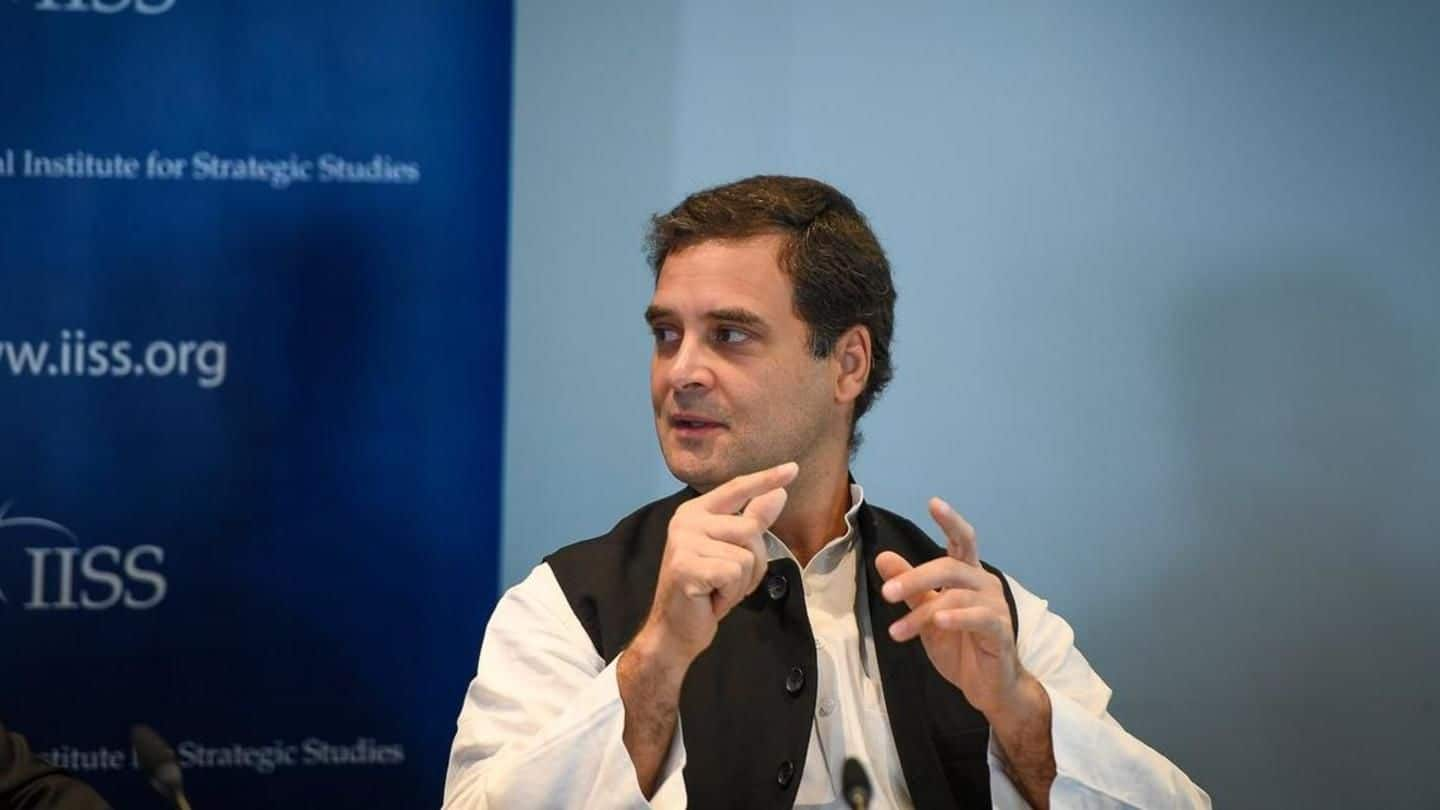 Congress President Rahul Gandhi's speech at International Institute of Strategic Studies in London, sparked a new controversy as he compared RSS to the Muslim Brotherhood of the Arab world. He claimed RSS wished to change India's nature and wanted to run all institutions according to its ideology. His statements were widely criticized by BJP leaders, with spokesperson Sambit Patra calling the comparison 'unforgivable'.
What is Muslim Brotherhood?
Founded in Egypt in 1928, the Muslim Brotherhood has a vision of universal Islamic system of rule. It has been banned in various countries, largely due to its leanings to militancy. Egypt, Russia, Syria, UAE, and Saudi Arabia have labeled it a terrorist outfit.
After his speech, BJP leaders launched full-blown attack on Gandhi
In a press conference, Patra asked Gandhi, "Are you suggesting that the government of India is working like a terrorist organization and expanding through invasion?" Another spokesman, Sudhanshu Trivedi, shared similar views. He called Gandhi the 'wisest fool' while giving the example of King James I, a European leader. Trivedi said Gandhi wasn't even capable of becoming an opposition leader, let alone Prime Minister.
Rahul Gandhi wisest fool of Congressdom: Trivedi
"He (James) and his courtiers considered him as a wise man while most of the critics felt he was constantly doing foolish things. He was given the title of "wisest fool" of Christendom. Rahul Gandhi is the wisest fool of Congressdom," Trivedi said.
Trivedi lists India's achievements under Modi government
Further, Trivedi advised Gandhi to use his foreign trips to read about history. Praising the BJP governance, Trivedi said IMF has predicted India's growth will surpass China's soon. He said for the first time in 14 years Moody's has given India a positive rating. Trivedi also recalled the 1984 anti-Sikh riots to target Congress. The BJP also slammed Gandhi for 'justifying' ISIS and terrorism.
Separately, at LSE, Gandhi said full-blown job crisis in India
The next stop for Gandhi, who is on a European trip, was London School of Economics. There, he said India is facing a full-blown job crisis and the government is in denial. "Where China creates 50,000 jobs a day, only 450 jobs are created in a day in India. This is a catastrophe," Gandhi said. He added India has to first accept the problem.
We can't afford wars, says Gandhi promoting non-violence
Gandhi then said India can't afford to have wars, which have been happening for the last few years. He said like Western Europe and China were changing, India too has a role to play. "India with its non-violent ideas and our ability to show compassion to people who we don't agree with is embedded in our culture," he said as he promoted non-violence.
But, when asked about Doklam, he couldn't answer
When asked how you would have handled Doklam differently after having criticised the government for it, you fumbled admitted that you didn't have details, so can't comment... On what basis have you @RahulGandhi, been criticising the government then? pic.twitter.com/zUKtkqNyWZ

— Priti Gandhi (@MrsGandhi) August 24, 2018