Firm on resignation, Rahul Gandhi says party will decide successor
Firm on resignation, Rahul Gandhi says party will decide successor
Jun 20, 2019, 04:52 pm
3 min read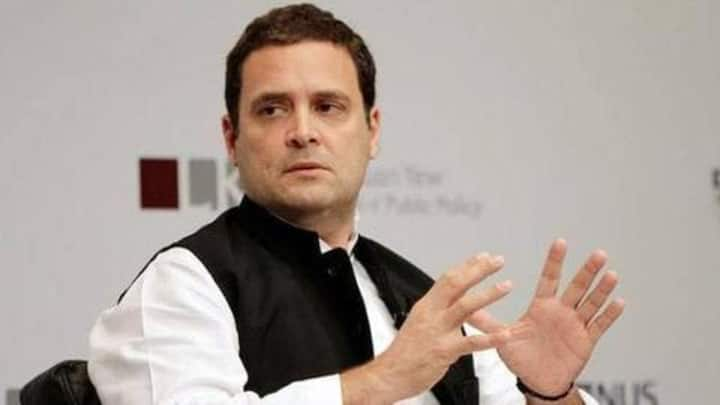 Congress President Rahul Gandhi, who has been sulking since May 23 as his party was decimated in Lok Sabha elections, on Thursday confirmed that he hasn't changed his mind about quitting. After the abysmal performance in the polls, Rahul said he would resign but Congress said his "leadership" was crucial for the party. It seems Congress leaders failed to convince Rahul.
There has to be accountability, explained Rahul
In an interaction with NDTV, Rahul said there has to be accountability in the system. When questioned as to who might handle the reins of the party after him, Rahul said, "I am not going to get involved in that process, otherwise it will complicate things and the party has to decide." Earlier, he offered to stay at the post till a replacement is found.
Out of 543 seats, Congress won just 52
Congress' rout in the summer elections showed the party got everything wrong. From not understanding the nerve of the nation to failing to ambush Prime Minister Narendra Modi-led BJP over a number of issues, the grand old party proved to be a huge disappointment. In 2014, Congress won 44 seats, and after five years the tally reached just 52.
Far from winning elections, Rahul lost Amethi to Smriti Irani
For Rahul, who kept complaining about flaws in PM Modi's policies throughout electioneering, the biggest blow came from Amethi. The stronghold of Gandhi family voted for a non-Gandhi after decades and Rahul was replaced by BJP's Smriti Irani. The vote-margin was more than 50,000 votes confirming that Indian voters can't be wooed with false promises and dynasty politics anymore.
Reportedly, Rahul asked senior leaders to find a non-Gandhi head
At the post-mortem meeting last month, Rahul offered to resign and asked senior leaders to work towards finding his successor. Reportedly, Rahul told the 52-member CWC that no member from his family (mother Sonia Gandhi and sister Priyanka Gandhi) should be given the top post. This condition put the leaders in a tough spot as they "believe" only a Gandhi can "lead" the party.
Meanwhile, Congress named Adhir Ranjan Chowdhury as Lok Sabha leader
Over the last few weeks, Congress leaders tried to convince Rahul to take up the role of the party's leader in the Lok Sabha. But he refused this offer too. Subsequently, Adhir Ranjan Chowdhury, a senior leader from West Bengal, was given this important responsibility. In the last Lok Sabha term, this position was held by Mallikarjun Kharge but he lost polls.