Telangana's K Chandrashekar Rao calls Rahul Gandhi India's 'biggest buffoon'
Telangana's K Chandrashekar Rao calls Rahul Gandhi India's 'biggest buffoon'
Sep 06, 2018, 06:31 pm
2 min read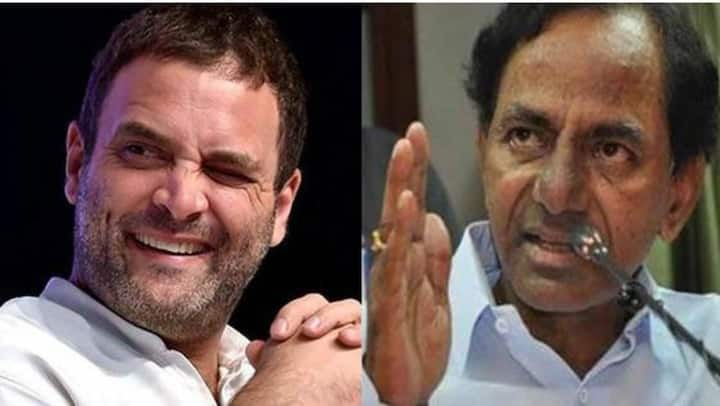 Soon after recommending the dissolution of the Telangana Assembly, TRS chief K Chandrashekar Rao today announced candidates for 105 seats and called Congress President Rahul Gandhi the "biggest buffoon". Rao, who has been asked to continue as the caretaker CM, also claimed the Election Commission has been consulted and Telangana would go to polls along with Madhya Pradesh, Chhattisgarh, Rajasthan, and Mizoram. Here's more.
Rao makes another blistering attack towards Congress
Branding the Congress as the biggest enemy of Telangana, Rao flayed it for making baseless, mindless, and meaningless allegations against the TRS government. "Congress is Telangana's villain number one," he said at a press conference but largely spared the BJP any criticism.
Rao made the comment on Rahul recalling Rahul-Modi's iconic hug
Recalling how the Congress President had hugged Prime Minister Narendra Modi during the debate on the no-confidence motion and his subsequent wink, Rao said, "Rahul Gandhi is the biggest buffoon in this country." The Telangana Rashtra Samithi chief described Hyderabad MP Asaduddin Owaisi's AIMIM as a "friendly party" and said the TRS will continue to work with it.
TRS will win over 100 seats in Telangana polls: TRS
Rao, however, made it clear that the TRS would go it alone in the Assembly elections and asserted it will win more than 100 of the state's 119 seats. The 120-member Assembly also has a nominated member.