#ThatWas2018: 5 gaffes of Rahul Gandhi which amused people
#ThatWas2018: 5 gaffes of Rahul Gandhi which amused people
Dec 31, 2018, 07:01 pm
3 min read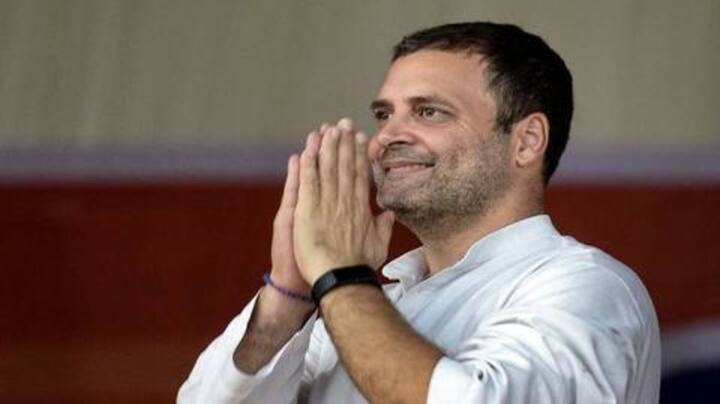 With 2019 just a few hours away, all of us are introspecting the year gone by. We hope, so are our politicians. With this year giving us much political mileage, Congress President Rahul Gandhi stood out. He showed he is capable of leading the Opposition against the current NDA government and can take on Narendra Modi too. His graph has been stupendous, but not without gaffes. Here's looking at five such incidents.
His hug was fine but why did he wink?
After criticizing the Modi government during his speech on the no-confidence motion in the Lok Sabha, RaGa did something unexpected. He went and hugged PM Modi and said he would make everyone a Congressman. So far so good. But going back on his seat, he winked. Everyone saw through the facade. If only he controlled his emotions for a few more minutes, we would have been impressed.
Speaking to NCC cadet, RaGa said he doesn't know much
In March, a student of Mysuru's Maharani's Arts and Commerce College for women asked RaGa, who delivered a keynote address there, about the benefits he would extend to NCC cadets who cleared C certificate examination. On this, RaGa said he doesn't know much about the training and won't be able to answer it. A little homework would have helped.
The video went viral, unsurprisingly
#WATCH: 'I don't know the details of NCC training that type of stuff, so I won't be able to answer that question': Rahul Gandhi on being asked, 'What benefits will you give to NCC cadets after passing 'C' certificate examination?' #Karnataka pic.twitter.com/Vb2fCUsVFp

— ANI (@ANI) March 24, 2018
Leave 'Made in India', RaGa endorses 'Made in Dholpur'
Leaders making tall promises ahead of elections is a given but RaGa took it a step further. Addressing a rally in Rajasthan's Dholpur, he said, "Your phones are all made in China. I want them to be made in made in Rajasthan, Dholpur... I want people to realize where Dholpur is." Now that Congress has won the election, will we see those phones, RaGa?
On Congress' involvement in 1984 riots, RaGa made contradictory statements
Another gaffe of the Congress President was saying none of his party leaders were involved in the 1984 Anti-Sikh riots which sparked after Indira Gandhi's assassination. To recall, before Lok Sabha elections 2014, he had hinted that some leaders might have been involved. His U-turn sparked outrage, obviously. Notably, former Congress leader Sajjan Kumar was sentenced to life imprisonment for his role in riots.
He made Coca-Cola founder 'shikanji' seller
In his bid to slam the Centre, RaGa told a large gathering in Delhi that Coca-Cola founder sold shikanji in the US and the founders of McDonald's were dhaba owners. He claimed India too had such talent but the banks didn't give loans as the government wasn't supportive. Soon, Twitter erupted with memes and #AccordingToRahulGandhi trend gained traction.
To his credit, RaGa has become a fierce Opposition leader
While RaGa gave his critics something to snigger about, he emerged as a strong Opposition leader this year. The victory in three Hindi heartland states boosted his and his party's confidence. The Congress is now eyeing a resurrection ahead of general elections.