Rahul Gandhi: Congress will strike down triple talaq law
Rahul Gandhi: Congress will strike down triple talaq law
Written by
Shiladitya Ray
Feb 07, 2019, 04:59 pm
2 min read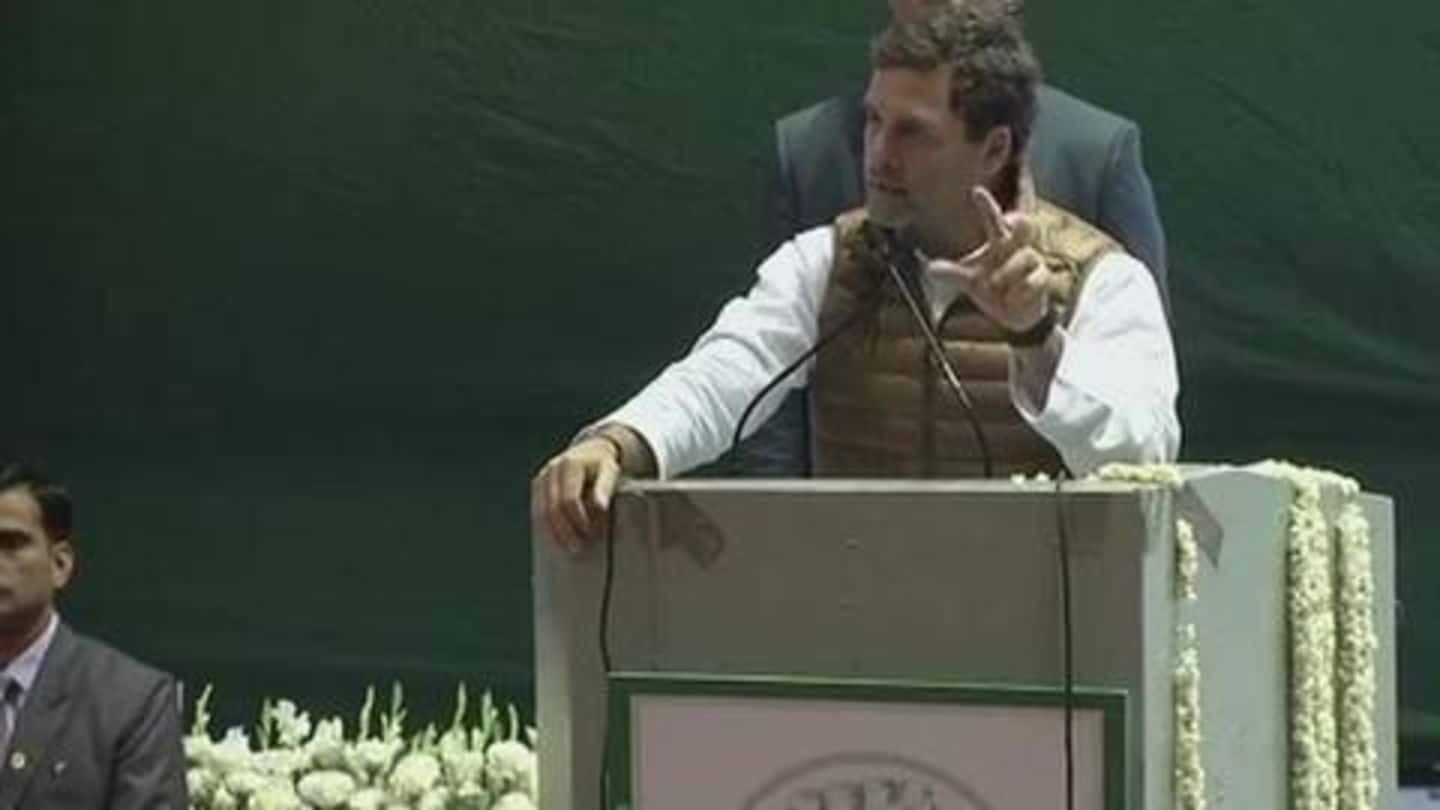 Speaking at the AICC minority convention in Delhi, Congress chief Rahul Gandhi, on Thursday, said that his party would strike down the law criminalizing triple talaq, if voted to power. Further, Gandhi launched an attack on Prime Minister Narendra Modi, and the BJP's ideological mentor, the Rashtriya Swayamsevak Sangh (RSS). Here's more on what he said.
Triple talaq law a clash between two ideologies: Gandhi
"This nation belongs to every citizen of India. This is a conflict between two ideologies. Minority communities have worked on every step to build this nation. This nation has been built by people of every religion. This nation belongs to all," said Gandhi.
RSS trying to capture institutions; will keep them out: Gandhi
Gandhi further alleged that the RSS was attempting to capture major institutions, from the judiciary to the Election Commission. He vowed to remove RSS people in such institutions from Rajasthan, Madhya Pradesh, and Chhattisgarh - the three states where the Congress recently grabbed power. Gandhi also accused PM Modi of flying to China for an agenda-less summit when China had sent its army to Doklam.
Mohan Bhagwat trying to remotely control the country: Gandhi
"Constitution is the battlefield on which this election is being fought. RSS wants to run the country from Nagpur. Narendra Modi is the face, Mohan Bhagwat is the remote control," said Gandhi.
Rahul Gandhi's five minute challenge
Gandhi also challenged PM Modi to a five-minute debate on national security and the controversial Rafale deal, and called him a 'coward' afterwards. However, this isn't the first time Gandhi has challenged PM Modi to a debate - in November last year, Gandhi had dared PM Modi to have a debate with him on the Rafale deal.
Modi is scared, says Gandhi
"I challenge the BJP, let Narendra Modi ji debate with me on stage. He is scared. He is a darpok (coward) person. I have recognised him," said Gandhi.
WATCH: Gandhi challenges Modi to a debate