Taj was built by traitors, we'll change history: BJP MLA
Taj was built by traitors, we'll change history: BJP MLA
Oct 16, 2017, 02:12 pm
2 min read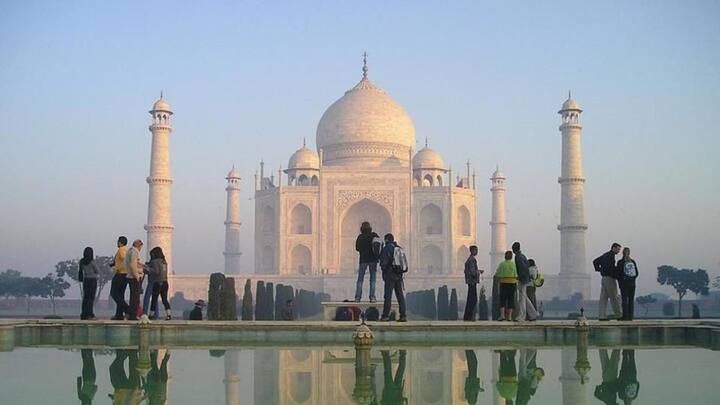 The controversy over the UP government's attitude towards the Taj Mahal refuses to die down. Now BJP MLA Sangeet Som has said it was built by 'traitors'. The comments came as he defended the decision to leave the mausoleum out of a tourism booklet. "(Shahjahan) imprisoned his father. He wanted to wipe out Hindus. If these people are part of our history, then…we'll change history."
The current UP government's disposition towards the Taj
Since coming to power, the Yogi Adityanath government has displayed a lackadaisical stance towards the Taj. In July, it came under fire from academicians after it failed to include the monument in its budgetary plans for the state's cultural heritage. In September, a 32-page glossy brochure didn't mention Taj Mahal, though Gorakhnath Temple, of which Yogi is head priest, had a dedicated page.
Controversial statements by UP ministers
In 2014, Adityanath triggered a controversy when he claimed the Taj had been built on a Shiv Temple. Cultural Affairs Minister Laxmi Narayan Chaudhary said the monument was "rightly kept out (of tourism booklet) and should be replaced with Gorakhnath." Adityanath had said it has "no connection with India's culture/heritage" while lauding PM Narendra Modi for gifting dignitaries Gita instead of Taj replicas.
Som shot to notoriety during the 2013 Muzaffarnagar riots
Som's name made headlines when he was accused of making provocative speeches during the 2013 Muzaffarnagar riots. He also reportedly uploaded an inflammatory fake video clip. He had said he would help Mohammad Akhlaq's killers get bail. While commenting on the Taj, he also said SP leader Azam Khan's Mohammad Ali Jauhar University was a front to harbor terrorists.
The effects of ignoring the Taj could be major
Taj Mahal is India's biggest tourist attraction. The monument of international fame earns the government crores in revenue. Plus, "if tourism in Agra grows, circuit cities like Mathura would grow automatically," says Rajeev Saxena, secretary, Tourism Guild of Agra. However, due to alleged governmental negligence, the number of tourists dropped by 113,400 during 2012-2015. Ignoring it might have long-lasting consequences for India's signature monument.