Split wide open in Bihar Congress: Infighting escalates
Split wide open in Bihar Congress: Infighting escalates
Mar 02, 2018, 08:44 pm
2 min read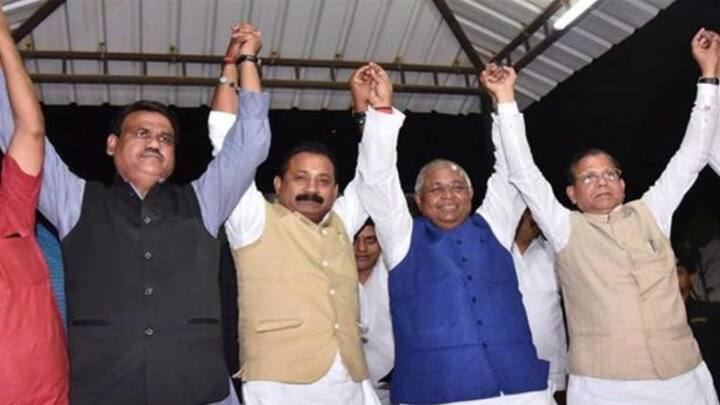 After former Bihar CM Jitan Ram Manjhi joined the Mahagathbandhan, four Congress members of legislative council (MLCs) joined the ruling JD(U). Former Bihar Congress chief Ashok Chaudhary and his close associates Dilip Kumar Choudhary, Ramchandra Bharti and Tanvir Akhtar blamed general secretary CP Joshi for the move. The Bihar unit is now blaming Congress's central leadership for its shoddy handling. Here's more about it.
Ashok Chaudhary, once considered close to Congress president Rahul Gandhi, was appointed Bihar Congress (BPCC) chief in 2013. Considered the party's Dalit face, he was also education minister in the previous Congress-JD(U)-RJD alliance, which came to power in 2015. However, he was removed after reports about alleged anti-party activities. Reportedly, Chaudhary was unhappy that Congress didn't dump RJD after JD(U) ditched the Grand Alliance.
Was there any intimation about such an event?
The latest occurrence of events isn't surprising. Earlier, Chaudhary-Joshi reportedly enjoyed a good rapport. Despite complaints by several state leaders against Chaudhary, Joshi insisted on keeping him on. However, after the Grand Alliance fell through, the two had a fallout. Chaudhary blamed Joshi for "fuelling rebellion" and "spreading lies" about him. After demanding recognition as a separate faction, Chaudhary and his associates joined JD(U).
Chaudhary insists many more will leave the Congress
Praising his new boss Nitish Kumar, Chaudhary insisted that soon more Congress legislators would quit the party to join JD(U). Presently, Congress has 27 MLAs in Bihar assembly. At least 18 MLAs are required to split the Congress legislature party without risking disqualification under anti-defection laws. Chaudhary reportedly enjoys the support of 14, so getting the backing of four more won't be difficult.
The timing couldn't have been worse for the Congress
This move comes when six RS seats from Bihar are all set to go to polls on March 23. With Chaudhary enjoying support of about 14 of Congress' 27 MLAs in the 243-member assembly, it spells doom for Congress' chances of bagging RS seats.
State Congress leaders insist that the central leadership's indecisiveness will cost the party. Apparently, the organization is mismanaged and factionalism is rampant. Frustration among workers is at an all-time high. On the other side, NDA has also been experiencing upheavals. Splinter groups under its umbrella have become vocal about their demands lest they have to compromise on seat-share. Manjhi's exit was one such re-alignment.