#WhatAWow! Politician Smriti Irani shows her 'acting chops' again
#WhatAWow! Politician Smriti Irani shows her 'acting chops' again
Sep 15, 2018, 05:13 pm
2 min read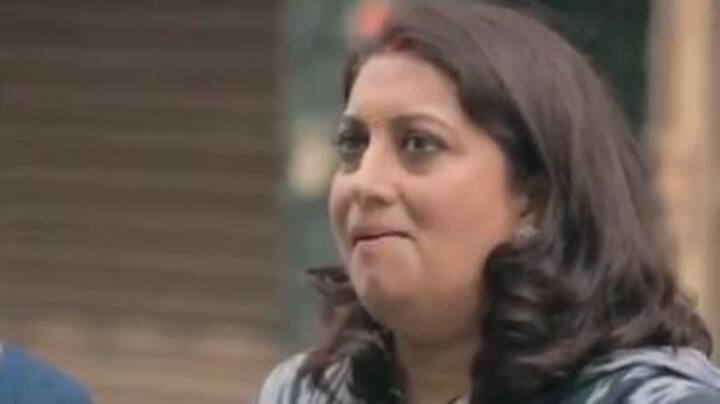 Before she entered politics and championed blaming political leaders of another ideology for everything that is wrong in the nation, Smriti Irani was an actress. For as long as one can remember, she opened the gates of Virani house for us, with folded hands and a smile. As it turns out, Irani's acting skills are still very much a part of her personality.
For friend Ekta Kapoor, politician Irani features in a video
Wondering why are we speaking about her acting career again? A video which she shot for Ekta Kapoor's new web-series 'Home' is the reason. Based on the story of a family fighting hard to retain their home, the series streams on ALTBalaji. And as a favor (that's what we think it is), Irani featured in a video where she went down the memory lane.
Behold, the actress Irani is here
The video starts with Irani shedding a lot of tears, because the home she grew up in, doesn't exist anymore. If you somehow pass the first 60 seconds of the video (which is torturous), you get to see her laugh, banter with family members and greeting locals, like a minister. All of this to make us believe why home is important. (We get it!)
Irani opens door, but no 'Kyunkii..' music in background
At one point in the video, Irani opens a door and if you thought the background of 'Kyunki Saas Bhi Kabhi Bahu Thi' played, you are in for a disappointment. The video was full of emotions, so much, that it became unbearable soon.
Here is the video for you to watch
In actress v/s leader, the former wins
But hey, this isn't the first time when Irani's acting chops have amused us. A few years ago, she gave a speech in Lok Sabha defending herself as HRD Minister, and it had more expressions than Siddharth Malhotra has ever been able to emote. She even offered to cut her head. No one can possibly trump that. Definitely, the actress beats the leader.