6 worst performers in the Modi cabinet: Details here
6 worst performers in the Modi cabinet: Details here
Jun 11, 2018, 12:48 am
3 min read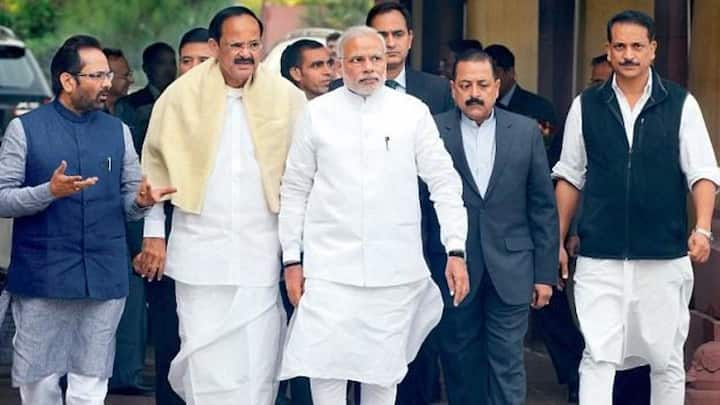 While enjoying their power for the past four years, some ministers of the Modi government have forgotten their responsibilities toward people. Their roles have been insignificant in transforming the appalling status quo, which India needs to disrupt desperately. Amid raging speeches, increasing cult around Modi and the burgeoning clout of the BJP, we bring you the 6 worst performers of the Modi cabinet.
6. Petroleum minister - Dharmendra Pradhan
As far as the fuel prices are concerned, last month would go down in history as the worst month. People demanded a review of the daily-revision policy, but Petroleum Minister Dharmendra Pradhan blatantly refused. Indians are unhappy with the government's double whammy - to increase fuel prices when international rates increase, but to not extend the benefits when the prices go down. His ministry needs a reality check, and so does he.
5. Union Home Minister - Rajnath Singh
Rajnath Singh, often compared with Arun Jaitley because of his political clout in the government, hasn't lived up to his post, especially on the Kashmir issue. Singh has been unsuccessful in executing any "permanent solution" in the region. His recent decision to discourage military operation against terrorists during Ramzan also backfired. It is about time that he gets his act together.
Demonetization and terror funding
Over demonetization, Singh had famously claimed that banning Rs. 500 and Rs. 1000 notes was an "attack on terrorism" and it got Pakistan "worried". Contrary to his claims, though the ban had a temporary effect, the circumstances have reversed, painting a grim picture.
4. HRD Minister - Prakash Javadekar
Another delinquent minister, Prakash Javadekar has failed time and again, as the HRD minister. Javadekar's mishandling of issues such as SSC scam has the government on the back-foot. He was widely criticized for privatizing institutions in the ambit of granting autonomy. He needs to answer about the very many controversies around costly public education and sporadic teachers' protests.
Not to forget the CBSE fiasco
Javadekar's ministry was caught in haywire after the recent CBSE paper leaks. He faced flak from the Opposition as reports revealed that the CBSE and the police didn't follow up on a tip-off before the examinations commenced.
3. Textile Minister - Smriti Irani
The same story resonates about the former HRD minister, who later held I&B ministry and now has been moved to Textiles. From Rohith Vemula to alleged saffronization of institutes, Smriti Irani's tenure as HRD minister was full of controversies. Her stint at I&B minister wasn't different either where she was attacked for undermining press freedom, following which she was moved to Ministry of Textiles.
2. Environment Minister - Harsh Vardhan
At 27%, India records the highest number of pollution-related deaths. In 2015, 2.5 million people were its victim. While Environment Minister Harsh Vardhan maintains his ministry would reduce 50% pollution in five years, not a single policy implemented supports his claim. The rich can afford air-purifiers worth lakhs, but what about the commoners? Unfortunately, Mr. Vardhan hasn't done anything more than making tall claims.
1. Law Minister - Ravi Shankar Prasad
No other minister has been as disappointing as Mr. Ravi Shankar Prasad. His seriousness about strengthening judiciary is highly questionable since the law minister has failed to appoint 400 judges in Indian High Courts alone. The disgruntled Kolkata High Court, which is functioning with 34 judges as against its strength of 72, slammed the Centre for its "continued silence" and warned of "appropriate action."