Sonia, Rahul opt out of selection process for next Congress-chief
Sonia, Rahul opt out of selection process for next Congress-chief
Aug 10, 2019, 01:19 pm
3 min read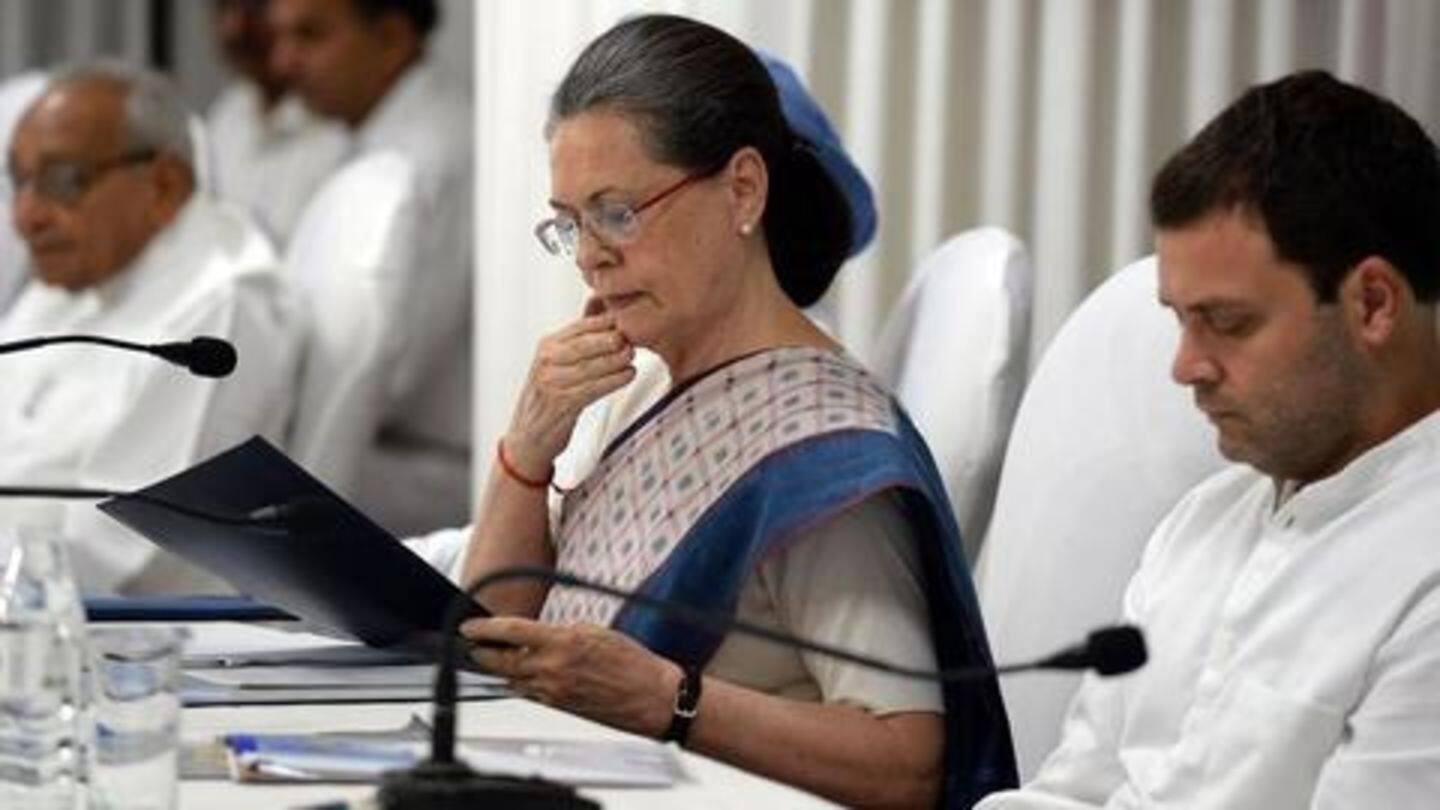 A short while ago, UPA Chairperson Sonia Gandhi left the Congress Working Committee meeting, convened to decide the next president of the party. Leaving the crucial meeting, Sonia said neither she nor her son and former Congress President Rahul Gandhi will be a part of the "consultation process". To recall, Rahul resigned from the top post after the poll debacle. Here's what went down.
Quick recap: Taking responsibility for defeat, Rahul resigned
Rahul tendered his resignation on May 25, shortly after Congress suffered a humiliating defeat in 2019 polls. Under the watch of the Gandhi scion, who couldn't even retain his bastion Amethi, the party won merely 52 seats. However, Congress' leaders tried convincing Rahul to rethink his decision. Rahul remained adamant and on July 3, released a statement asking Congress to choose his successor soon.
Not quitting, will remain Congress' loyal soldier, Rahul had said
"The attack on our country and our cherished Constitution that is taking place is designed to destroy fabric of our nation. In no way, shape or form am I stepping back from this fight. I am a loyal soldier of the Congress party," he said.
Rahul called for wider talks before choosing his successor
At Saturday's CWC meeting, five groups were formed for the selection process. These groups will carry on consultation with five zones. It was widely speculated that Congress might decide its new chief by the end of this meeting. However, Rahul reportedly intervened and opined there should be wider discussions before his successor is chosen. This process might take longer than expected.
Apparently, Rahul doesn't want a hurried decision
Earlier, Rahul had clarified neither will a Gandhi family member become the president, nor will he have a say on this. But on Friday, he told a chunk of Congress leaders that there should be more discussions before the president is chosen. "I am happy that the Congress is under pressure and this will jolt the Congress into action," Rahul reportedly said.
The leaders have started arriving
An interim president might be chosen today
Reports have it that Congress might zero in on an interim president on Saturday, and then hold fresh elections for the top post. Apart from CWC, Rahul wants chiefs of state units to have a say in this crucial decision.
Mallikarjun Kharge or Mukul Wasnik: Who will be next chief?
Further, reports suggest Mallikarjun Kharge and Mukul Wasnik are in the race for the top post. Wasnik has worked in Congress governments of PV Narasimha Rao and Dr. Manmohan Singh. He was also the general secretary. Meanwhile, Kharge, a Gandhi family loyalist, is a senior member of the party and plays an important role in Karnataka politics. Notably, both of them lost general elections.