Jayalalithaa's portrait in TN Assembly; DMK moves court for removal
Jayalalithaa's portrait in TN Assembly; DMK moves court for removal
Feb 12, 2018, 03:20 pm
2 min read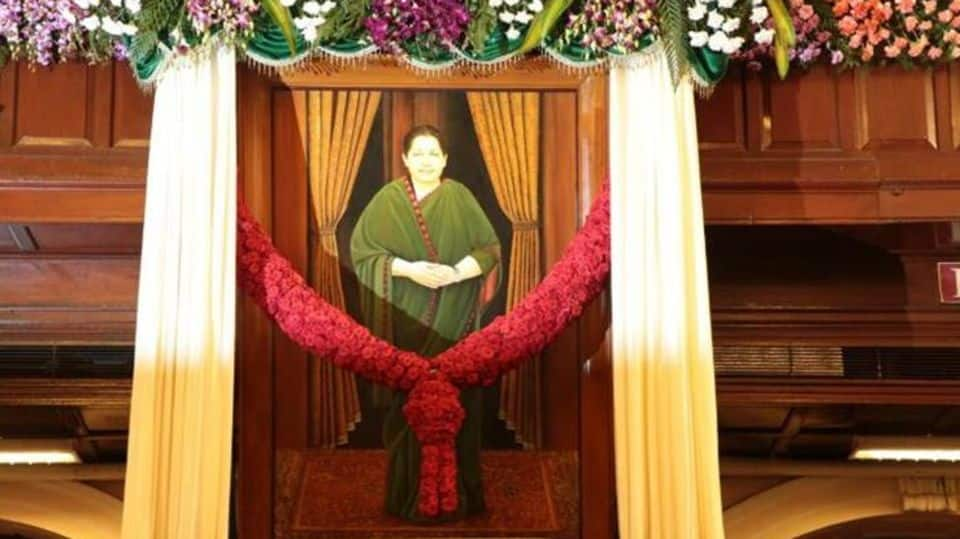 The unveiling of the portrait of Former CM Jayalalithaa in TN assembly created ripples in the state's already disturbed political scenario. AIADMK hailed the leader as a "powerful figure." Arch-rival DMK condemned them for celebrating someone convicted for amassing wealth beyond known income. They also petitioned the Madras HC to intervene and get the portrait removed after pleas to Speaker Dhanpal failed to have any effect. Here's more!
The state government rushed through the unveiling ceremony, even as the Opposition boycotted it. The portrait is seven feett tall and shows Jayalalithaa in her trademark green sari, staring at the opposition benches. It was placed at a distance from 10 other portraits of TN icons like CN Annadurai and MG Ramachandran. After the ribbon-cutting ceremony, MLAs folded their hands before the portrait.
What was the Opposition's stand?
Several Opposition parties like DMK, CPI(M), PMK and Congress opposed the move. DMK working president Stalin termed it a "black day." Citing the disproportionate assets case, he added, "Government shouldn't denigrate the rich heritage and prestige of the assembly by placing a convict's portrait in the assembly." The government, however, refused to back down; it hailed Jayalalithaa's commitment to the state and women empowerment.
What did BJP have to say?
BJP, however, claimed that despite the conviction, the portrait's unveiling wasn't controversial as Jayalalithaa had worked for the state's welfare. Allegedly, BJP was responsible for orchestrating the merger of AIADMK's Panneerselvam and Palaniswami factions to make in-roads into TN politics, where it has negligible foot-print. Meanwhile, DMK isn't pleased. So, will this portrait kick up another political storm? Only time will tell.