CES 2020: Meet NEON, the world's first 'Artificial Human'
CES 2020: Meet NEON, the world's first 'Artificial Human'
Jan 07, 2020, 05:51 pm
3 min read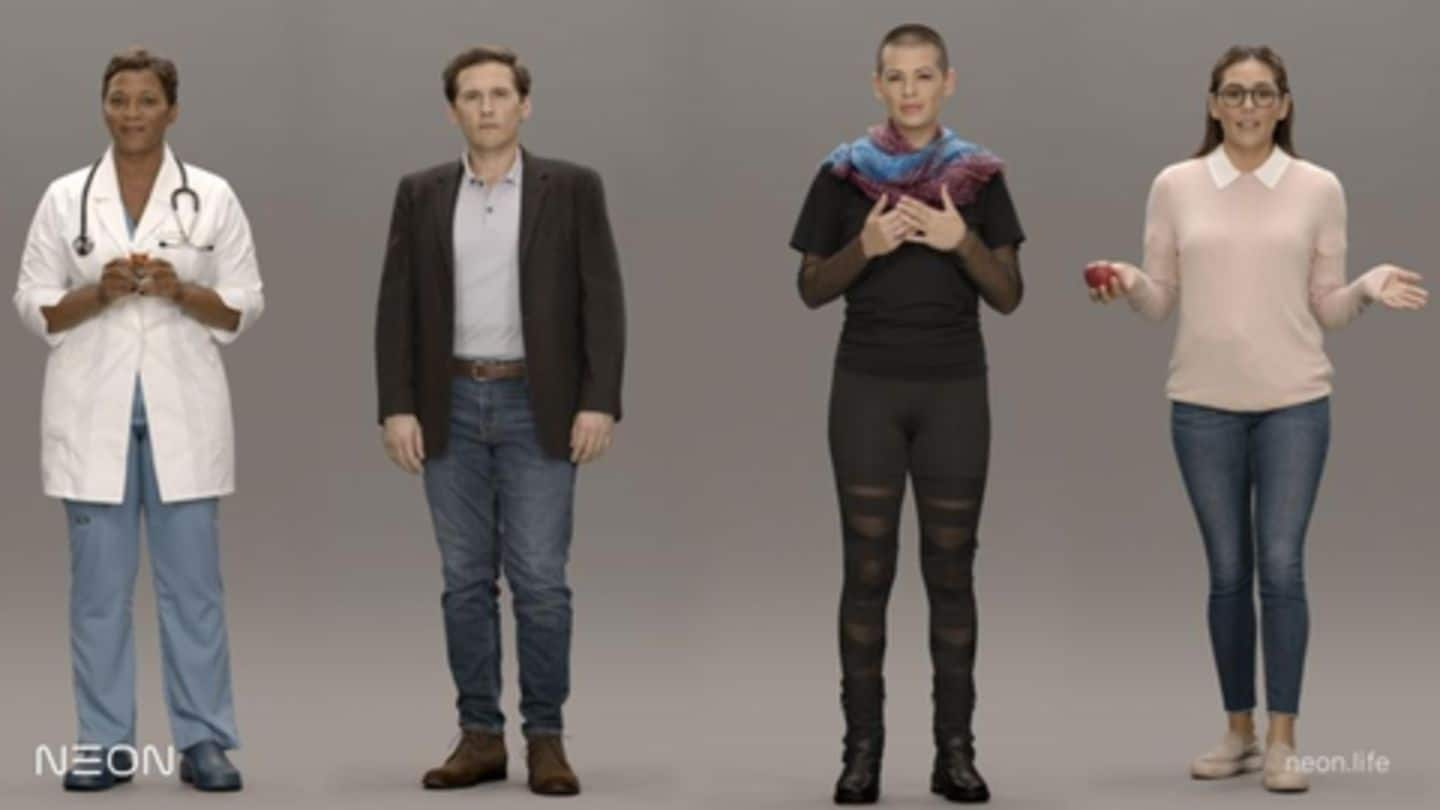 At the ongoing CES 2020 trade show in Las Vegas, Samsung-backed Star Labs has unveiled NEON - the world's first "Artificial Human". Touted as the brainchild of Pranav Mistry, President and CEO of Star Labs, NEON is a computationally created virtual being that looks and behaves like a real human and has the ability to show emotions, sympathy and intelligence. Take a look!
NEON is a friend, not an AI: Star Labs
According to Star Labs, though NEON is virtual, it is 100% visually real, like all the people around us. The company is marketing it as a friend and not an AI assistant or an interface to the internet. Hence, like a friend, you can summon NEON by its name (say, Tim, David, Shikha, Christie) and not by calling out Hey NEON or Ok NEON.
NEON can speak Hindi as well
NEON can speak and interact in a host of languages including English, Spanish, Japanese and Hindi. Moreover, it can connect and learn more about us, gain new skills, and evolve over time.
At present, Star Labs has unveiled six avatars of NEON
As of now, Star Labs has demonstrated six avatars of NEON including a yoga instructor, a banker, a K-pop star, a news anchor, and a fashion model. However, on the product website, the company has listed a total of twenty avatars. These avatars look like real people from different walks of life, exhibit their unique personalities, expressions, movements, and dialogs.
NEON is powered by a proprietary technology called Core R3
Notably, NEON is powered by a proprietary technology platform called Core R3 which has been trained with details as how humans look, behave and interact. R3, which stands for Reality, Realtime, and Responsiveness, aims to power lifelike reality with latencies of less than a few microseconds and enable human-like interactions with smiles and chit chat. The platform will also protect data using state-of-the-art protocols.
NEON will be fully immersional, says Star Labs
According to Star Labs, "CORE R3 can also connect to other domain-specific and value-added services. SPECTRA, still in the development stage, will complement CORE R3 with the spectrum of Intelligence, Learning, Emotions, and Memory, thus making NEONs fully immersional."
And, NEON is different from deepfakes
Given growing concerns around deepfakes, Star Labs says a NEON doesn't "manipulate an individual scene, video or sequence." Instead, it "creates unique behaviors and interactions in real-time that may have never happened before." This differentiates NEON from deepfakes and makes Core R3 "one of the few AIs capable of creating original content or realities."
Beta version of NEON to be launched later this year
Now, Star Labs is aiming to launch the beta version of NEON with select partners later this year. The Samsung-backed company will also hold a "NeonWorld 2020" conference wherein it will provide more details about the new AI and its uses.