5 times Facebook shamelessly copied from Snapchat
5 times Facebook shamelessly copied from Snapchat
Written by
Bhavika Bhuwalka
Jul 04, 2018, 09:30 pm
2 min read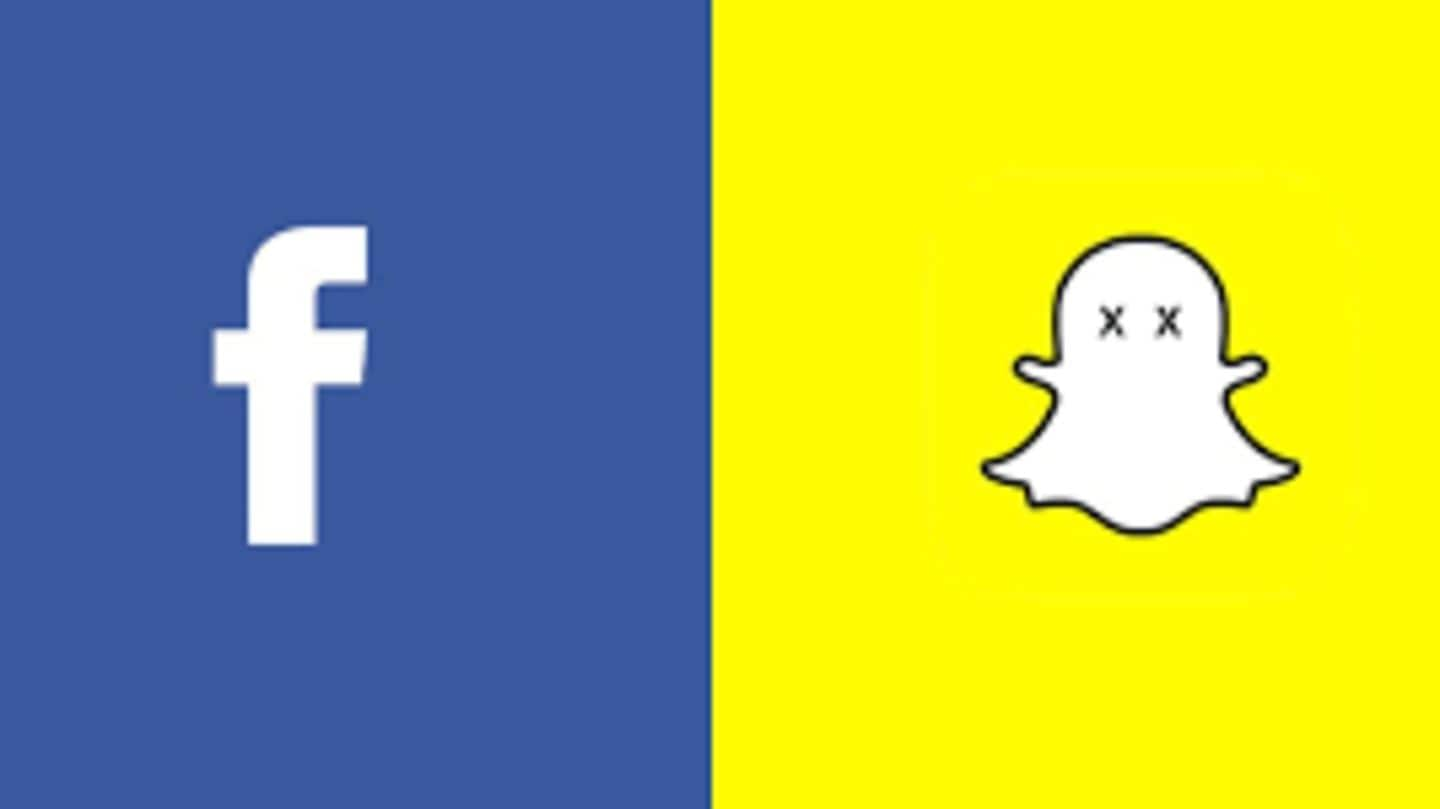 If imitation is a form of flattery, then Facebook must be Snapchat's biggest fan. Over the years, it has unapologetically ripped off features from Snapchat. It deploys Snapchat's features on its family of apps (Instagram, Messenger, and WhatsApp) and as a result, these features often end up gaining more traction on Facebook's platforms than where they were originally pioneered. Here are 5 such features.
Stories is Facebook's most successful Snapchat rip-off so far
The feature, that allows users to post short, 24-hour-long disappearing images and videos, has been now deployed on Instagram, WhatsApp, and even the core Facebook app. In fact, on Instagram, the feature has already reached 250 million daily active users (DAUs). Facebook said, "Stories has become a format that people use to share and consume photo and video across all social apps."
3D face filters and selfie masks
Facebook's "Camera Effects" allows users to apply different 3D filters on their Stories. These face filters have been available on Snapchat for years. During live video streams, Facebook users can use "selfie masks" for augmented reality-powered special effects. This works just like Snapchat's goofy lenses.
Soon people will communicate on Facebook through phone's camera: Zuckerberg
Facebook has a Snapchat-like camera interface in its Messenger app. The native camera allows users to send photos and videos to each other on Messenger, something which is Snapchat's core offering. Earlier, Facebook CEO Mark Zuckerberg himself admitted that social communication will soon shift from a textbox to a camera, a concept that Snapchat first pioneered.
Other Snapchat features that Facebook has imbibed in its services
Facebook added scannable Snapchat-like QR codes for profiles in Messenger. It added Snapchat-like location-based Stories. Facebook also allows users in select countries to make custom camera "frames" that can be overlaid on photos and added to profile pictures, just like Snapchat's geofilters.
Snapchat's user growth at its lowest
Ever since Facebook started copying Snapchat's features, the latter's user growth slowed down. Snapchat's daily active users grew in Q1 2016 by 52% year-on-year, whereas in Q1 2017, it grew by 36% year-on-year. Call it unfair or dog-eat-dog world, but Facebook is winning the race here. However, Snap is unfazed. "Just because Yahoo has a search box, it doesn't mean they're Google," CEO Evan Spiegel quipped.