Now, you can attach multiple emails in Gmail: Here's how
Now, you can attach multiple emails in Gmail: Here's how
Dec 10, 2019, 01:14 pm
2 min read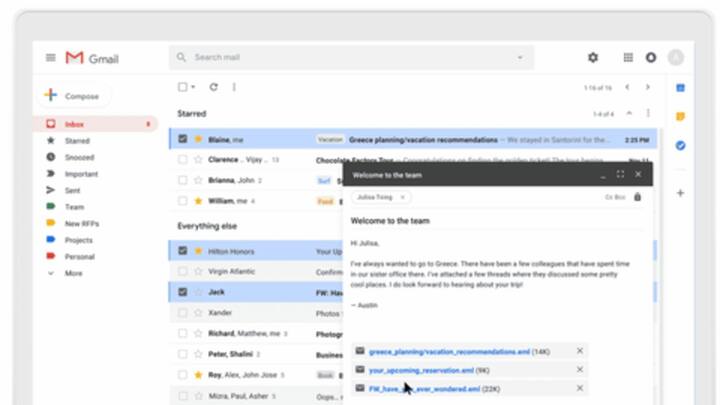 After a redesigned interface, Google is adding a handy new feature into Gmail - the ability to attach multiple emails into one email. The capability, which is now being rolled out to the service, will make it easier for users to send a bunch of emails to a single person, without having to forward each one individually. Here's all about it.
Problem of sending multiple emails to same person
Often, Gmail users, particularly those using G Suite, run into situations where they have to send multiple emails to a single person, say like a client's messages to the project manager. There are multiple ways to handle this, including copying/pasting each message individually in a new email, forwarding them one by one, or downloading and then attaching them in a single email.
Gmail is simplifying the third option for users
Gmail is now building on the third option where instead of downloading and attaching each message one by one, a user can select the emails and then drag and drop all the messages at once into an open draft. Alternatively, you can select the emails first and hit 'Forward as attachment' from the overflow menu to attach emails first in a new email.
This works for replies, as well
Along with fresh draft messages, the email attachment capability works while replying in an existing thread too. However, in this case, you will have to hit the 'pop out reply' button so that the compose window pops out and you can drag and drop emails into it, just like how it works for a fresh draft email.
Gradual rollout underway, says Google
As for availability, Google says that the email attachment capability is being rolled out, although it will be gradual. This means that the feature should start working for users in the coming weeks. You can check for its availability by dragging-dropping emails or looking for the 'Forward as attachment' option in the overflow menu of Gmail for web.