Love iPhoneX's "top-notch" design? Here are 10 Android 'iPhoneX lookalikes'
Love iPhoneX's "top-notch" design? Here are 10 Android 'iPhoneX lookalikes'
Written by
Ramya Patelkhana
Mar 15, 2018, 12:20 am
4 min read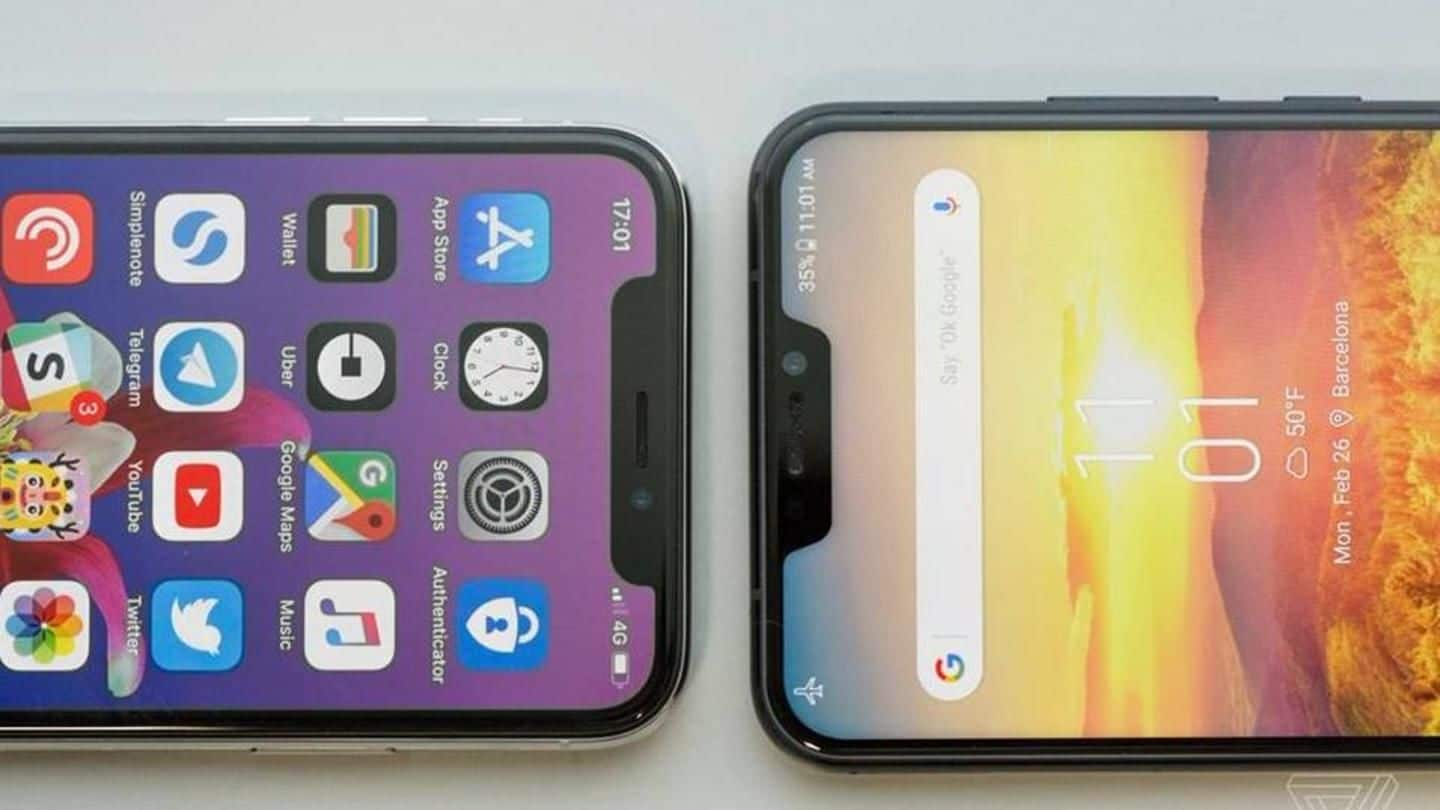 Apple wowed the world last year when it unveiled iPhone X that represented the most radical iPhone redesign ever. iPhone X sports an all-screen display with a notch on the top for sensors. While initially many called it "ugly", the notch gradually became so popular that even Android device-makers embraced it on their handsets. Here are 10 Android phones having the "iPhone X-style notch".
Is the notch-display going to become the future of smartphones?
Google recently released the first developer preview of its upcoming mobile operating system, Android P. Even Apple's rival, Google, has embraced the iPhone X-style notch in the next Android version as it offers "display cutout support" for the notch on the device screens. This means that we can expect a lot of iPhone X-like smartphones from Android smartphone makers this year.
OnePlus is bringing the notch to OnePlus 6
Chinese smartphone maker OnePlus's upcoming smartphone, dubbed the OnePlus 6, is going to sport a full-screen 19:9 display with an iPhone X-style cutout on the top, says Android Central. Also, some leaked images of the device show a vertically arranged dual rear camera on the middle of its glass back. It would be powered by the flagship Snapdragon 845 SoC.
LG is bringing an iPhone X clone, too?
Joining other device-makers bringing iPhone X lookalikes, South Korean tech-giant LG is also going to launch its upcoming LG G7 that will borrow the latest iPhone's display design. Several leaked images suggest that the company would place the notification bar to the left and right, giving users more screen space. The images also show a centrally-placed vertical dual rear camera setup.
OPPO's next flagship looks a lot like iPhone X
Another Chinese company, OPPO, is reportedly all set to launch its upcoming flagship device, the OPPO F7, with a notch on the top making it look like an iPhone X clone. OPPO F7 is rumored to sport a 6.2-inch FHD+ 19:9 display. It would have a 25MP selfie camera powered by Artificial Intelligence for beauty mode, real-time HDR, and AR (Augmented Reality) stickers.
Another iPhone X lookalike from OPPO
OPPO has borrowed the iPhone X's notch-display design not only for OPPO F7 but OPPO R15, too. Several leaks and render images suggest that the OPPO R11 successor will also sport a cutout on the top of its 6.28-inch display with 19:9 aspect ratio.
Huawei borrows iPhone X's notch, dual rear camera design
Meanwhile, Huawei is launching as many as three iPhone X clones under its P20 smartphone series. Many leaks about the flagship Huawei P20, likely to be unveiled on 27 March, have emerged online. Popular tipster Evan Blass recently shared an image that showed Huawei P20 with a centrally-placed notch on the screen and an iPhone X-like vertical dual rear camera setup.
What about the other two Huawei P20 phones?
The Huawei P20 Pro, rumored to be the most premium and powerful smartphone in the upcoming Huawei P20 series, would also feature a notch design. Images by Evan Blass also showed a triple camera setup on the back. The toned-down variant of the flagship Huawei P20, the Huawei P20 Lite, is also expected to come with the cutout on its screen.
Vivo V9 to look like iPhone X, too
Yet another Chinese smartphone company, Vivo, is also gearing up to launch a device with the top "notch" display design. It shared an image of its upcoming Vivo V9 that clearly shows a cutout on the smartphone's screen.
ASUS Zenfone 5Z: Major design change for Zenfone series
ASUS unveiled the Zenfone 5Z that sports iPhone X-like notch alongside Zenfone 5 (2018) at MWC 2018; they are likely to be released in April. The premium Zenfone 5Z has a bezel-less display with a cutout on its screen and is powered by Snapdragon 845 SoC. Both Zenfone 5 and 5Z come with a 6.2-inch all-screen display, 8MP front and 8MP+12MP dual rear cameras.