A 3D printed, airless and biodegradable tire?
A 3D printed, airless and biodegradable tire?
Written by
Shiladitya Ray
Jul 01, 2017, 06:42 pm
2 min read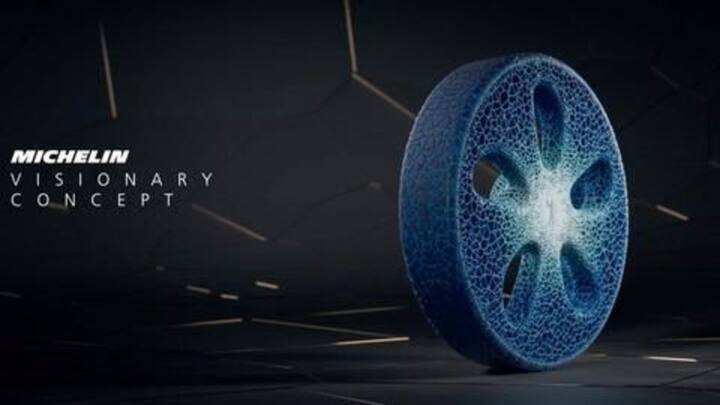 French tire manufacturing giant Michelin introduced its Vision concept at the Movin' On conference in Montreal, Canada this week. The Michelin Vision, in a bid to reinvent this critical automotive component for the future, has come up with a tire that is 3D printed, airless, digitally connected, made of organic materials, and biodegradable.
The tire is a long-term solution towards sustainability
"It's a long-term concept which brings together our vision of all the elements of sustainable mobility," said Terry Gettys, the executive vice president of Michelin's R&D department.
The features of the Michelin Vision tire
The 3D printed tire gives users the ability to "recharge" and customize the tire i.e. a 3D printer can be used to add more tread to the tire, as well as customize it for varying weather conditions and road conditions. The tire is also equipped with sensors which provide real-time feedback on its condition. Being airless, there is no risk of a blowout.
Michelin's bid to make an environment-friendly tire
The wheel and the tire are one piece which is made from biodegradable and bio-sourced material like natural rubber, tin cans, paper, electronic and plastic waste, used metals etc. These materials are used to create a nature-inspired structural mesh like those seen in plant structures and mineral formations. This structural mesh is strong enough to support the vehicle and provide both comfort and safety.
Michelin's dream is not a pipe dream
"It's inspired by nature with a very light, efficient structure,", added Gettys, while also saying that "it's a very realistic dream. All the components are current research initiatives at Michelin."
A move towards sustainable transport solutions
Although Michelin said that it would take around 10 years for the tire to be brought to the market, the tire's design has wide reaching implications. Being built from bio-sourced material, a lot of waste material could be recycled and used for manufacturing the tire, thereby reducing pollution. At the end of its life, the tire could also be used as compost for farming.