OPPO showcases world's fastest charging technology for mobiles: Details here
OPPO showcases world's fastest charging technology for mobiles: Details here
Mar 01, 2022, 01:49 pm
2 min read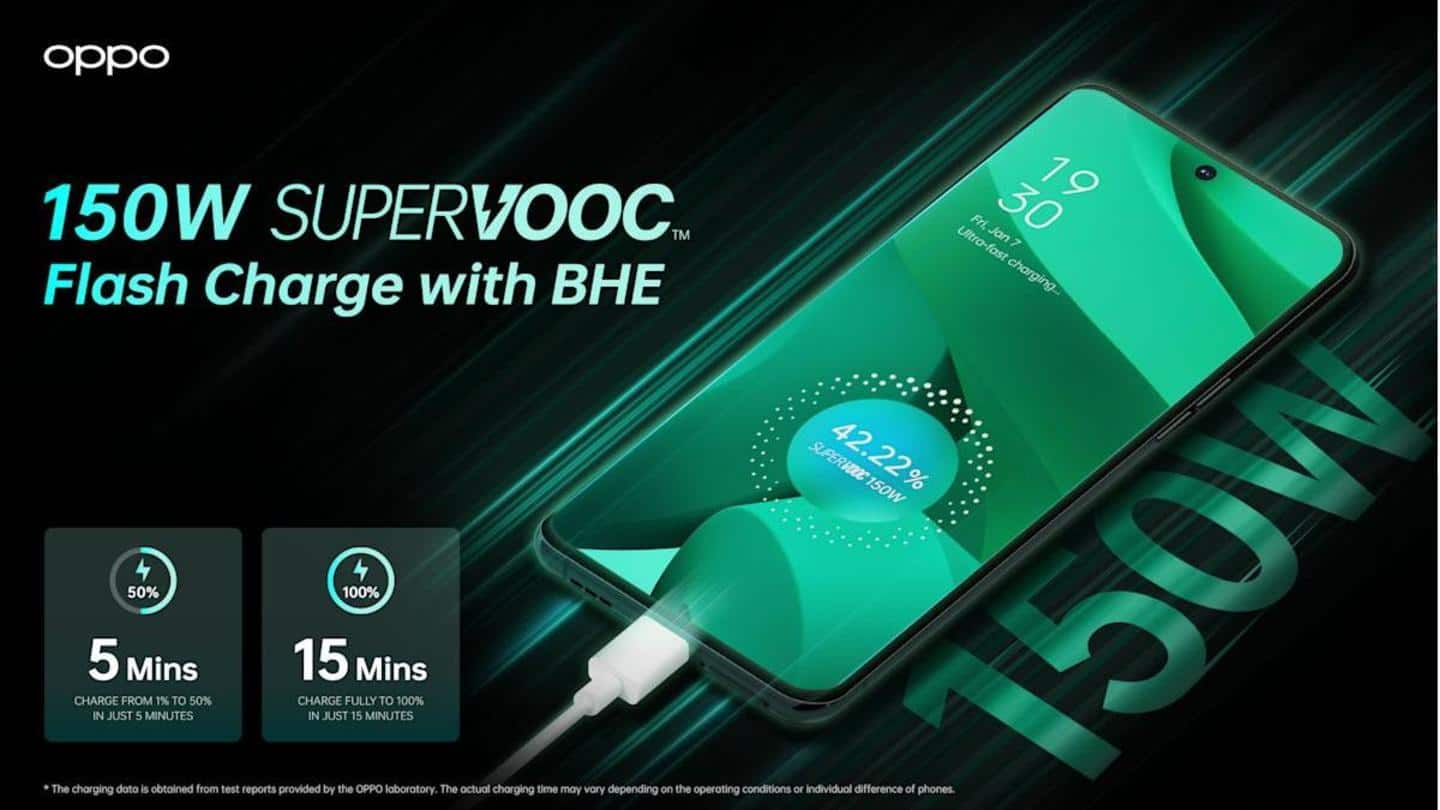 OPPO has announced a 150W fast-charging technology for smartphones at the ongoing Mobile World Congress 2022. It can fully charge a 4,500mAh battery in 15 minutes and will debut in a OnePlus handset in the second quarter of this year. The company has also shown off a proof of concept for 240W fast-charging solution that charge a 4,500mAh battery to 100% in nine minutes.
Why does this story matter?
OPPO's 240W charging solution is currently the fastest we have heard for a smartphone but the company has not announced any immediate plans to commercialize the technology. However, the super-fast 150W charging technology will become a reality later this year.
Realme, OPPO's sister company, has also announced a 150W UltraDart fast-charging technology and it will debut on the GT Neo 3.
The 150W technology will be assisted by Battery Health Engine
OPPO's 150W fast-charging solution is known as 150W SUPERVOOC. It will be coupled with customized 6C batteries and shall be assisted by the brand's Battery Health Engine (BHE). The charger can fill a 4,500mAh battery from 0-50% in five minutes, while a complete charge takes around 15 minutes. The technology will be on display at OPPO's booth during the ongoing Mobile World Congress.
The lifespan of the batteries has also gone up
OPPO claims that it has made the batteries safer. The batteries should also maintain around 80% of their rated capacity after 1,600 charge cycles of 0-100% when using the 150W SUPERVOOC. The company has announced that all upcoming OPPO and OnePlus smartphones from now on will feature the Battery Health Engine. The OPPO Find X5 and Find X5 Pro already offer the BHE.
Work on the 240W fast-charging tech is underway
Finally, OPPO has also showcased its 240W fast-charging solution which can fill a 4,500mAh battery to 50% in just three minutes and 29 seconds, while a complete charge requires nine minutes. The brand is working on improving the tech in order to raise the battery life as well as energy density. It is not yet ready for commercial purposes.
Take a look at the announcement