Galaxy F: Samsung's first foldable smartphone is coming next year
Galaxy F: Samsung's first foldable smartphone is coming next year
Aug 20, 2018, 05:33 pm
3 min read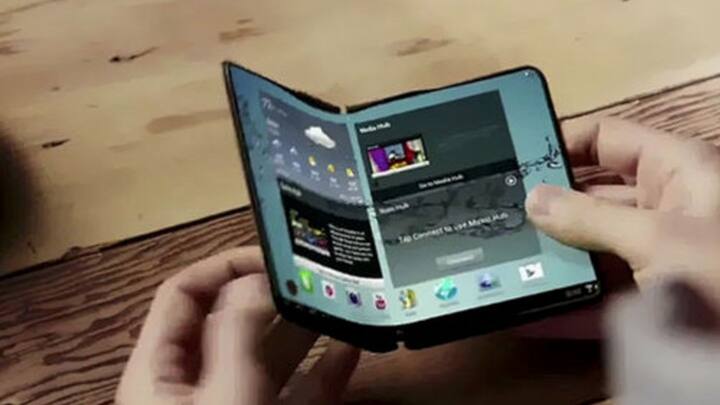 The year 2019 will be spectacular for Samsung as alongside the Galaxy S10 device, Samsung may launch Galaxy F - the company's first foldable smartphone. The phone has been in the works for quite some time. Notably it was secretly unveiled during CES in January this year. And now, CEO of Samsung Mobile, DJ Koh has suggested the phone is coming soon. Here's a sneak peek.
Samsung wants to be the first to launch foldable phone
Speaking at an event, Koh said that the company was "focusing on developing innovations that will be genuinely accepted and liked by consumers" for the foldable phone. Aside from confirming the presence of a foldable phone, he further added the company "didn't want to lose the world's first title" considering Huawei, Apple, and others are also working on their own foldable smartphones.
Everything to know about Samsung's Galaxy F
Samsung's Galaxy F, codenamed "Winner", will feature a 7-inch display that can fold into a pocket-sized device. The phone could possibly come with two displays - one primary 7-inch display and a smaller secondary display on the outside. Notably, this is a design that Samsung has been working on for some time now and got it patented last October.
Can be used both as a phone and tablet
The foldable device becomes a phone when folded. It can be unfolded for operating as a tablet, somewhat like a gaming-console similar to Nintendo's DS range. A media report said: "The in-folding type has a more drastic curvature rate. But due to the durability issue, the out-folding type is considered a more advanced next-generation technology." However, Samsung is likely to adopt the in-folding variant.
Samsung has been working on the device for a while
Considering this design requires transitioning from bezel-less displays to bendable displays, it is not a trivial engineering problem to solve. Interestingly, back in April last year, Samsung Display's principal engineer, Kim Tae-woong said, "We still have enough time to develop foldable display". Looks like the Samsung team is on track!
Galaxy F is not the future, but just a start
Koh further explained that the Galaxy F is not a concept, but perhaps the beginning of a new range adding that "we wouldn't have started [the project] if it was a going to be a one-time thing." Reports suggest Samsung was initially planning to launch the phone in 2018 but has now delayed it to next year - possibly alongside the all-new Galaxy S10.