Can't wait for foldable Samsung GalaxyX? Qualcomm's got bad news!
Can't wait for foldable Samsung GalaxyX? Qualcomm's got bad news!
Written by
Ramya Patelkhana
Mar 22, 2018, 07:43 pm
3 min read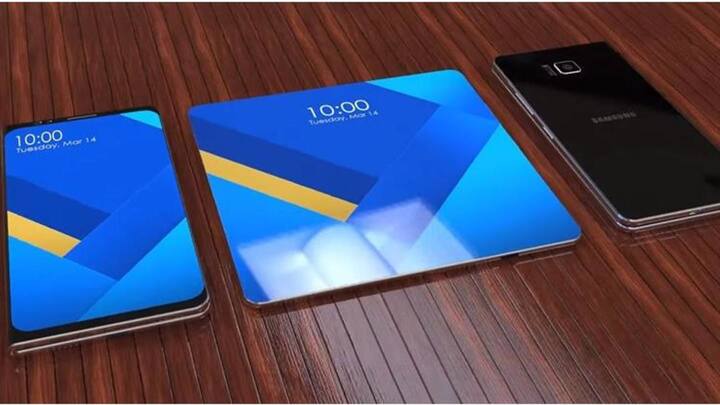 Samsung recently launched the much-awaited Galaxy S9 duo but what everyone's eagerly waiting for is the foldable Galaxy X. However, there's some bad news for those waiting to get their hands on the foldable smartphone this year. A Qualcomm official claimed Galaxy X wouldn't be launched in 2018, adding it may be several years before the phone is ready. Here's what is delaying the launch.
So, what exactly is delaying the foldable phone project?
In an interview with TechRadar, Qualcomm's Product Manager (Display Technology), Salman Saeed, stated Galaxy X might not arrive as soon as many rumors claim, adding it would be years until a device on the lines of what was seen in the leaked patents "actually comes to fruition". He said apart from fine-tuning user experience across multiple displays, ensuring their "durability" remains the primary challenge.
Existing transistors in display-panels cannot withstand frequent bending yet
Elaborating on the hold-up, Saeed said the transistors used in the phone's display architecture are the weakest link, adding that components powering individual pixels in the display aren't yet flexible enough to "withstand" frequent bending. Samsung is reportedly bringing a bendable phone with two 7.3-inch displays held together by a hinge in a manner that offers gap-free viewing experience, unlike ZTE Axon M.
Phone makers haven't yet cracked the material science: Saeed
While display engineers are working on solving the problem of the "illusion-shattering gap" in the foldable phone's display at the hinge, Saeed said that accomplishing a feat like that will be very difficult. The Qualcomm official also added, "They (the phone manufacturers) haven't really cracked the material science right now to produce electrodes that can repeatedly withstand bending and folding."
What about the foldable ZTE Axon M?
On last year's ZTE Axon M, Saeed said that though it's not widely recognized, the device is an "important step forward for foldable phones" in proving the bendable device's potential and also highlighting what elements needed improvement. He said: "[The ZTE Axon M] looks a little ugly...the use cases are pretty bad. The second display does practically nothing, but I think it's compelling."
Qualcomm chipsets are underutilized right now: Saeed
Suggesting that it's usually difficult to make the most of high-end specs in smartphones, Saeed said some of the horsepower goes unused. However, he added customers might get more performance for their money with foldable phones. He said: "Our chipset can power two...three...four displays (simultaneously)...we're underutilized right now. We have the GPU horsepower...(and) everything needed to fully power all of those extra pixels."
Big phone makers have foldable devices in their labs: Saeed
Though creating a seamless user experience between the display panels in a foldable phone is a "fierce challenge" in building such devices, Saeed and Qualcomm remain optimistic. He said: "I think it's possible for them (device-makers) to do it (bring foldable phones). All of the tier-1 phone manufacturers are working very hard on this. But it's just a reliability issue at this point."
Get ready for the foldable phone future
While it isn't yet clear when Samsung's Galaxy X or other foldable phones with "gap-free viewing experience" will launch, one thing's for sure that foldable devices offering seamless display will soon become a reality as almost all major smartphone-makers are reportedly working on bendable phones.