Amid economic crisis, Turkish President announces space program, lunar mission
Amid economic crisis, Turkish President announces space program, lunar mission
Written by
Chandraveer Mathur
Feb 12, 2021, 12:24 am
3 min read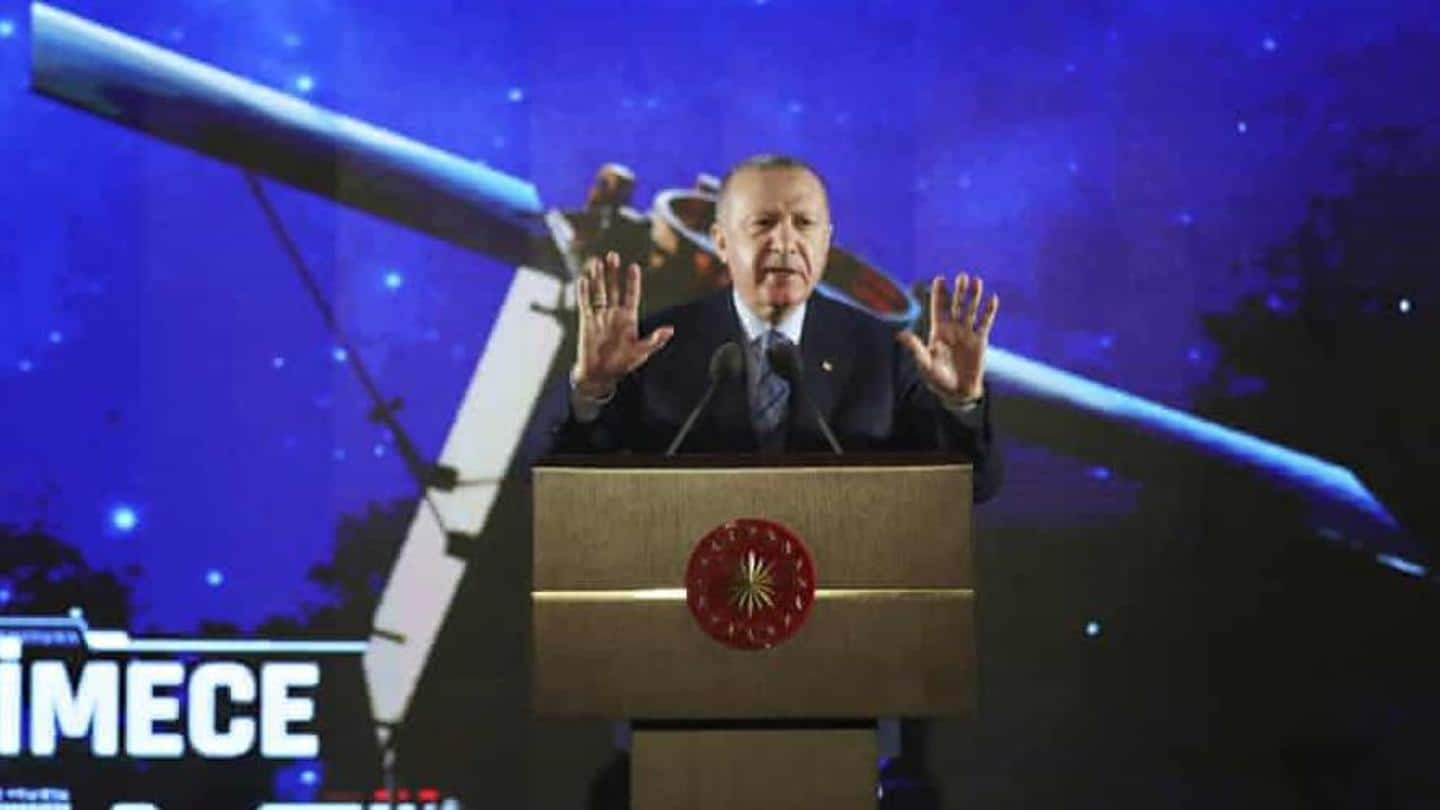 On Tuesday, Turkish President Recep Tayyip Erdogan unveiled a ten-year space program for his country. The program includes plans for missions to the moon, manned missions for Turkish astronauts, and development of "world-class" satellite systems. The announcement was made during a live televised event. It is seen as a part of his vision to give Turkey a place in the international space race.
Program plans to make a "rough" moon landing by 2023
Erdogan said the program's first goal is to make a rough moon landing in 2023 to mark 100 years of the Turkish republic. Other plans under the program include the construction of Turkish spaceport and developing sophisticated satellite and meteorology technology. Under Erdogan's leadership, Turkey has attempted to re-establish itself as a world power. He expressed his hopes for success during the announcement.
'Our first goal is to land on moon by 2023'
"Our first goal is to land on the moon by 2023, the 100th anniversary of the Republic of Turkey. I believe Turkish engineers will manage to carry out this mission. Turkey's second goal is to create a global brand that would compete in satellite development."
Program announced to compete with regional and international rivals
Erdogan's announcement comes the same day that a probe built by the United Arab Emirates, a regional rival, successfully entered Mars' orbit. In 2017, Turkey's Justice and Development Party (AKP) made an election campaign promise to set up a space agency. The Turkish space agency (TUA) was founded in December 2018. However, plans were held back by the program's complexity and Turkey's economic crisis.
Space program announcement draws flak for timing despite recent successes
The announcement drew criticism as the program will burden the already-distressed economy. Meanwhile, TUA's supporters argued it will create specialized jobs and reduce brain drain of scientists from the country. Turkey has seen rapid success in indigenous production of drone and rocket tech in recent years. Achievements include contributions to military campaigns and Roketsan's successful test-launch of a sounding rocket into space in November.
Turkey launched a communications satellite with SpaceX last month
Over a telephone call in January, Erdogan discussed possibilities of Turkish technological cooperation with SpaceX CEO Elon Musk. Later in January, SpaceX assisted in the launch of the Turksat 5A communications satellite from the US. The satellite will be used for civilian and defense purposes. In a seemingly-related publicity stunt, a monolith-like metal slab mysteriously appeared and disappeared in south-east Turkey on Tuesday.
President quotes metal monolith that mysteriously disappeared on Tuesday
The three-meter-high metal slab was found by a farmer in Şanlıurfa province near the Göbekli Tepe. It's a UNESCO world heritage site older than the Stonehenge. The slab bore an inscription in ancient Turkic script which read "Look at the sky, you will see the moon". Although the structure disappeared on Tuesday morning, the President quoted the inscription during the space program announcement.