Afridi's daughter performed 'aarti' after watching Indian-show, he smashed TV
Afridi's daughter performed 'aarti' after watching Indian-show, he smashed TV
Dec 30, 2019, 06:29 pm
3 min read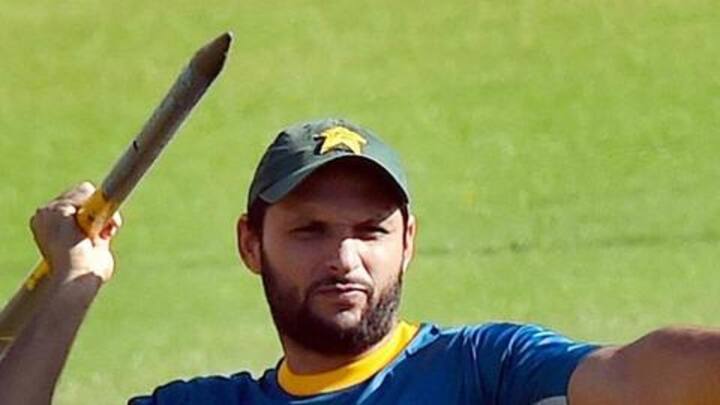 Shahid Afridi, the former captain of the Pakistani cricket team, is being brutally slammed on social media, all thanks to an old interview of his in which he passed bigoted remarks. The star-cricketer admitted that he smashed a television set at his house, only because his daughter performed an aarti, after seeing the same on an Indian daily soap. Here are more details.
Afridi said he broke TV because of his wife
In the clip, Afridi was asked if he ever broke a TV at home. A smiling Afridi replied that he is guilty but smashed the TV "due to his wife". Apparently, he wanted his wife to watch Star Plus's serials alone, thinking they might be a negative influence on his kids. And once, when he saw his daughter doing aarti, he lost his cool.
As Afridi displayed his bigotry, audience cheered
"Once I came out of the room and saw one of my kids copying an 'aarti' scene while watching a Star Plus show. I looked at her and then smashed the TV into the wall," the cricketer said, amid huge applauds from the audience.
You can watch the video here
Shahid Afridi, a cricketer with a cult following in Pakistan bragging about how he broke his TV because his wife was watching an Indian TV serial and trying to do Arati. Watch the anchor cackle like a hyena and see the audience applaud. This is Pakistan! pic.twitter.com/qBxmik3mJg

— Praveen Kumar (@RigidDemocracy) December 28, 2019
Twitter went abuzz with reactions, one user worried for Hindus
Obviously, the problematic clip evoked plenty of reactions from Indians. A few Twitter users said Afridi has reflected his hatred for India. And a user @bhak_sala wrote: The host giggles and the crowd, full of rich and educated women, applauds and claps for this. I wonder how Hindus have survived in Pakistan. Meanwhile, there were others who weren't surprised by his behavior.
In fact, Pakistan's "secularism" was also discussed. And, rightly so
Sohaib Akhtar: Danish kaneriya was discriminated on religious beliefs.

Shahid Afridi: I broke TV when i saw my daughter imitating Aarti while watching the show.

Pakistani PM (who claimed in UN that pakistan is secular country): pic.twitter.com/miulo5x1nV

— ज़हर (@ZeherAadmi) December 30, 2019
Afridi's comments garnered spotlight amid Danish Kaneria episode
To note, Afridi's bigotry-laced comments have surfaced at a time when the Pakistani cricket team is already facing allegations of being discriminatory towards non-Muslims. A few days ago, former pacer Shoaib Akhtar alleged that cricketer Dinesh Kaneria faced prejudice, only because he was a Hindu. Some teammates didn't even want to break bread with Kaneria. Later, Kaneria also verified these allegations.
Notably, Inzamam-ul-Haq has refuted Kaneria's claims
While Kaneria's story earned Pakistani cricket a bad name, former captain Inzamam-ul-Haq, under whose captaincy he played the maximum number of matches, said no such discrimination happened. "I am not ready to accept that we have such small hearts that we did a thing like this, that we didn't accept someone. I think Pakistanis have big hearts," he claimed in a video.