#NewsBytesExclusive: Wasim Jaffer on future, Ranji Trophy success and more!
#NewsBytesExclusive: Wasim Jaffer on future, Ranji Trophy success and more!
Feb 16, 2019, 12:17 pm
3 min read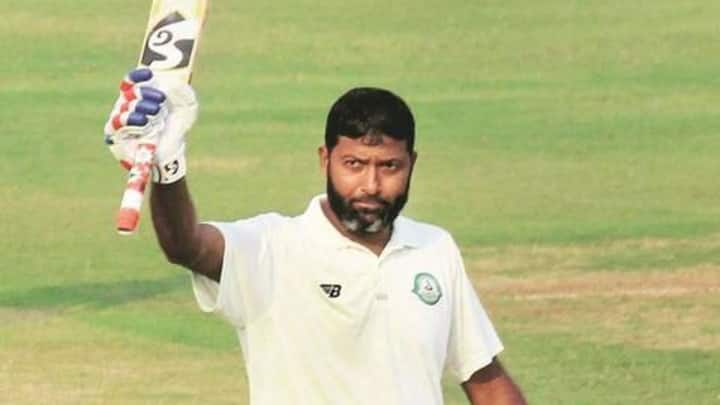 Former India cricketer NewsBytesapp.com/news/sports/wasim-jaffer'>Wasim Jaffer remains one of the dominant batsmen in domestic circuit. His dedication and love for the sport has seen him reach the pinnacle of glory. The veteran batsman recently won the Ranji Trophy title with Vidarbha. It was his 10th career trophy. Speaking to NewsBytes in an exclusive interview, Jaffer talked about his future, determination to excel and more.
Jaffer on winning his 10th Ranji Trophy title
The 40-year-old pocketed his second consecutive Ranji Trophy title with Vidarbha after having won eight with his former team Mumbai. Jaffer stated that it has been an amazing last couple of years and he is indeed a lucky person. He said, "Obviously the journey has been very satisfying. I am thankful to the Vidarbha team and it's been an amazing last couple of years."
Important to stay motivated: Jaffer on delivering consistent performances
Jaffer made his First-class debut in 1996/97 and is the highest run-scorer in Ranji (11,775). Consistency is one word which summarizes his career. When asked about what it takes to perform, Jaffer said, "It is important to stay motivated. I am also enjoying playing cricket at the same time. At this age there's no hope to play for India, so it reduces mental pressure."
'No fun in playing without any contribution'
Jaffer had a dream season with the bat and ended up as the second highest run-getter (1,037) in 2018-19. Jaffer said contributing at this level makes him happy. "I have been lucky to survive for so long. There is no fun in playing without any contribution. I am not playing cricket for the sake of it. Scoring runs make me happy," said the champion.
Jaffer on what's been the X factor for champions Vidarbha
"Change of attitude has been a major reason for Vidarbha doing well. There is competitiveness among the players and nobody is in a comfort zone. We have been consistently pushing ourselves to excel and perform" revealed Jaffer on what's changed for Vidarbha.
Jaffer is in a happy space at the moment
Jaffer has been a part of the domestic circuit for more than two decades and he intends to play for another season before taking a call on his future. "At the moment, I don't know for how long I will play. I am thankful to Vidarbha for trusting me. I just want to stay fit and motivated." Jaffer added he's not thinking about future.
It's crucial to look after yourself, says Jaffer on fitness
Jaffer is still one of the fittest cricketers in the domestic circuit. When asked about his fitness mantra, the player replied, "It is crucial to look after yourself. Today, players are more fitter as per the demands of the game." The veteran also said that the right attitude towards keeping oneself match ready, throughout the year, helps one last as long a possible.
Here is Jaffer's message to young cricketers
When asked about what advice does he have for youngsters, who want to reach a certain level, Jaffer said, "Young players need to have the right attitude. One needs to be successful in every format. Players need to rise to the challenge and keep improving themselves." He added, "There will be expectations and things won't be easy. One needs to adapt to every situation."
Jaffer would love to stay connected with cricket after retirement
The right-hand batsman wants to stay associated with cricket even after his retirement. Be it commentary or coaching, Jaffer will keep contributing to the game he loves. As Jaffer turns 41 today, we wish him all the best for his journey ahead.