Australian journalist mocks Virat Kohli- Here's why!
Australian journalist mocks Virat Kohli- Here's why!
Dec 23, 2018, 05:38 pm
2 min read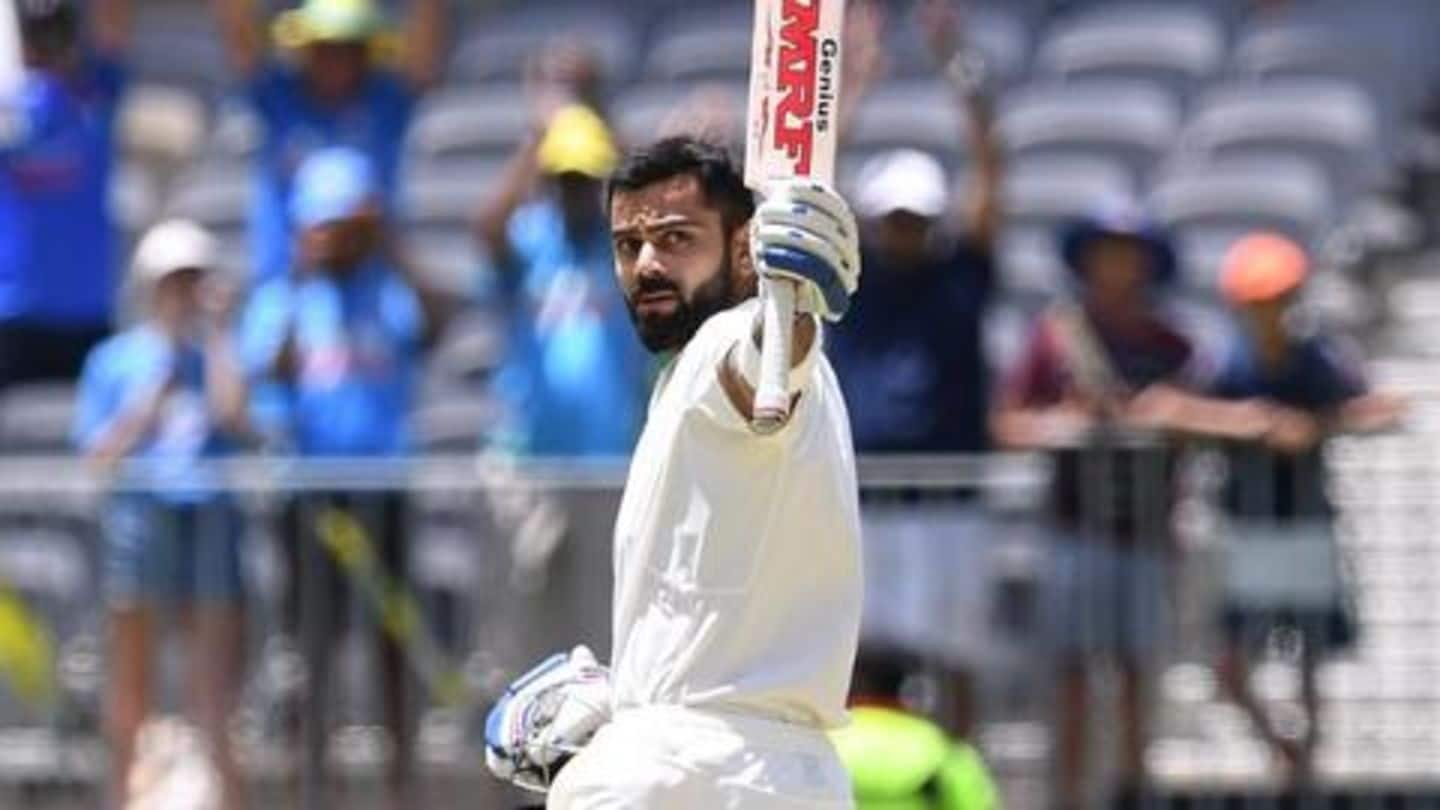 Dennis Freedman, an Australian journalist tweeted a video, mocking Indian captain Virat Kohli's on-field antics in the recently concluded Test in Perth. He captioned, "Here's Virat showing everyone how to behave when things don't go your way on the field". While Indian cricket veteran Sanjay Manjrekar has shown his displeasure regarding Kohli's behavior, others like Shoaib Akhtar and Allan Border have lent their support.
The tweet by Freedman mocking Virat Kohli
Kohli celebrated his century in a unique way
Some criticized Kohli's celebration after his century in the first innings of the second Test. Kohli exuded class, grit, and determination to pile up a 257-ball 123, and on reaching 100, he pointed at his bat, as if to say, "My bat is doing all the talking". It could've been a response to prediction by Pat Cummins that Kohli won't be scoring a hundred.
Here's a look at Kohli's celebration after his century
Kohli's controversial dismissal and his reaction
Kohli's dismissal during India's first innings was highly debated since video footage wasn't conclusive if Handscomb had cleanly caught the ball. Kohli was ruled out since the soft signal by the on-field umpire was in Australia's favor, and while walking away, Kohli, visibly disturbed, was caught muttering something. Manjrekar believes this was uncalled for, and Kohli must not be doing such things.
Border and Akhtar have defended Kohli
Australian legend Allan Border has come out in support of Kohli, saying that characters like him make cricket fun. "It's good to see guys with that passion, drive and a bit of character", said the legend on whom and his Indian counterpart Sunil Gavaskar, the ongoing tournament has been named. Pakistani legend Shoaib Akhtar has also requested critics to cut Kohli some slack.
Akhtar thinks Kohli's aggression is within limit
@imVkohli is one of the modern greats of the game. Aggression has been a part parcel of competitive cricket, specially when you are playing Down Under as long as it stays in limit. Please cut him some slack.

— Shoaib Akhtar (@shoaib100mph) December 20, 2018
Is the criticism by Aussie journalist justified?
Though Kohli brings on an aggressive style, he cannot be criticized for being who he is. The aggression, the passion, and the firepower is what makes him Virat Kohli, and the entirety of Kohli has to be accepted, with the good, the bad and the ugly. As Michael Clarke has rightly said, you cannot have the cake and eat it too.