Australian Open 2020: Nadal beats Kyrgios in an intense four-setter
Last updated on
Jan 27, 2020, 07:02 pm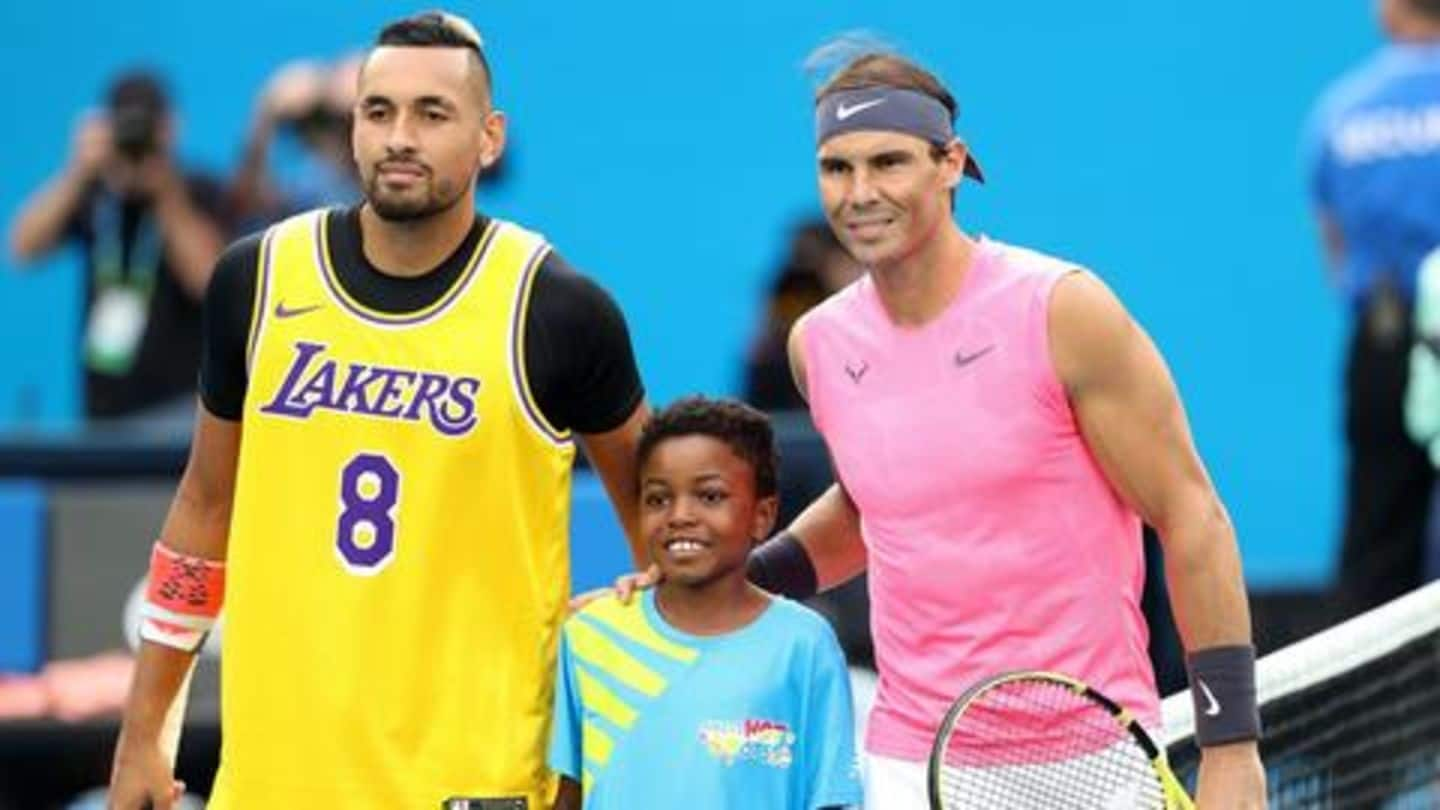 Reigning world number one, Rafael Nadal, overcame Australia's Nick Kyrgios, as he beat the latter in four sets in the pre-quarters of the Australian Open 2020 on Monday. Nadal, who was up against the 23rd seed, won 6-3, 3-6, 7-6 (6), 7-6 (4), as he entered the quarters of the tournament for the 12th time. Here is the match report.
How did the match pan out?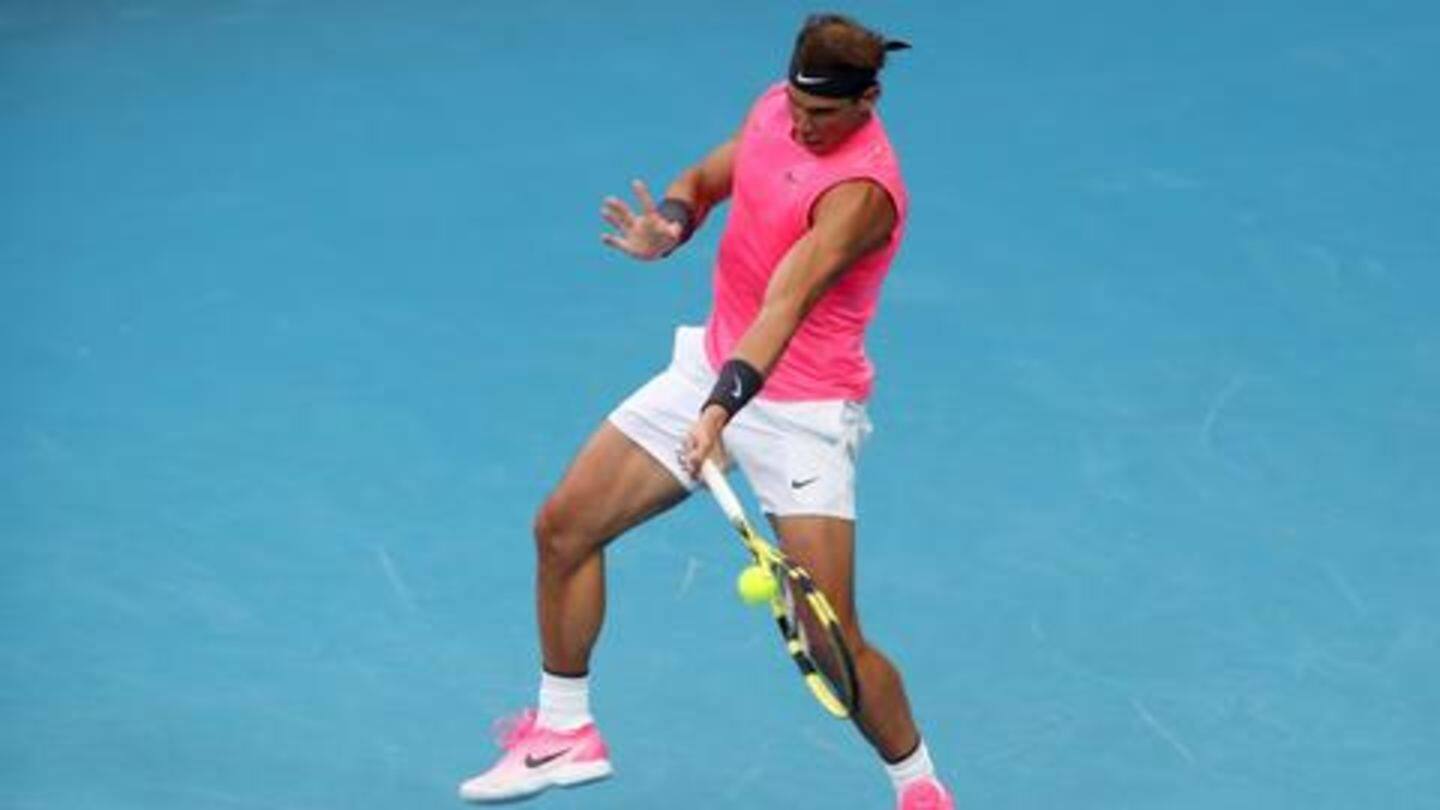 The match started on a good note for Nadal, who convincingly won the opening set. However, Kyrgios banked on crowd support and bounced back in the second, in a similar fashion. While both continued to play competitive tennis, Nadal edged past in the third set tie-breaker by two points. As fatigue kicked in for Kyrgios, Nadal won the fourth set to seal the match.
Nadal plays tribute to Kobe Bryant post match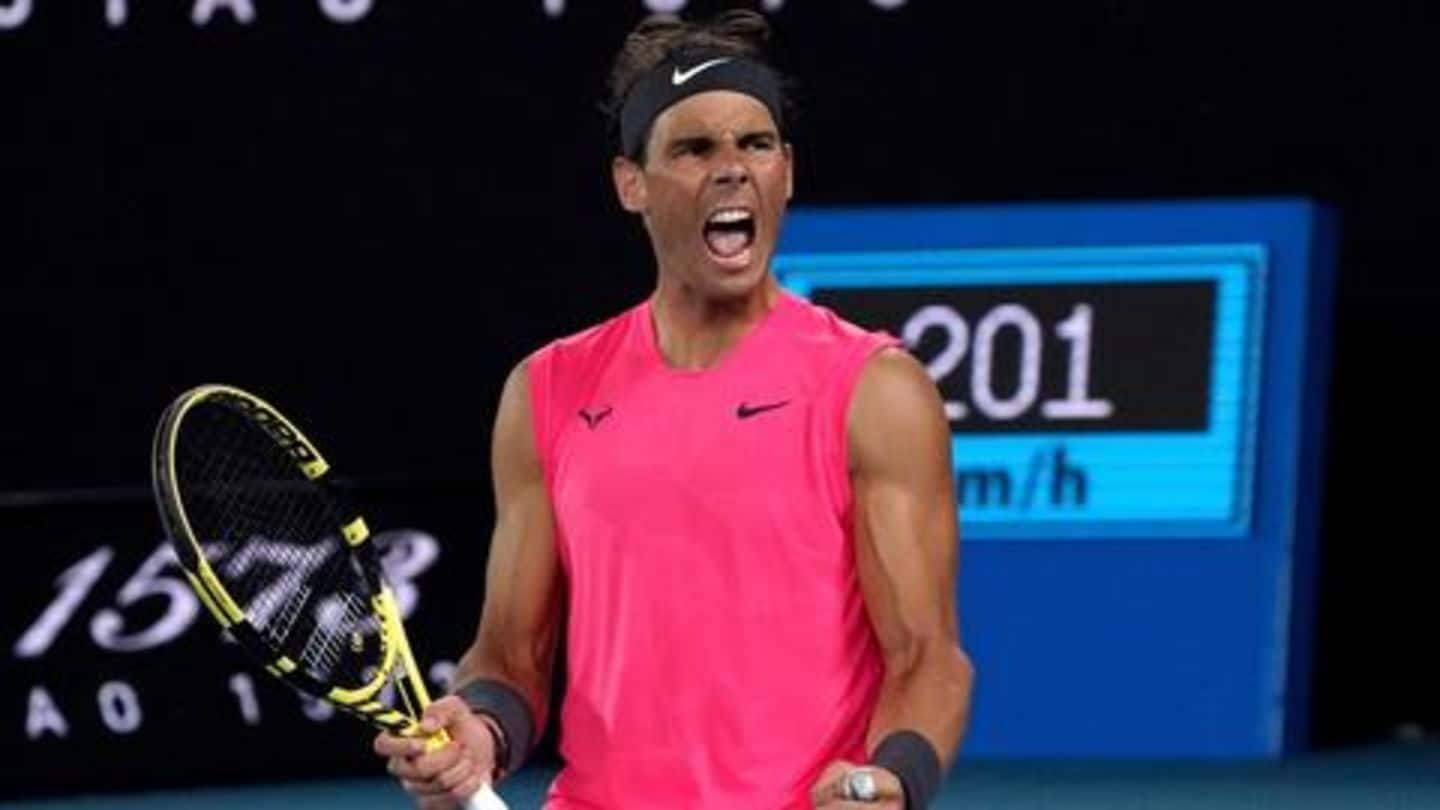 Following the match, Nadal expressed delight on his win, as he also paid to tribute to legendary NBA player Kobe Bryant, who tragically passed away on Sunday morning. "What can I say? I wake up this morning with this terrible news. Super sad. He has been one of the greatest sportsmen in history, so he just deserves a round of big applause," he said.
Kyrgios pays tribute to Bryant by wearing his jersey on-court
Nadal clinches 65th AO win, reaches quarters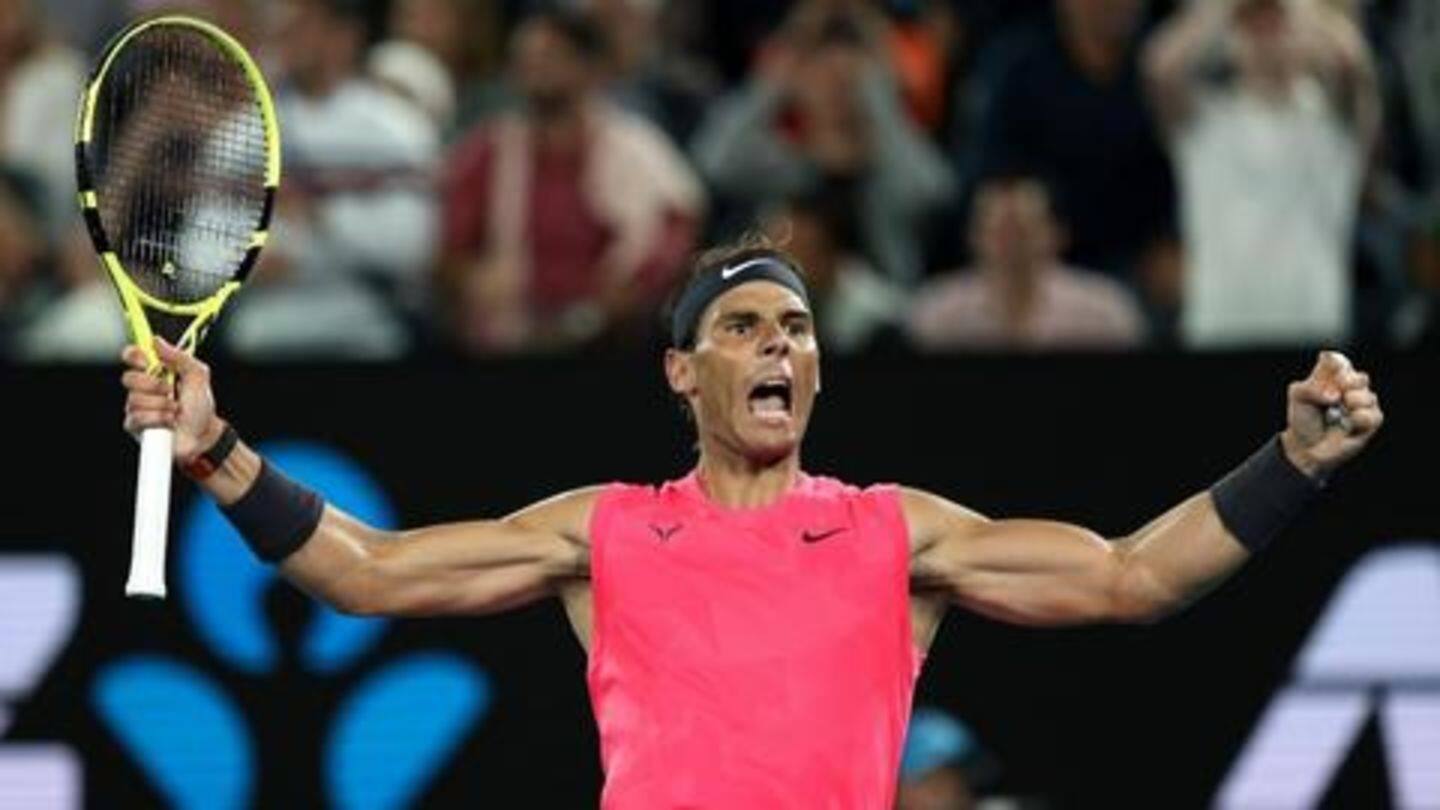 This was Nadal's 65th win in the tournament to date, as his win-loss ratio in the event currently stands 65-13, win a win percentage of more than 80. This is also the 12th time he has reached the quarters of the tournament. Overall, it would be his 41st Grand Slam quarters appearance. Also, this was Nadal's fifth career win over Kyrgios in eight matches.
Nadal to take on Thiem in quarters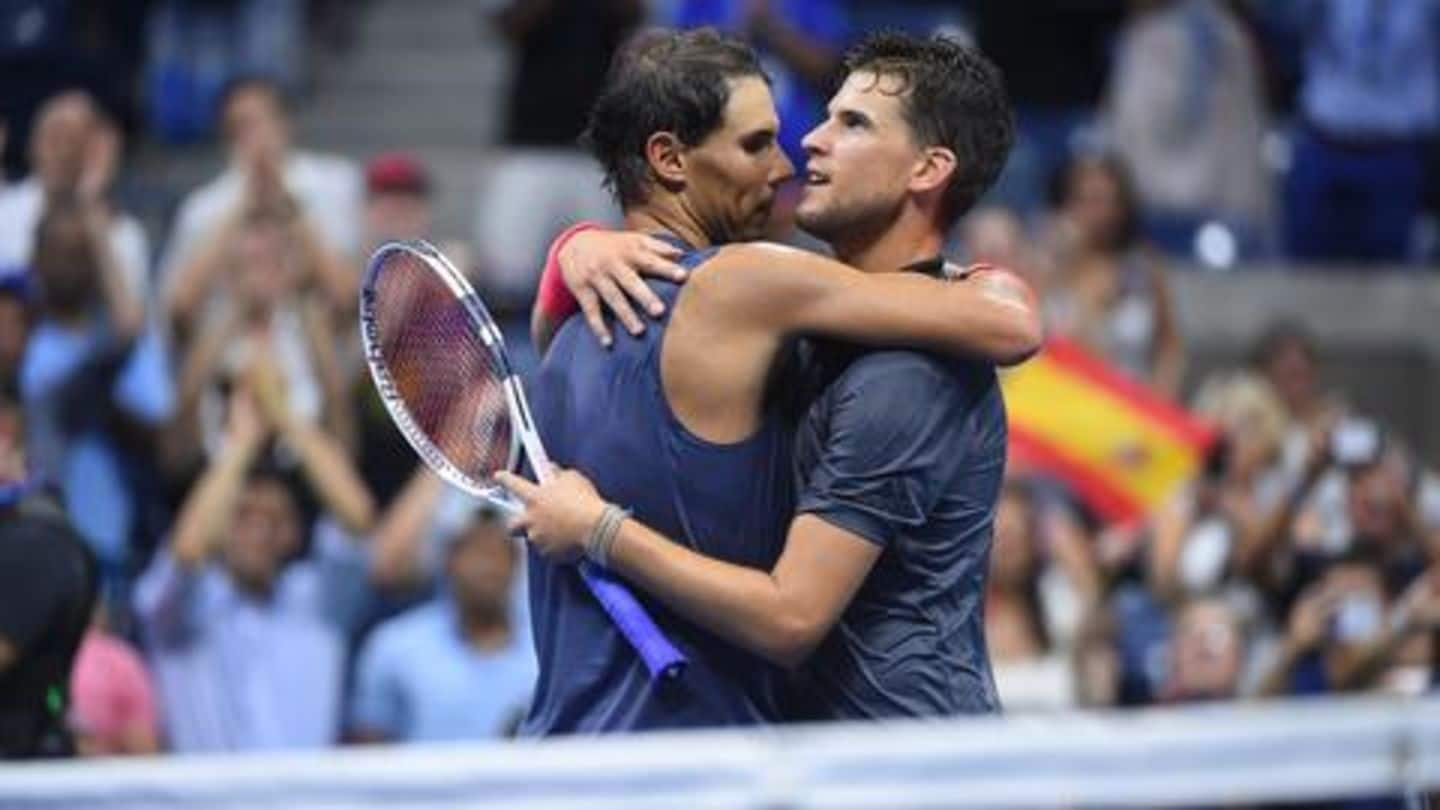 Meanwhile, Nadal is wary of the fact that he would be taking on Austria's Dominic Thiem in the quarters on Wednesday. As of now, Nadal leads 9-4 in the head-to-head battles, while he previously beat him in the two back-to-back French Open finals. Furthermore, Thiem is coming off a convincing straight-sets 6-2, 6-4, 6-4 win over France's Gael Monfils.
I'm moving in the right direction in this tournament: Nadal
"I believe, I am moving in the right direction in this tournament. Hopefully, this victory, against one of the best players in the world, gives me positive feelings. I'm going to try my best and see what happens," said Nadal on facing Thiem in quarters.