Tearful Andy Murray announces retirement, may not play Wimbledon
Tearful Andy Murray announces retirement, may not play Wimbledon
Jan 11, 2019, 01:17 pm
2 min read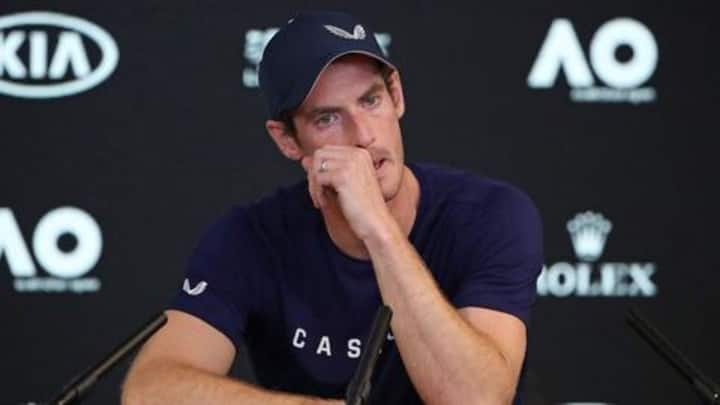 Three-time Grand Slam winner Andy Murray has decided to bid adieu to tennis. He said he wants to participate in Wimbledon 2019, but added that the Australian Open 2019 could be his final tournament. The Scot, who is struggling to recover from a hip surgery, was in tears in an emotional press conference on Friday in Melbourne. Here is more about this announcement.
'I'm not sure I'm able to play through the pain'
"I'm not sure I'm able to play through the pain for another four or five months. I want to get to Wimbledon and stop but I'm not certain I can do that," said Murray.
Injury derailed Murray's career
The former world number one men's tennis player underwent a surgery on his right hip last year. Since then, Murray has managed to play just 14 matches after making a return in June. He had to withdraw from the China Open in September. The Scot looked short of confidence and fitness in the open practice games against Novak Djokovic on Thursday.
A legend in the toughest era
Andy Murray has been competing in the same era with three GOATS.

–– 3x Grand Slams
–– 2x Olympic gold medals
–– ATP Finals
–– 2016 world No.1
–– 14x Masters 1000 titles
–– 8x Grand Slam finals
–– 45 total ATP titles

Legend 🏆 pic.twitter.com/wx9CxGqOWW

— #AusOpen (@AustralianOpen) January 11, 2019
I've been struggling for a long time: Murray
Murray wanted to get off to a strong start in 2019 and ahead of the Brisbane Open, he had stated that he still wanted to achieve many things. The hip injury is set to bring a disappointing end to a stellar career. "I'm not feeling good, I've been struggling for a long time. I've been in a lot of pain for about 20 months."
Some of Murray's special records
Murray has the record of appearing in all four Grand Slam finals in his career alongside Federer and Ivan Lendl. He has the distinguished record of winning the Olympic singles gold medal and the US Open in the same calendar year. He won his two Olympic gold medals on two different surfaces (grass and hard). In 2016, he reached three Grand Slam finals.
Tennis ought to miss a legend
Murray had his voice felt in an era that was governed by Roger Federer, Rafael Nadal and Novak Djokovic. Murray showed that he belonged among the best and provided a stiff challenge to his famed peers. The Scotsman gave hope to British tennis after pocketing two Wimbledon titles. He played five Australian Open finals and won a total of 48 matches in Melbourne.
Kim hopes Murray gets the farewell he deserves
My heart breaks listening to @andy_murray during his press conference... Hope he will make it through to Wimbledon and have the farewell he deserves . #greatguy

— Kim Clijsters (@Clijsterskim) January 11, 2019
A champion on and off the court!
.@andy_murray You are a champion on and off the court. So sorry you cannot retire on your own terms, but remember to look to the future. Your greatest impact on the world may be yet to come. Your voice for equality will inspire future generations. Much love to you your family. https://t.co/AQUOP3LGec

— Billie Jean King (@BillieJeanKing) January 11, 2019
'Please don't stop trying'
Andy, just watched your conference. Please don't stop trying. Keep fighting. I can imagine your pain and sadness. I hope you can overcome this. You deserve to retire on your own terms, whenever that happens. We love you @andy_murray and we want to see you happy and doing well. 🙏

— Juan M. del Potro (@delpotrojuan) January 11, 2019