Pandya, Rahul fined Rs. 20 lakh each: Details here
Pandya, Rahul fined Rs. 20 lakh each: Details here
Apr 20, 2019, 01:49 pm
3 min read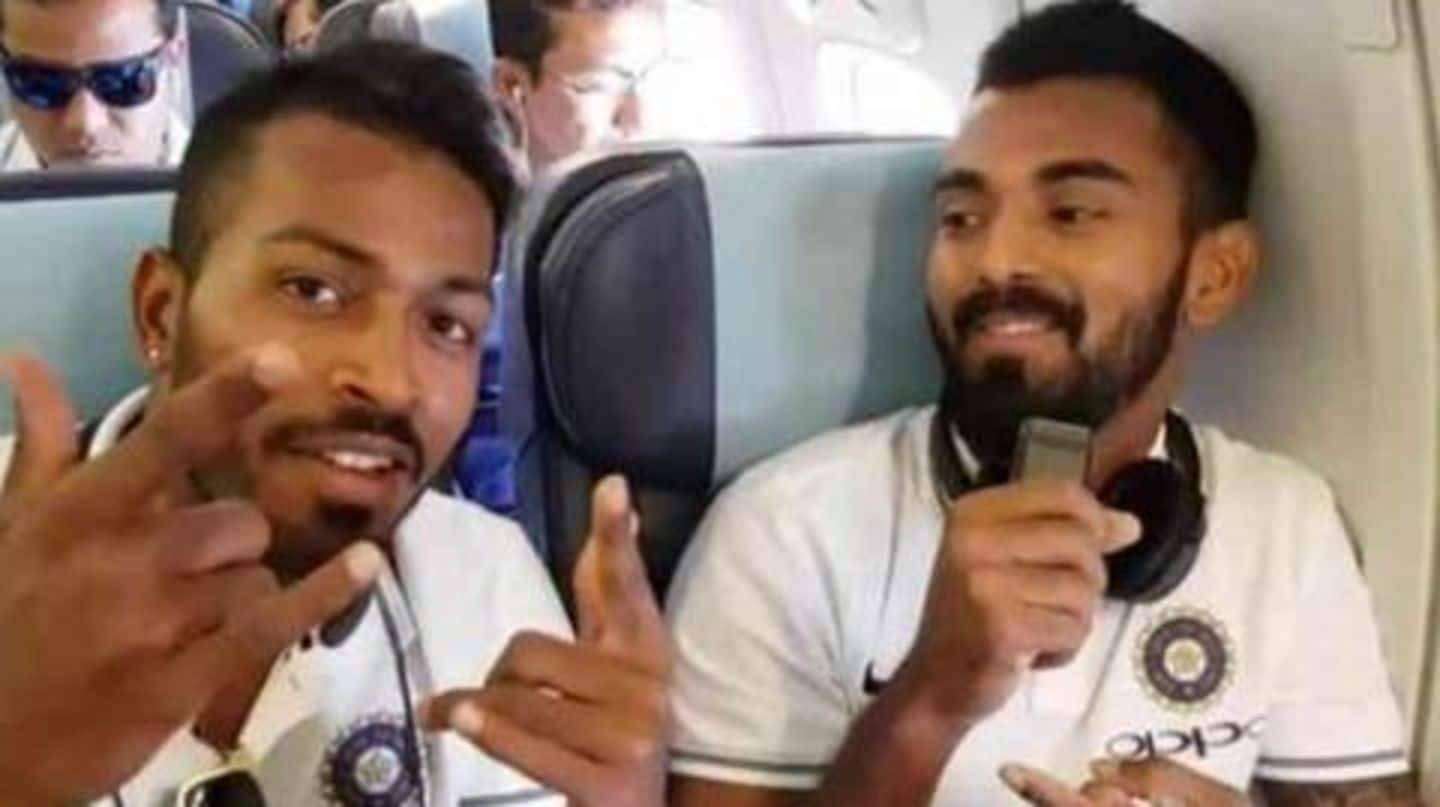 The BCCI Ombudsman has directed KL Rahul and Hardik Pandya to pay Rs. 20 lakh fine each within a period of four weeks. This is in relation to their controversial comments on chat show Koffee With Karan. These two will pay Rs. 1 lakh each to ten widows on Bharat Ke Veer app as the remaining amount will go to the Blind Cricket Association.
What has the BCCI directed?
The two players have been directed to pay Rs. 1 lakh each to families of ten constables of Indian forces, who lost their lives on duty. Besides that, they will also need to pay Rs. 10,00,000 to the Cricket Association for the Blind. It will be used to promote the sport. Notably, they had to miss the Australia series due to this controversy.
BCCI to deduct match fees if payment is missed
If they fail to deposit the money within the time period, then the BCCI may deduct the amount from the match fees payable to them. The two are currently playing in the Indian Premier League and will also be a part of 2019 World Cup.
Pandya, Rahul were suspended before the ODI series against Australia
The two players were suspended by the BCCI before the first ODI of the series against Australia. They had to miss the whole five-match series. However, on January 25, the BCCI confirmed that Pandya will join the Indian team for the ODI series in New Zealand. Rahul was asked to play the last three one-day matches against England Lions at home.
Pandya, Rahul have done well since their return
Since their return to the side, both Pandya and Rahul have shown their importance on the field. In three ODIs against New Zealand, Pandya picked up four wickets and also scored 61 runs with the bat. Rahul did well against Australia in the T20Is. Notably, the two cricketers have performed remarkably well in the ongoing 12th edition of the IPL.
Former cricketers have backed the duo to perform for India
Several former cricketers have opined that they need to move on and that the two cricketers must have learned a lot from this entire episode. The Indian legends felt that the controversy went too far and backed the two to perform on the field.
Backstory: Cricketers landed in trouble after 'KWK' debut
It all started when Pandya and Rahul made their debut on KWK 6. Pandya flaunted his unabashed lifestyle as he spoke about his relationships and crushes. While Rahul kept his head on shoulders, Pandya made demeaning statements about women throughout the show. In fact, Pandya also boasted about his sex life and how he hooked up with multiple women.