BCCI paid Shastri Rs. 2.05 crore as coaching fee
BCCI paid Shastri Rs. 2.05 crore as coaching fee
Sep 11, 2018, 01:26 pm
2 min read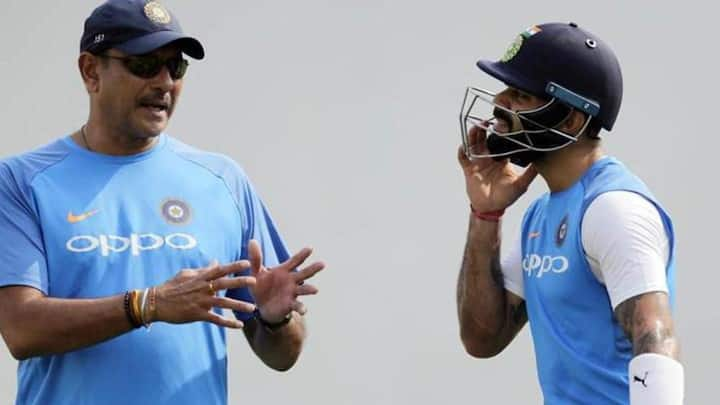 Team India coach, Ravi Shastri, was paid a whopping sum of Rs. 2.05 crore as advance fee for his services over a period of three months. Shastri was given the amount for a period that dates between July 18 to October 17, 2018. As expected, Virat Kohli remains one of the highest paid cricketers in India. The BCCI revealed the details on its website.
Shastri one of the highest paid coaches
Under Shastri's management, India won the T20I series against Ireland and England during the designated period. But, they went on to lose the ODI and Test series against England. Shastri's salary makes him one of the highest paid coaches in the world. The former India player had recently stated that the current Indian Test team can become the best travelling side.
Shastri in a position of discomfort
Sourav Ganguly and Sunil Gavaskar shot back at Shastri for making those claims about the current Test team. Ganguly asked people to avoid Shastri's comments and took a dig at him. He has also been on the radar for India's sorry performances outside the subcontinent.
Kohli and Co. have also been paid for their services
Meanwhile, the Indian team has been paid retainer fees as per the central contract, besides match fees post deduction of taxes. The Test team has also been handed prize money for retaining the number one ranking in the world. Skipper Virat Kohli leads the proceedings with a total earning of Rs. 1,25,04,964 for the series against South Africa and the ICC prize money.
What the Indian team is up to?
India's tour of England has, once again, been poor. They lost the ongoing Test series 1-3 and are in line for another defeat at the Oval. Post this, the ODI team is gearing up for the Asia Cup 2018 with a full series against West Indies next month. The team will also be touring Australia later this year.