Five best 'Hell in a Cell' matches of all time
Five best 'Hell in a Cell' matches of all time
Sep 16, 2018, 01:42 pm
3 min read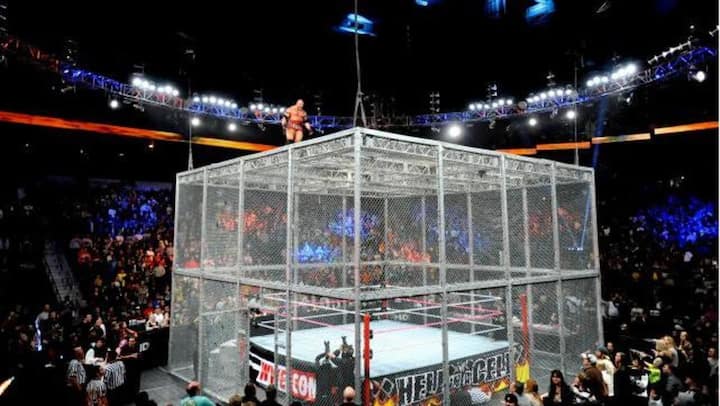 One of the most brutal structures in all of sports entertainment, the 'Hell in a Cell' has seen many historic bouts within its four steel walls. Originally designed as an Undertaker-themed match, the format became so popular that now WWE has a 'Hell in a Cell' pay-per-view event every year. Here are the top five 'Hell in a Cell' matches of all time.
The Animal and The Deadman went at it in 2007
Batista always brought out the best in him when he had to face the big guns in the ring. In 2007 Survivor Series, Batista faced The Undertaker in a Hell in a Cell match that lived up to its brutal and bloody history. Blood flowed freely and moves were dished out on steel steps. Eventually, Batista emerged victorious after Edge's interference in the match.
Triple H and Batista's bloody encounter in 2005
The two former members of Evolution took their rivalry to the next level in this extremely bloody encounter at Vengeance 2005. Both superstars bled profusely in the match, sledgehammers, chairs, barbed wires, and all the destructive weapons, these two could lay their hands on, were used. The match is remembered as one of the bloodiest encounters in the history of WWE.
'End of an Era': Undertaker vs Triple H
Triple H and Undertaker's WrestleMania 28 Hell in a Cell battle is one of the most epic WWE bouts of all time. Both legends gave it all to come out victorious at the Showcase of the Immortals, with Shawn Michaels as a guest referee. Sledgehammers and chair were used and finishing moves were dished out multiple times till the Deadman persevered over Triple H.
Heartbreak Kid vs The Undertaker: The first of its kind
The first Hell in a Cell match was staged with two of the best in-ring performers ever, fighting it out at Badd Blood 1997. In this match, Taker and Michaels put on a show of a lifetime which has set the benchmark for other aspirants. The match is also famous for Kane's debut as The Undertaker's brother.
Cactus Jack and The Game: Sadistic individuals against each other
Triple H and Mick Foley are two of the most barbaric entities in wrestling and when they enter the brutal structure called Hell in a Cell, things are bound to get nasty. From flaming barbed wires to jumps from the top of the structure, nothing remained beyond the two wrestlers. Foley even fell through the roof of the structure to the canvas below.