Ranking the best Champions League ties of Real Madrid
Ranking the best Champions League ties of Real Madrid
Nov 26, 2019, 07:17 pm
3 min read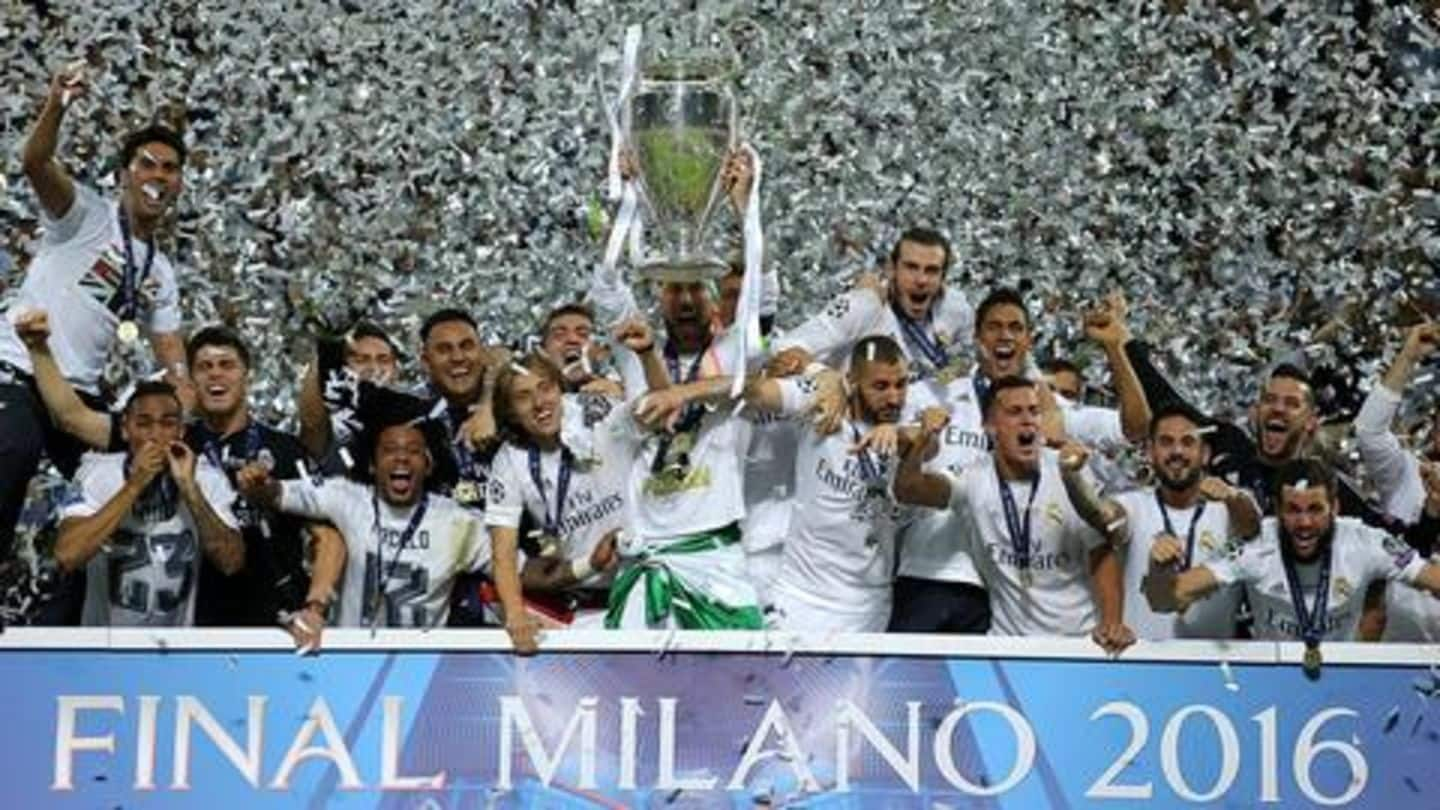 The UEFA Champions League is defined by one top team and that it Real Madrid. Having won record 13 titles, Los Blancos have scripted numerous records, including winning the trophy in three consecutive seasons. As the club prepares to take on Paris Saint-Germain (PSG) on Tuesday in a tough encounter, we rank their best UCL matches in history.
The first-ever European final witnesses a comeback from Madrid
The first-ever final of European Cup was held in 1956 between Real Madrid and Stade de Reims. Played in Paris, Madrid were two down within 10 minutes, before Alfredo Di Stéfano struck in the 14th and Héctor Rial equalized in 30th. After half-time, Reims restored their lead. However, Marcos Alonso's 67th-minute strike, followed by Rial's 79th-minute winner gave Madrid their first European Cup title.
Madrid annihilate Eintracht Frankfurt in a one-sided final
In 1959-60, Madrid played against Eintracht Frankfurt in a one-sided European final in Glasgow. As Frankfurt took the lead within 18 minutes, it was Madrid's turn to decimate them as Di Stéfano quickly struck back twice and Madrid led by two goals at half-time. Ferenc Puskás scored three more following the break, while Di Stéfano netted the final, as they finished 7-3.
Ronaldo ends United's dream in a painful manner
The quarters in 2003 saw Madrid up against Manchester United. Following a healthy 3-1 win in the opening leg, United had a Herculean task at hand to stop Madrid at Old Trafford. While the hosts showed resilience by scoring four goals, it was The Phenomenon, Brazilian Ronaldo, whose hat-trick sunk United, as the former edged past 6-5 (aggregate) to move to the semis.
Madrid pummel Bayern Munich to sail into final
In 2014, Madrid were looking to enter the final for the first time after 12 years. They were in a tough semi-final clash against defending champions Bayern Munich. While they were leading 1-0 from the home leg, they surprised everyone when they went up 3-0 at half time of the away leg, while Cristiano Ronaldo sealed it with another in the second half.
The most epic comeback in Madrid's history
The 2014 final saw Madrid facing off against city rivals Atletico Madrid in Lisbon. Atletico comfortably led within 36 minutes as Madrid struggled to get past them. However, a header by Sergio Ramos in the 92nd minute, just broke Atletico apart, as Madrid plundered three more in the extra time to script the most magical comeback ever in the final.