This is what Thibaut Courtois said about his former club
This is what Thibaut Courtois said about his former club
Sep 04, 2018, 07:56 pm
2 min read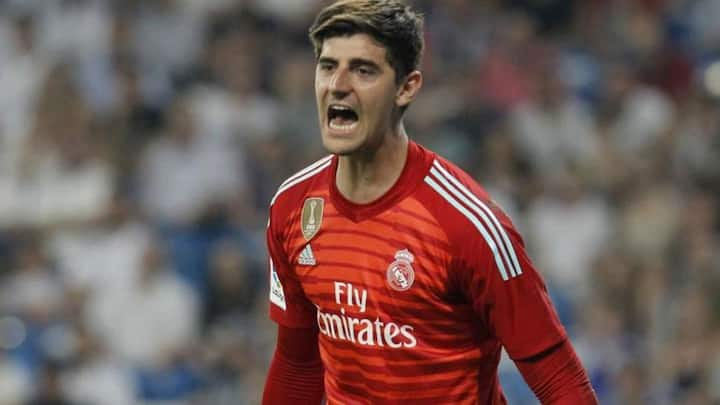 After his loan spell with Atletico Madrid concluded, in 2014, Thibaut Courtois became Chelsea's starting goal-keeper. Before the 2018-19 season, he was sold to Real Madrid and received his first La Liga start for Los Blancos in a 4-1 win against Leganes. After the win, the Belgian made some pretty snide remarks about his former club, which didn't go down well with Chelsea fans.
What did the Belgian say that angered Chelsea fans?
After the win, Courtois, in an interview highlighted that he feels Real Madrid's standards are much higher than what he experienced at Chelsea. He also added that playing with Sergio Ramos is making him believe that his captain is the best center-back in the world. Courtois, surprisingly, took a dig at the size of Stamford Bridge, stating that Bernabeu is a much bigger stadium.
How was his run with Chelsea?
Courtois spent four seasons at London where he won the Premier League on two occasions, 2014-15 and 2016-17. He also won the FA Cup with Chelsea in 2017-18 but after the conclusion of the 2018 FIFA World Cup at Russia, Courtois expressed his desire to make the move to Real Madrid. He pulled a no-show at training to force Chelsea to sell him.
Chelsea fans have expressed their wrath against Courtois
Courtois needs to stop being unprofessional leave Chelsea alone.

Throwing jabs at the club officials is a bad taste for football.

He's a Real Madrid player now with his girls in Spain he should concentrate on that.

Chelsea as a club is bigger than his generation.

— POOJA... (@PoojaMedia) September 3, 2018
Our opinion on the comments made by Courtois
Footballers will change clubs and aim for glory since all of them want to be the best at what they do. Courtois is one of the top goal-keepers right now. He was at Chelsea for a long time, and though he has moved on to greener pastures, it was extremely unprofessional to comment negatively about his former club. A decorum should always be maintained.