Here's what legends said post India's win over Pakistan
Here's what legends said post India's win over Pakistan
Jun 18, 2019, 07:42 pm
2 min read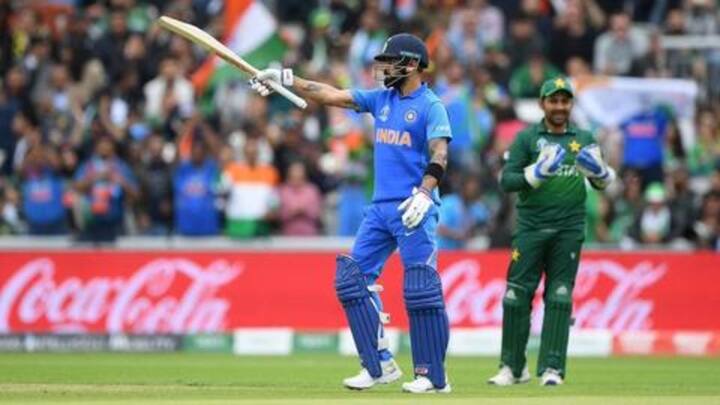 India came up with a splendid performance to triumph arch-rivals Pakistan in the ICC World Cup 2019 on Sunday. While it was an emphatic seventh consecutive win for India in the tournament, Indian fans continue to celebrate it even two days later. Meanwhile, legends too continued to give in their verdicts on the match and both the teams, as we present it here.
Massive difference between teams of India and Pakistan, feels Waqar
Legend Waqar Younis said that over the past few years, a massive difference has crept in between the two sides, as India reigned supreme at Old Trafford. Waqar also feels that the current Indian team intimidates the Pakistan squad. "When Pakistan teams head into these games, they are always under pressure and feel like they are the weaker team," wrote Waqar for ICC.
Sachin Tendulkar: India way better than Pakistan
"India are certainly way better than Pakistan. Almost everyone would say that. That is looking at the numbers also. How convincingly we have been able to beat them. It is there for everyone to see," Sachin Tendulkar was quoted as saying to India Today.
Shoaib Akhtar laments brainless captaincy of Sarfaraz Ahmed
Meanwhile, former Pakistan speedgun Shoaib Akhtar took to his YouTube channel to blast Pakistan skipper Sarfaraz Ahmed. Shoaib said that Pakistan's strength was bowling, and yet they decided to field, knowing the fact that they don't chase well. "The game was half-won by Pakistan when Sarfaraz won the toss, but he tried hard to lose the match," he said.
Disheartening performance from the Pakistan team captain: Akhtar
"I think it was just brainless captaincy. It's a very saddening and disheartening performance from the Pakistan team captain. I wanted to see shades of Imran Khan in him, but it's too late for him now," Shoaib rued further.
Pakistan in serious doubts for knock-out berth
As of now, Pakistan are scheduled to take on South Africa on Sunday. However, having lost three of their five matches, it has cast serious doubts over Pakistan's hopes of sealing a knock-out berth. A loss against the Proteas could virtually rule their chances out for good, while a washout too would not be enough to save them.