Chelsea's Olivier Giroud serves warning to Frank Lampard: Here's why
Chelsea's Olivier Giroud serves warning to Frank Lampard: Here's why
Oct 16, 2019, 04:58 pm
3 min read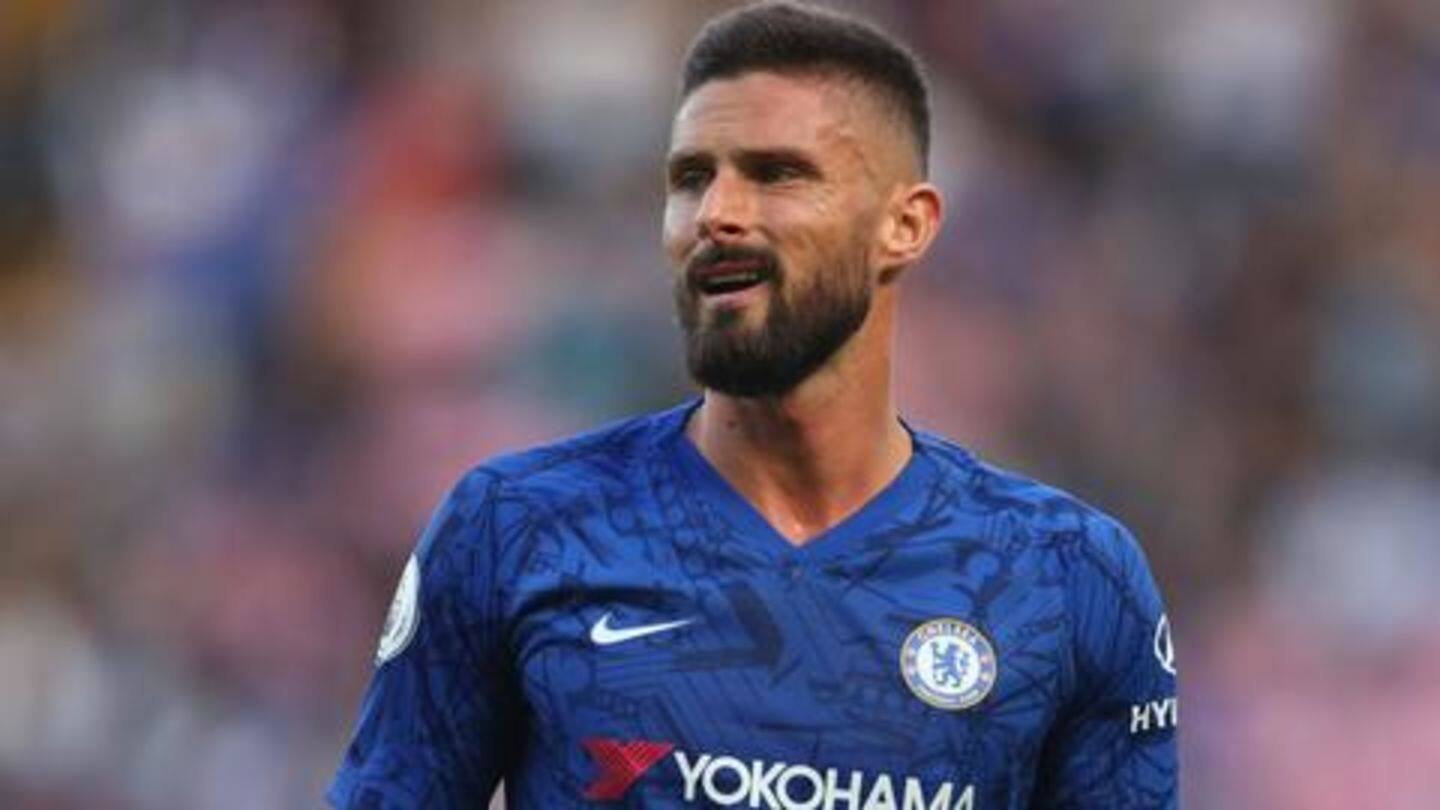 Chelsea striker Olivier Giroud has come up with a warning to club boss Frank Lampard that he could leave the club by January in case he is not given enough opportunities. The Frenchman has played only five games this season, while he has been a starter in only one of those games, besides scoring only a goal so far. Here is more on this.
Giroud replaced by Tammy Abraham as first-choice striker
As of now, Giroud is enduring a tough time at Stamford Bridge, as he has been replaced by local favorite Tammy Abraham, who has played 12 games for the side this season and has scored nine goals. Evidently, Giroud is no longer the preferred first-choice striker. Moreover, with the UEFA Euro 2020 approaching, Giroud aims to make a move to revive his international career.
Giroud not satisfied at Chelsea so far
Following France's draw against Turkey in the ongoing Euro 2020 qualifiers, Giroud said that he was not satisfied with his stint at Chelsea so far and believes he can have some beautiful years going forward. "I'm 33, but I still have legs. I have a profile, I think, that will allow me to play football for a few more years," said Giroud.
I want to play more games: Giroud
"I feel good physically, I have a healthy lifestyle. I want to play more games. The priority is to stay at Chelsea, but, if I'm forced to make a choice, I'll do it like when I left Arsenal," added Giroud.
Giroud vows to fight for his place at Chelsea
It was in January 2018 when Giroud made the move to Chelsea from Arsenal. He also played a pivotal role in allowing Chelsea to win the UEFA Europa League last season, as he finished the season with 13 goals from 45 matches. "I will fight for my place at Chelsea. The coach knows it. We will assess things in January," he concluded.
Will Chelsea sell Giroud?
Overall, Giroud has scored 19 goals in 68 matches for Chelsea, which is an average performance. Moreover, it should be noted that while Chelsea can sell Giroud, they cannot replace him as they are under a two-window transfer ban. Thus, the author feels Lampard will keep him for now. However, with the way Abraham has impressed, Giroud will have a tough time at Chelsea.
Giroud has done well for France in Euro 2020 Qualifiers
Giroud has done well for France in the Euro 2020 Qualifiers. He scored in the 1-1 draw against Turkey in Group H. However, both France and Turkey haven't qualified yet. Meanwhile, Chelsea host Newcastle United on Saturday during the Premier League, and it would be interesting to see if Giroud is given a chance, even as a substitute, especially following his claims.