Happy Birthday Sunil Gavaskar: His achievements, unknown facts and records
Happy Birthday Sunil Gavaskar: His achievements, unknown facts and records
Jul 10, 2019, 02:16 pm
3 min read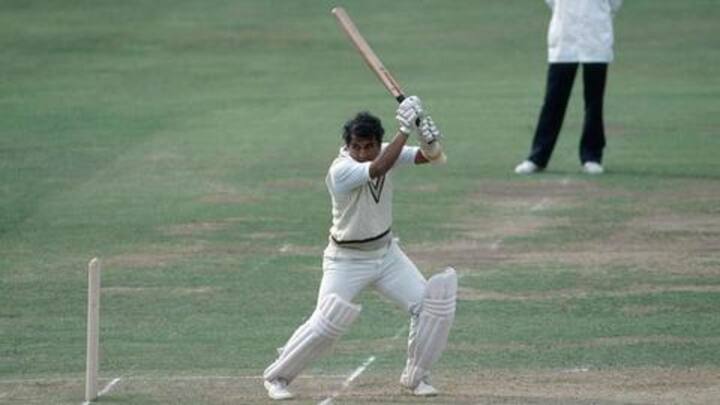 Without a doubt, Sunil Gavaskar is a legend of Indian cricket. From being a World Cup winner, scripting multiple records to one of the greatest Indian Test openers to date, Gavaskar has done a lot for Indian cricket. Nicknamed as the Little Master, he celebrates his 70th birthday on Wednesday. In the same light, we have a look at his illustrious career.
He is not the only international cricketer from his family
While Gavaskar initially wanted to become a wrestler, he later developed a love for cricket, thanks to inspiration from his maternal uncle Madhav Mantri. After earning his Indian Test cap, he cemented his legacy as one of the greats. His son Rohan Gavaskar too went on to become a cricketer later, while former Indian cricket Gundappa Viswanath is his brother-in-law.
A look at Gavaskar's cricketing stats
Gavaskar, who made his Test debut in March 1971, went on to play 125 Tests. He scored 10,122 at an amazing average of 51.1, which included 34 tons and 45 half-centuries. He made his ODI debut in July 1974. He played 108 ODIs and scored 3,092 runs at an average of 35.1. In his ODI career, he slammed a solitary ton and 27 half-centuries.
Some of his records and achievements
Gavaskar became the first cricketer to score 10,000 Test runs. He holds the record of scoring the most number of runs in the debut Test series (774). He remains the only cricketer to slam 58 century-plus stands with 18 players. He scored centuries in both innings three times in his career. He was the first Indian cricketer to carry his bat in Test cricket.
Had a special love for West Indies
In an interesting observation, Gavaskar holds the record of scoring the most runs and centuries against Windies (2,749 runs and 13 centuries). Besides this unique feat, he also holds a record of scoring four consecutive tons at Port of Spain and Wankhede.
Gavaskar had an amazing run as Indian captain
Gavaskar had an good run as the captain of Team India, as he lead the side in 47 Tests and 37 ODIs. He scored 3,449 runs in Tests as captain. Out of 47 Test matches as skipper, Gavaskar won 9, lost 8 and drew 30. As the skipper, he was at his best against arch-rivals Pakistan, as he scored 1,232 runs across formats.
A glimpse at the awards won by him
A list of the accolades he has won: Padma Bhushan (1980) Sworn in as Bombay Sheriff (1994) India-Australia Test series was renamed to Border-Gavaskar Trophy. Only Indian to deliver MCC Spirit Of Cricket Cowdrey Lecture in 2003. CK Nayudu Lifetime Achievement Award (2012) Has a couple of cricket grounds named after him in Vengurla, Maharashtra (India), and Louisville, Kentucky (USA).
The first man to 10,000 Test runs 👏 👏
A Test-best of 236* 👏 👏
35 international hundreds 👏 👏

Happy birthday to one of the greats, Sunil Gavaskar! pic.twitter.com/AFw2njatE0

— ICC (@ICC) July 10, 2019