#IndiaInEngland: Gavaskar criticizes Kohli's captaincy
#IndiaInEngland: Gavaskar criticizes Kohli's captaincy
Sep 04, 2018, 05:42 pm
2 min read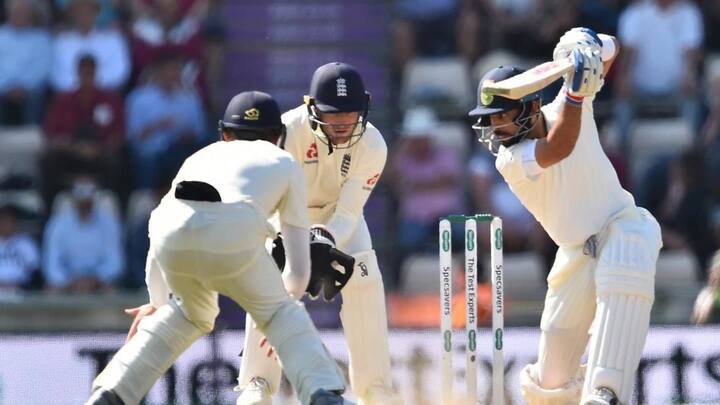 India lost the fourth Test match, at Southampton, against England and in turn surrendered the 5-match series 3-1. With one more Test to go, Virat Kohli-led India could be in for another uphill battle if they want to stop England. Former cricketer Sunil Gavaskar has criticized Kohli's captaincy and stated that India haven't managed to keep up to the expectations.
Gavaskar feels decision-making has hurt India's chances
Speaking to India Today, Gavaskar opined that the expectations that were set, when Kohli took over as Indian skipper, haven't been met and that's the reason this series loss is disappointing. He also lashed out at the 29-year-old for deciding to go in with five batsmen in the four Tests so far. India have been over reliant on Kohli and that's the major issue.
Indian team over reliant on Kohli
Gavaskar quipped that Kohli has been fantastic as a batsman and his runs indicate the same. The skipper has been the highest scorer with 544 runs as the others haven't stepped up. Gavaskar feels that India have been over reliant on Kohli to get the runs and this isn't possible every time. This has been the reason for defeat in South Africa and England.
New direction not found under Kohli
There was hope when Kohli took over the reigns and it felt like India would follow a new direction under him but so far the team hasn't done that. With these losses outside the subcontinent, Gavaskar feels Kohli is bound to face criticism. A captain is as good as his team. It will be interesting to see how India play the 5th Test.
Indian batting has been a major problem
The Indian batting line-up has let the side down consistently. In South Africa and then in England, the bowlers have been fantastic, but the batting is where the problems have surfaced. The bowlers have picked 20 wickets consistently in recent times, but the runs haven't flowed from the batting department. It's the batsmen that have let Kohli down on numerous occasions.
Australia assignment a big task
India's next assignment outside the subcontinent is against Australia later this year. That's where Kohli will need to step up as a skipper. Another away series loss would raise doubts about Kohli's leadership. India play 4 Tests against the Aussies.