South Africa win Test series; records broken in 2nd Test
South Africa win Test series; records broken in 2nd Test
Jan 17, 2018, 03:49 pm
4 min read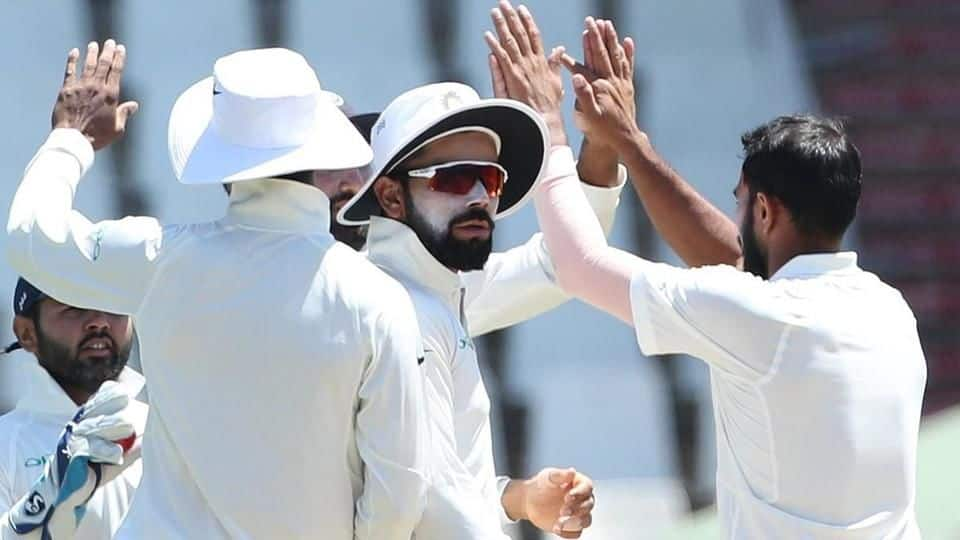 Virat Kohli's 9 Test series unbeaten streak, has come to an end as India succumbed to a 135 run loss in the second Test at Centurion. India have lost the series 2-0 after losing the first match in Cape Town and will now play for pride when they play the third and final Test on 24th January. Here are the records broken in Centurion.
The King of SuperSport park
Hashim Amla now boasts the most number of runs at SuperSport park in Centurion. The right-handed batsman surpassed South African legend Jacques Kallis's tally of 1,267 at the ground. Moreover, Faf du Plessis has now scored 3,000 runs in Test cricket. Since his Test debut, only Hashim Amla has scored more runs for South Africa in the longest format of the game.
Rare mistake by a quality batsman
In the first innings, Amla got run-out by Pandya. This was the first instance of Hashim Amla, being run out in 76 innings. The last time, the South African was run out in Test cricket was back in November 2012 in Perth.
Quinton de Kock was dismissed for the first time on a duck on home soil in international cricket. The wicket-keeping batsman has 7 ducks in international cricket, all in away games, 3 in New Zealand, 2 in Bangladesh and 1 each in Australia and Sri Lanka. This was the first on South African soil.
Maharaj breaks century old record
South Africa have broken a century-old record in this Test. This was the first time, South Africa opened the bowling with a spinner, with Keshav Maharaj beginning the proceeding for the Proteas in the first innings. The last time, South Africa opted to do the same was almost a century ago in 1912 when Aubrey Faulkner opened the bowling against Australia.
Shami joins the 100 wicket club
Mohammed Shami now has 100+ Test scalps to his name. The speedster from West Bengal is only the 7th Indian pace to reach the milestone. Shami is also their third fastest to the feat, achieving the milestone in just 29 matches. Kapil Dev was the quickest reaching the landmark in 25 matches followed by all-rounder Irfan Pathan, who achieved it in 28 matches.
Pujara's love affair with run outs
Cheteshwar Pujara is the first Indian to be run out twice in a Test. This is the 25th time, a player has been run-out in both the innings. Pujara has been involved in the most number of run outs (6) in Test cricket since 2012. Pujara has been run out himself four times while he has got his partner run out twice.
Kohli is India's saving grace away from home
Virat Kohli's fighting 153 is only the second Test hundred by an Indian captain in South Africa after Sachin Tendulkar's 169 in Cape Town back during the tour of 1996-97. Virat Kohli has scored 14 Test tons as captain, 7 at home in 32 innings and 7 away in 22 innings. Kohli has the most away hundreds since 2011 with 11 to his name.
Try beating South Africa at Centurion
Centurion has been South Africa's fortress; in 23 games they boast a win-loss record of 18-2. This 9:1 record is the second best for any team playing 10+ Test matches at a ground. 249 has been the highest run chase in Centurion by England in 2000. There have been only 6 successful chases at the venue, five have been by the home team.
Ashwin's rare feat in South Africa
Ravichandran Ashwin is the first Indian spinner to take 4 wickets in the first innings of a Test match in South Africa. India have enforced 15 run outs, the most by any team since 2016. In the same period, England come in next with 12, Australia and South Africa have 11 to their name.