IPL 2019: Things we learnt from CSK's victory over KKR
IPL 2019: Things we learnt from CSK's victory over KKR
Apr 14, 2019, 08:48 pm
3 min read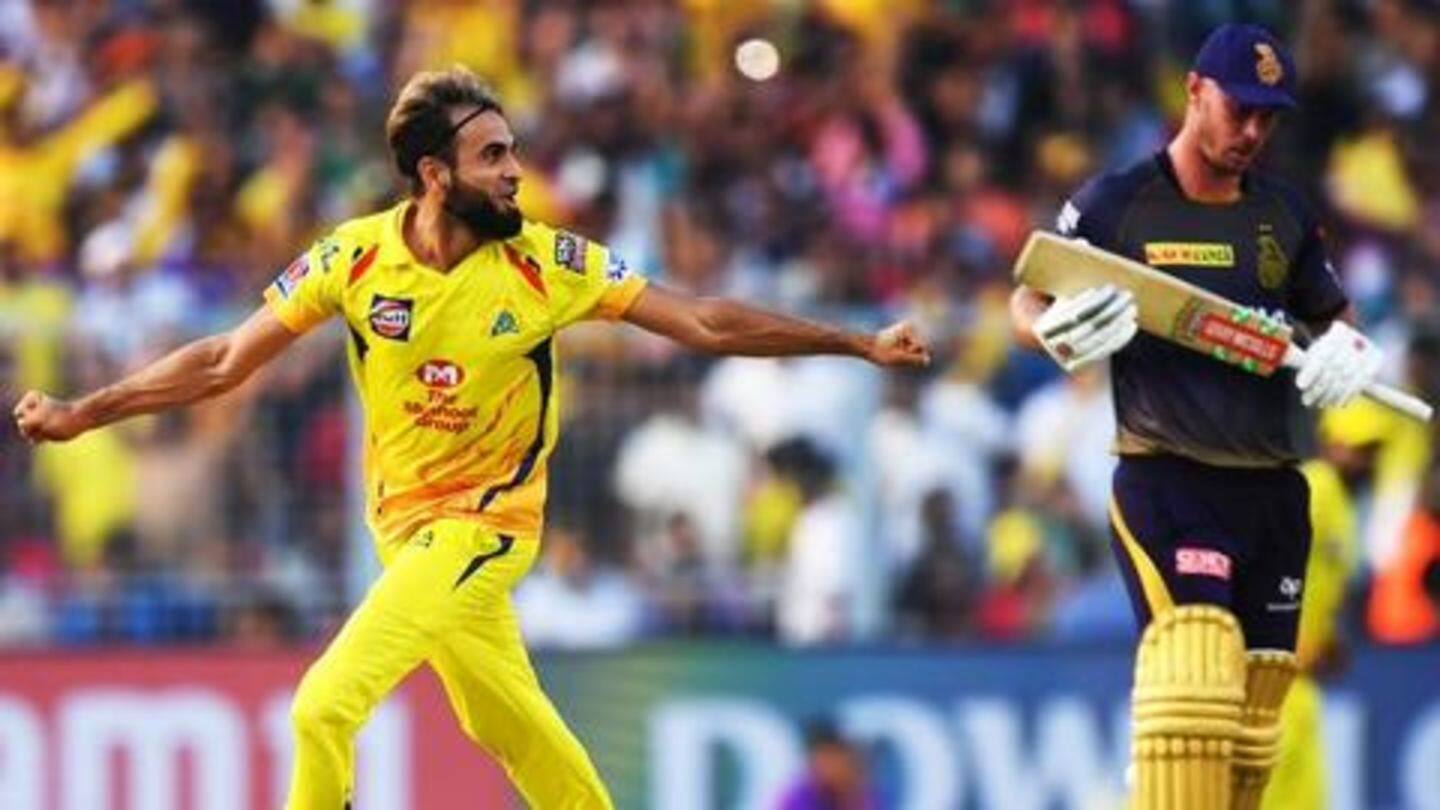 The IPL 2019 is through its halfway as things keep getting interesting. The match number 29 between Kolkata Knight Riders (KKR) and defending champions Chennai Super Kings (CSK) was an intense tie. CSK, once again, came out on top as they completed a double over KKR this term. The match did put up some interesting stuff, as we present a few learnings from it.
KKR overusing Sunil Narine as opener?
While it might seem like a good idea to send in Sunil Narine as an opener, courtesy his power-hitting skills, it should be noted he is not a proper opener. KKR started experimenting with Narine a couple of seasons back, but he won't fire in every match. They should instead send in young sensation Shubman Gill, and keep Narine for important matches.
Imran Tahir and other CSK spinners have been deadly
CSK have surprisingly found a new weapon this term, and that is their spin attack. Imran Tahir is their key weapon in the department, who can claim wickets on any track, courtesy his strong variations. Mitchell Santner too can be economical, thereby blocking the runs during an important phase. The same can be said for Ravindra Jadeja, although he was expensive today.
KKR over-reliant on Andre Russell in the death overs
It is a fact that Jamaican pinch-hitter Andre Russell has been KKR's guardian angel in the tournament so far. However, he can't and won't perform in every single match, as was the case today. It also seems that they are over reliant on his innings, especially at the death. It's high time that other KKR batsmen step up, before their qualification dreams fell flat.
Nitish Rana needs to be consistent
Nitish has been considered as an emerging prospect for Team India, courtesy his fine performances in the IPL. However, the interesting part is that his performance starts to decline in the second phase of the tournament. Consistency is a major thing in the game if one needs to be successful. KKR need his consistency, and it is high time Nitish realizes it.
Robin Uthappa throws his wicket away at crucial junctions
KKR batsman Robin Uthappa has been in a good form this IPL. While he certainly has been involved in a few big innings so far, the part that caught everyone's eyes is his tendency to throw away his wicket at crucial junctions. This is why, KKR cannot rely on their veteran batsman. It is important Uthappa starts playing responsible cricket when needed.
Resting Shane Watson can help him find his form back
CSK have a lot to rely on Shane Watson as an opener, since he has the tendency to give the perfect start. However, Watson has hardly scored big so far, as he has gone past 30 just once. It could be a good idea to rest him in order to get his rhythm back, while someone like Sam Billings could be promoted.
Did Ambati Rayudu mess his World Cup chances?
Ambati Rayudu has been a reliable man for CSK and Team India as well. While he did play a sound knock of 57 in his last tie, he could not deliver today, as he was dismissed for only five. With the Indian World Cup squad to be announced on Monday, did he just squash his chances of getting selected as the number four batsman?